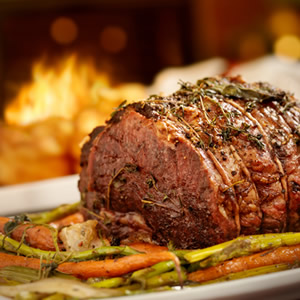 The Sun entered Capricorn on December 21, the Winter Solstice. During this time of year, celebrations to honor gods and goddesses have been held since ancient times, and still continue today in one form or another in Japan, China, India, Pakistan, and countless other places. It is also during this time that High Holy days for many of the world's religions are celebrated, including Christianity, Judaism, Hinduism, Buddhism, Zoroastrian and Islam.
Another festival, Saturnalia, in honor of Saturn, originated in Greece and became highly popular in the Roman Empire. The weeklong celebration culminated on December 23, after the Sun had moved into Capricorn. This is significant and a fortuitous time as Saturn is the ruler of Capricorn. Saturn may just be responsible for the original Winter Solstice festivities.
Capricorn rules the bones and the entire skeletal system. The foods chosen for Capricorn's time of year support density and help protect bones from calcium loss in all signs, but especially Goats. Any sign will benefit from eating the chosen foods, but will also delight in serving these recipes for any of the holiday celebrations during the reign of Capricorn and Saturn.
Beef (prime rib)
Beef is high in vitamin B12, calcium, phosphorous and zinc, all of which help maintain bone density, making it beneficial for Capricorn natives and all other signs, as everyone is in need of healthy bones. Beyond the health benefits, a beautifully cooked prime rib is the perfect entrée to serve to friends and family when celebrating the Holiday season.
Recipe for Herb-crusted Prime Rib with Horseradish Sauce
Serves 8
Prime rib is the perfect cut of beef to impress your holiday guests!
1 four-rib standing rib roast, 6-8 pounds
4 cloves garlic, peeled and sliced lengthwise
2 teaspoons chopped fresh rosemary
2 teaspoons chopped fresh thyme
2 teaspoons chopped fresh flat-leaf parsley
1 teaspoon chopped lavender
1 tablespoon coarse sea salt
1 tablespoon freshly ground black pepper
1/4 cup olive oil
3/4 cup sour cream
3/4 cup mayonnaise
1/4 cup prepared horseradish
1. Pat dry the rib roast. Place in roasting pan, bone side down, fatty side up. With tip of sharp knife, make slits in the fat and press garlic slivers into slits.
2. In a small bowl, combine all herbs, salt, pepper, and olive oil. Cover meat with herb mixture, cover with saran wrap and refrigerate up to overnight.
3. In a small bowl, combine sour cream, mayonnaise, and horseradish. Mix well to blend. Cover and refrigerate overnight.
4. Remove roast from refrigerator and bring to room temperature, about an hour. Preheat oven to 350º. Place in oven and roast about 2 1/2 hours, until meat thermometer reads 125º.
5. Remove from oven, tent with foil, and rest for 25-30 minutes before slicing. Serve with horseradish sauce.
Satsuma tangerines
These sweet, juicy citrus gems are loaded with vitamins A, C and potassium, all good for the Capricorn bones. All other signs will also benefit from their properties. If you find a bright orange Satsuma in your Christmas stocking, don't think Santa is being chintzy. Not only will it be delicious and excellent for you, it is a gift of good fortune in many cultures.
Recipe for Tropical Ambrosia Salad
Serves 8
Ambrosia is the food of the Gods and an exquisite dish for a Winter Solstice feast.
3/4 cup heavy whipping cream
1/2 cup sour cream
3 tablespoons marshmallow crème
1 cup Satsuma tangerines, peeled and segmented, pith removed
1 cup chopped fresh Maui Gold pineapple
1 cup chopped mango
1 cup toasted coconut
1 cup toasted chopped macadamia nuts
1. Place whipping cream into the bowl of a stand mixer and beat until stiff peaks form.
2. Place sour cream and marshmallow crème to small bowl. Whisk together until well blended. Fold the mixture into the whipped cream and mix together.
3. Add tangerines, pineapple, mango, coconut, and nuts and fold gently to combine all flavors. Transfer to serving bowl, cover, and chill in refrigerator for at least an hour before serving.
Black-eyed peas
These peas, or beans as some call them, are very high in zinc, iron, calcium, magnesium, phosphorus and potassium, with trace amounts of B vitamins and vitamin C, making them just what the doctor ordered to keep your bones healthy and strong. They have long been considered lucky to eat on New Year's Eve, a theory dating back to ancient Babylonia. All signs wanting a prosperous year ahead should fix a big pot of these healthy legumes.
Recipe for Black-eyed Peas
Serves 8
Ring in the New Year with these lucky legumes!
1 16-ounce dried black-eyed peas, soaked overnight
2 tablespoons olive oil
1 large onion, chopped
2 carrots, peeled and chopped
2 celery stalks, chopped
2 cloves garlic, minced
1 jalapeno pepper, seeded and minced
1 four pound smoked ham shank
2 bay leaves
Salt and pepper to taste
1. Pick through peas to remove any small rocks. Add to a large stock pot, cover with cold water and soak overnight.
2. In a large stockpot or Dutch oven, heat olive oil. Add onion, carrots, celery, garlic, and jalapeno, and sauté until tender. Add peas, six cups of water, ham shank, bay leaves, salt and pepper.
3 Bring to a boil, then reduce heat and simmer until peas are tender, about 3 hours.
4. When peas are cooked, remove the ham shank, let it cool. Remove ham from the bone, chop and add back to the soup. Add additional salt and pepper, if necessary. Serve with Collard Greens.
Collard greens
These dark greens are rich in vitamins A, C, K, manganese, calcium and trace amounts of B vitamins. They look like folded greenbacks, which is the reason they are considered lucky! It is said if you want to ensure a wealthy and successful year, eat lots of these tasty greens. Have a big dish with your black-eyed peas for double the luck and double the boost to your bones!
Recipe for Collard Greens
Serves 8
The more you eat, the more luck you will have!
2 bunches collard greens, washed, trimmed, chopped
2 tablespoons olive oil
1 large onion, chopped
2 cloves garlic, minced
1/2 jalapeno pepper, seeded and minced
6 slices bacon, chopped
4 cups water or chicken broth
Salt and pepper to taste
1. In a large deep saucepan or small Dutch oven, heat olive oil. Add onion, garlic, jalapeno, and bacon, and sauté until tender. Add collard greens, water or broth, salt and pepper.
2. Bring to a boil, then reduce heat and simmer until greens are tender, about 15 minutes.
3. Add additional salt and pepper, if necessary. Serve with Black-eyed Peas.