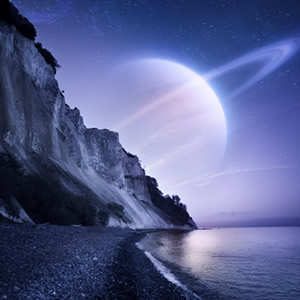 Hello, Saturn, you sexy thing! It's nice to see you! Put down your telescopes, people, because April 2011 is the best time all year to view Saturn with the naked eye.
Ok, so Saturn is always visible to the naked eye... that's true. But in April 2011 Saturn will appear even bigger and brighter due to its annual opposition to the Sun.
Because Saturn is closer to Earth during opposition, it will be the brightest planet in the sky now through early May. This means you should be able to pick it out more easily from a starry sky. And if you do use your telescope, Saturn's rings also will appear larger and more detailed as the ring system tips into our line of sight.
In addition to seeing Saturn all month, you'll likely be able to feel it, too! Saturn is exalted in the social sign of Libra now through October 5, 2012, emphasising a period when we must keep lines of communication open, treat one another as equals, find balance in our relationships and learn to clarify our needs. Learn more about Saturn:
Fast Facts and Astrology Tips About Saturn:
Saturn is the sixth planet from the Sun and the second largest planet in the Solar System
Saturn has nine rings, consisting mostly of ice particles, rocky debris and dust
Saturn's astrological

symbol

(

♄

) represents the Roman god's sickle
Saturn is the ruling planet of horoscope signs Capricorn and it Aquarius
Saturn is known as the planet of Karma, making sure we reap what we sow
Saturn is also known as the "old man planet" and enforcer of rules
When Saturn returns to the position it was in at the moment of your birth (about every 28 years), it kicks off a two-year period known as your "Saturn Return" -- a time when your identity, hopes and dreams feel shaken up
Saturn is the only planet less dense than water, and it would float if there was a body of water big enough
It takes Saturn about 29 years to orbit the Sun
Saturn has at least 62 moons, including the best known Titan, Mimas, Enceladus and Lapetus
If you like what you see on dailyhoroscope.com, please consider following us on Facebook and Twitter.