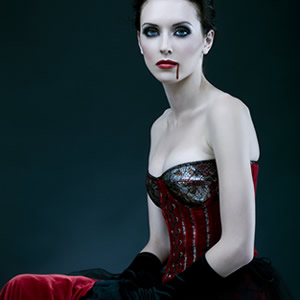 For adults, Halloween is popularly known as a holiday when we all get an excuse to be a bit more revealing and sassy in how we dress. Take advantage of this opportunity to add "sexy" to the beginning of your costume of choice. Your horoscope sign can help you figure out which getup is most in-character for you!
Aries (March 21 - April 19)
As the warrior horoscope sign, you'll be at your best dressing up as an Amazon. Or consider using a touch of your signature red by donning a superhero cape and going as any number of butt-kicking do-gooders. Any character that represents your fiery, brave nature will be a hit at whatever party you land at!
Taurus (April 20 - May 20)
Earthy Taurus, any Halloween costume that summons your connection to nature will look fabulous. Think forest goddess or sexy hippie -- put on some free-flowing fabrics and a few strings of love beads, and you've got yourself the perfect Taurus costume!
Gemini (May 21 - June 20)
As one of the zodiac signs ruled by Mercury, you'll find that dressing up as "brainy sexy" will go over well. Try going as Superman's better half, Lois Lane, the most famous news reporter in Metropolis -- she was all about communication and had a fierce mind to match! You can also go as the archetypal sexy librarian, since Geminis are all about duality!
Cancer (June 21 - July 22)
As the zodiac sign of patriotism and love of country, Cancer, why not turn heads by arriving as a naughty Statue of Liberty? Or tap into the country's early days by rolling in dressed up as a revealing Pocahontas. Cleavage is more than admissible here -- Cancer is also the zodiac sign that rules over the bosom!
Leo (July 23 - August 22)
Glitzy Leo, anything showy or glamorous works for you. Since you are the horoscope sign of the Lion, you can easily pull off a sexy cat getup. Or go the celeb impersonation route and channel your inner Madonna or Paris Hilton -- any famous (or infamous) personality known for glitz is a perfect fit for you.
Virgo (August 23 - September 22)
As the service-oriented horoscope sign, Virgo, you have full claim on the archetypal sexy French maid outfit. Or you can share the sexy cat outfit your Leo friends might opt for, since Virgo is the zodiac sign of the cat. And as one of the more intellectual (and reserved) signs, you can argue with your Gemini pals about who gets to play sexy librarian, too!
Libra (September 23 - October 22)
As the horoscope sign that rules beauty, you can easily slip into a Miss America gown to play pageant queen. Want to go deeper? Embrace your artistic roots (and refined style) by draping yourself in translucent fabrics and going as a Greek muse!
Scorpio (October 23 - November 21)
As the sign that embraces the ideas of sex and death equally, you'll want to summon the underworld a bit by dressing up as a sexy devil or a femme fatale straight out of your favorite film noir flick. Morticia Addams is also a perfect Scorpio choice -- she's dark and sexy, and embraces the goth look that Scorpios have mastered!
Sagittarius (November 22 - December 21)
You're all about travel and staying on the move, Sagittarius, but your horoscope sign is also highly athletic. Think Lara Croft, the tomb raider: she's an archaeologist and globe-trotter, all about travel and ideas, just like you! Any costume that incorporates athleticism also works well with your sporty self!
Capricorn (December 22 - January 19)
You're all about systems and control, so arriving at your Halloween destination dressed as a sexy executive is right on the mark! Because you like structure and authority, you'd also do well as a sexy police officer, or even a dominatrix if you're feeling feisty!
Aquarius January 20 - February 18)
Yours is the horoscope sign most associated with technology and the outer realms, so paying homage to your favorite sci-fi character is definitely the way to go. Try dressing up as Seven of Nine (if you're fond of 'Star Trek') or go as a sexy martian. Because you're counterculture, you'd do well as a punk rocker, too, circa 1983!
Pisces (February 19 - March 20)
Dreamy Pisces, embrace your connection to the watery depths and dress up as a mermaid! This mystical creature will tap into your fantasy edge and enable you to wear flowing fabrics in deep colors -- your specialty. Or try your luck as a sexy sailor. Since the shadow side of your zodiac sign is that of the victim, you might also want to consider going as a hot prisoner.
Save the fright for Halloween Night! Get insight with a Celtic Cross Tarot reading from Tarot.com.