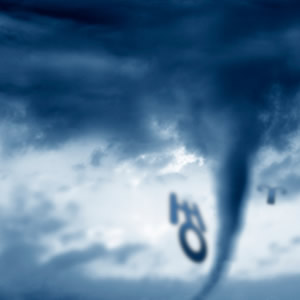 Ever since Uranus zapped into Aries on March 11, we here at DH headquarters have been expecting the unexpected. And it doesn't get any more unexpected than the swath of terrible tornadoes in the South, which have swept across six states and killed at least 250 people.
The Southern storm system is the deadliest in nearly 40 years, and it comes just a little more than a month into Uranus' seven year stay in fiery Aries. Of note, the recent deadly earthquakes and tsunamis in Japan also occurred the very day Uranus was moving from Pisces into Aries.
Master Astrologer Rick Levine explained that Uranus can have a significant effect both personally and globally when it changes signs every seven years, so its move into explosive Aries can offer some cosmic clues to this latest instability and whirlwind weather.
Uranus is known as the planet of surprises and sudden, unexpected events, while Aries signifies a chaotic, unstable energy blazing out into the world. Together it's an explosive combination -- or implosive, considering the Southern tornadoes.
Uranus is also currently joined by five other planets in Aries, which altogether increases global tension to the point it needs to be released via the political uprisings and natural disasters we've already been seeing.
So is there any reprieve from all this dynamic planetary shifting?! Yes.
The good news is steady Taurus energy is already on the way to stabilize things. The Sun already moved into Taurus on April 20, calming the forces of change. Mars, Venus and Mercury also will move into Taurus from May 11-15.
Best of all, Jupiter -- the planet of luck and growth and expansion -- will move into Taurus on June 4, bringing a surge of stability to our lives and to the entire planet.
It's true Uranus will remain in Aries through 2018 and we'll continue to see some dramatic effects, but for now let's open our arms to Taurus and embrace the calm in the storm.
If you like what you see on DailyHoroscope.com, please consider following us on Facebook and Twitter.