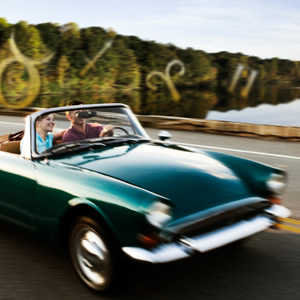 The summer months have us thinking about one of the most fun and adventurous activities: road trips! The stars can give you guidance about where to go, what to do, how to travel ,and who to travel with. Read the advice below for your horoscope sign to get great ideas on how to have a memorable getaway, tailored just for you.
Aries (March 21 - April 19)
Speed, excitement and adventure are your ticket to a good time, Aries. A motorcycle trip to the Grand Canyon or some other outdoor destination will offer you the challenge and sense of freedom you thrive on. Though you'd enjoy traveling alone, a calm, cool-headed companion could help you avoid encounters that might trigger your infamous temper that could keep you from having the fun you deserve.
Taurus (April 20 - May 20)
A leisurely drive through farm country with plenty of stops for comfort food is the ideal Taurus road trip scenario. Though generally it's hard to get you to leave your familiar routines, a road trip that satisfies your desire for sensual pleasures can get you moving. You should probably be in charge of the driving, since you like to move at your own pace and want to be able to stop to eat whenever the urge strikes.
Gemini (May 21 - June 20)
You'll need a road trip that is packed with things to do, people to see and places to go. "The more the merrier" is your motto, and you'll likely acquire a few fellow travelers along the way. But be careful about picking up hitchhikers, because your natural curiosity could make you bite off more than you can chew. You'll probably also enjoy having an educational component be part of your trip, so make sure to stop at museums and other informational spots along the way.
Cancer (June 21 - July 22)
Whether you're going on a posh tour of gourmet restaurants or bringing your kids to visit grandma, your trip is sure to involve family and food one way or another. Since you love history, you'll probably enjoy traveling in a vintage car and stopping at antique stores and famous historical sites along the way. Since being away from the comfort of your own bed may be a bit challenging for you, try to bring a familiar pillow or blanket that will make you feel more at home.
Leo (July 23 - Aug 22)
Your idea of a road trip probably involves a bright red convertible, fancy hotels and plenty of opportunities for fun along the way. You don't just want to have an ordinary vacation, but want to feel pampered and taken care of every step of your journey. As the sign ruled by the Sun, you'll probably most enjoy a trip to some warm and luxurious location. Mixing it up with the average Joes at the RV parks is just not going to cut it for you.
Virgo (Aug 23 - Sept 22)
Virgos love nothing better than to spend time enjoying nature, so a road trip that involves plenty of time spent camping and hiking is ideal for you. But just because you're going to be spending time out in the wilderness, it doesn't mean you have to be disorganized. You'll plan months ahead of time, figuring out your route and what you need to pack.You'll probably most enjoy traveling in a hybrid vehicle or some other environmentally responsible car.
Libra (Sept 23 - Oct 22)
As a lover of beauty and pleasure, you'll enjoy a road trip that includes visits to local museums and galleries and allows you plenty of time to relax and de-stress. A trip to a spa or a romantic getaway with your partner would make you happy, especially if it includes delicious desserts and beautiful sunsets. Since you can sometimes have a hard time making up your mind, once you make your plans, try to stick with them, otherwise you could end up going nowhere.
Scorpio (Oct 23 - Nov 21)
Your private and intense nature may lead you to taking a road trip on your own. You'd probably enjoy a tour of famous crime sites, cemeteries or haunted houses. Salem, MA could be an interesting destination for you to learn more about the occult, which is one of your favorite subjects. Since you like to travel incognito, you may choose a vehicle with tinted windows and even come up with some kind of disguise or alternate name, so that you can remain undisturbed and anonymous.
Sagittarius (Nov 22 - Dec 21)
It's hard to imagine you taking a road trip that doesn't take place in another country, since you thrive on diverse cultures and languages. If you do stay stateside, you'd probably enjoy a river rafting, mountain climbing or other adventure-based road trip. A pickup truck or other four-wheel-drive vehicle will get you where you want to go with a minimum of fuss. Just try not to overdo it and end up with an injury that could shorten your trip and your fun.
Capricorn (Dec 22 - Jan 19)
If your road trip is based on work or a business project you'll get the most enjoyment out of it. This way you can write it off as a tax expense, which will bring great satisfaction to your practical nature. However, it might do you good to do at least one thing on your trip that is just for fun and involves other people, particularly your family. This will help you to relax and get more in touch with yourself. Your ideal road trip vehicle will both represent your status and get good gas mileage.
Aquarius (Jan 20 - Feb 18)
Like everything you do, your perfect road trip will be quirky and outside the box. You probably won't plan it too far ahead of time, preferring instead to be spontaneous and free. This will probably be a group affair, involving many friends and acquaintances, so you might need two cars or even a "hippy bus." You'll enjoy touring wacky spots like UFO museums, communes or alternative living centers. Try to remember that not everyone lives the way you do, and be respectful of the local cultures you visit.
Pisces (Feb 19 - March 20)
Pisces, as a spiritual Water sign, you'll likely enjoy a tour of sacred sites or a trip that involves a river, ocean or lake. You may even want to journey to a retreat spot where you can spend time meditating or praying and clearing your mind. Wherever you go, you'll likely attract some interesting wildlife, since you have a gift with animals and other forms of life. Though you know that life is about the journey and not the destination, it still might be helpful to have a GPS so that your intuitive approach to directions doesn't have you ending up spending most of your time lost.

Get more inspiring insight with a Celtic Cross Tarot Reading from Tarot.com.