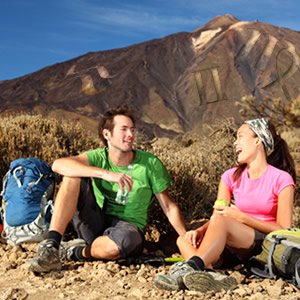 Of all seasons, summer is the season for play and relaxation -- and it's fading fast! Luckily there is still enough time and plenty of outdoor activities to satisfy every age and every horoscope sign -- from sporty Aries to spiritual Pisces. So throw on some shades and head outdoors for some fun in the sun!
Aries (March 21 - April 19)
As a Fire sign, Aries can stand the heat. But you have way too much energy to spend the day lounging around on a blanket. Beach volleyball perfectly combines your love of activity with your favorite pastime of all -- competition.
Taurus (April 20 - May 20)
Summer brings you Bulls back to your youth. Even if you're on the clock from 9 to 5, open the blinds and let the sun shine in -- the season is still a gift! Weekend hikes or trips to botanical gardens will make you earthy Taureans one with nature.
Gemini (May 21 - June 20)
Chatty Twins love to be surrounded by others, so summer parties are the best. From block parties to beach bonfires, you'll be flitting from one group to the next, talking about everything from pop culture to politics, leaving with a cell phone full of new numbers.
Cancer (June 21 - July 22)
You love to cook almost as much as you love to be around your family and friends, so you're all about those summertime BBQs! To satisfy both your Water influence and your love of tradition, try organizing a clam bake potluck on the beach for you and your closest friends.
Leo (July 23 - Aug 22)
It's a rare Leo that's shy about showing off. Naturally, you Lions love lounging on the beach. And by "lounging," we mean flaunting what you've got in your new swimsuit (with designer sunglasses, of course).
Virgo (Aug 23 - Sept 22)
Virgos like to get their hands dirty (before obsessively cleaning up, of course!). Rural Virgos will benefit from tending to a garden or potted plants throughout the warmer months. Urban Virgos: look into scoring a plot at a community garden where you can indulge your earthy side while sparking camaraderie with like-minded herbivores!
Libra (Sept 23 - Oct 22)
Summer is full of cultural events, which you Libras love. Whether it's Shakespeare in the park or a classic movie night in an open-air park or patio, you'll be front and center! And lucky for your friends, you no doubt bought the tickets in advance -- so all they have to do is show up!
Scorpio (Oct 23 - Nov 21)
Scorpios love sultry summer nights more than the blistering days. Walks on the beach would appeal to your nocturnal nature and aquatic Water-sign tastes. A nighttime outdoor concert would be ideal, as long as there are sensual drumbeats to dance to.
Sagittarius (Nov 22 - Dec 21)
Adventurous Sagittarius loves exploring exotic places, but chances are you've missed a few gems near your own home . This summer, try being a tourist in your own city or state. Check out a new neighborhood or a new campgroudn -- not only will you get to experience things through fresh eyes, but you'll probably learn a thing or two.
Capricorn (Dec 22 - Jan 19)
As the zodiac's workaholic, Capricorns need summer fun more than any other sign -- if you can be dragged away from the office. A weekend camping trip will give Goats the chance to relax. Leave the electronics behind -- Blackberry included.
Aquarius (Jan 20 - Feb 18)
Aquarians love group activities, like a carnival or day at the state fair with friends. You're more likely to explore the quirkier side of the fair -- like animal oddities or oversized fruits and veggies, or getting your palm read -- but you're usually up for a thrill ride, too.
Pisces (Feb 19 - March 20)
Spiritual Fish see warm weather months as a chance to connect with nature. At yoga in the park, you'll meet like-minded people while you get centered. Beach yoga is even better, as you have a natural affinity for water.