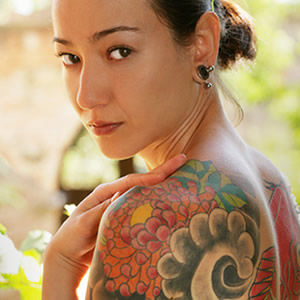 When it comes to getting inked for life, every horoscope sign identifies with a different kind of tattoo. From delicate florals for Cancer to devilish Scorpio stingers, we've scoped out the best tattoos for every sign.
Aries (March 21 - April 19)
The bold, brash sign of Aries needs a tattoo that befits a courageous personality. You Rams are often in the military, so any ink symbolizing the armed forces is appropriate. Mechanical-minded Aries also loves fast cars, so a tattoo of your favorite ride is fitting. As a fire sign, any artwork depicting flames would be a good choice, and Ares, the Greek god of war, is another option. Spiky plants like thistles or holly are symbolic of Aries' barbed wit. Red should be the predominating color for any Aries' tattoo.
Taurus (April 20 - May 20)
Earthy, sensual Taurus needs a tattoo that evokes luxury. A cluster of grapes, a bouquet of flowers, a classic painting -- all of these would be good tattoos for you Bulls. Roses, daisies or violets are also appropriate, as they symbolize springtime, Taurus' special season. A bar of music from your favorite song is another good option. Aphrodite is the patron goddess of the Bull, so her image would be fitting. A fruit tree laden with apples, pears or plums characterizes Taurus' love of plenty. Violet should be the predominant color of a Taurus tattoo.
Gemini (May 21 - June 20)
Anyone born under the sign of the Twins will benefit from a tattoo that depicts a pair of flowers, animals or insects. Geminis are symbolized by lavender and lilies of the valley, so these would be appropriate flowers. Talking birds like parrots demonstrate Gemini's chattiness, while monkeys represent its intelligence. As far as insects are concerned, butterflies are an ideal image for Gemini. Hermes, the Greek messenger god, symbolizes Gemini's gift with words. As far as colors are concerned, yellow should be the prevailing hue of a Twins' tattoo.
Cancer (June 21 - July 22)
Moon children often choose an image of their ruling planet as their first tattoo. You Crabs also feel strong attachments to home, so you may pick the flag of your native land as an image. Roses and water lilies are the ruling flowers for Cancer. The Greek goddess Artemis, who rules the home and hearth, would be another good choice. Your kids' names and birthdates are likely options, symbolizing a strong bond with your family and children. Of course, Cancer is ruled by water, so pictures of oceans, rivers and lakes are favored. Blue should be the prevailing color for a Cancerian tattoo.
Leo (July 23 - Aug 22)
Glamorous Leo likes eye-catching, colorful tattoos. Of course, cats, leopards, tigers and lions are all good choices for you Leos, too. An image of a sunflower or marigold would be fitting. You Lions have always been associated with royalty, so a tattoo of a crown or scepter would work well. And Leo's ruling planet is the Sun, so this celestial body is a natural choice, while Apollo, the Greek Sun god, would also be fitting. Lions are big gamblers, so a pair of dice or four Aces might appeal. Orange should be the dominant color in a Leo's tattoo.
Virgo (Aug 23 - Sept 22)
Intellectual Virgo prefers a thought-provoking tattoo. A stalk of wheat would be a good choice for you Virgos, as your sign spans harvest time. Ceres, the goddess of agriculture, is another fitting image. Virgo also rules industry, so worker insects like bees or ants would be good choices. People born under the sign of the Virgin are literary creatures, so a quote from a beloved book might be a good choice, as would a portrait of your favorite writer. Buttercups are a flower associated with Virgo, as are Cat's ears. As far as colors go, green is a good theme color for a Virgo's tattoo.
Learn more about yourself with a Self Knowledge Tarot Reading from Tarot.com.