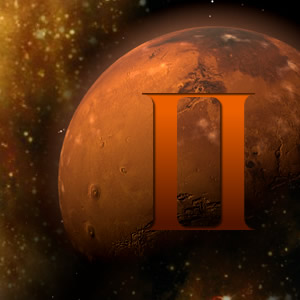 Action planet Mars is in speedy Gemini from April 21 to June 4, 2017, which makes for a highly energetic planet in a highly mobile sign. During this time we must keep in mind that a quick response in not always the best one.
The fact is, Gemini moves in more than one direction at a time, which is in contradition to Mars' knifelike thrusts.
Mars does best when it's focused. It is pure hunter instinct that hones in on the target, then strikes its blow. But, Gemini is a better talker than a fighter. It's a wanderer and thinker, not a killer.
The challenge, then, is to stay on track until Mars moves on into Cancer on June 24. But, maybe that's not even possible now. Maybe we need to stay on more than one track. Diversity is the name of Gemini's game. Brief incursions may work better than full-scale invasions. Gemini is about tasting little bits at a time, rather than making a total commitment. We might all work more efficiently now if we have a variety of tasks that we can move among like butterflies.
Step lightly in the airy sign. A heavy footprint will only bog you down. This is a time for dancers, not stompers. Wit works wonders when properly placed. The greatest weapon is the mind with Mars in Gemini. Just remember what it feels like to be at the other end of the verbal barb, and avoid laughing while others cry.
Mars in Gemini seems common among divas: Barbra Streisand, Diana Ross, Aretha Franklin and Lena Horne were born with it. Raucous rockers Jimmy Page, Keith Richards, Jim Morrison and Roger Daltry also belong to this band. We have very bad boys O.J. Simpson and Mike Tyson with Mars in Gemini too, and less dangerous ones like Sean Penn and Dennis Hopper.