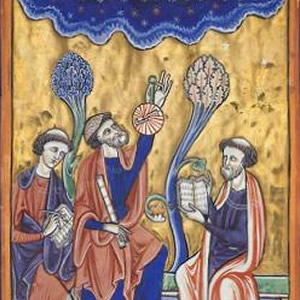 Can't we all just get along? It's funny, but when it comes to the age-old battle between Astrology vs. Astronomy, it really wasn't until the "Age of Reason" the situation became unreasonable.
To celebrate Global Astronomy Month in April, we'd like to give you some background on the differences between the two studies, a few key points in disagreement, and some highlights from the cosmic battlefield.
First, let's get our facts straight. Astrology and Astronomy derived from the same disciplined study of the stars and planets. In ancient times, the information gathered was used as much to guide lives as to guide ships. It wasn't until the 18th century that the two studies became separate.
Now, Astrologers still use the position of the planets and celestial objects to study their influence on people and nature, and this valuable insight can be used to predict moods and events.
Astronomers, on the other hand, have become strict scientists, studying the universe and planets without allowing any intuitive elements creep in.
And because of these differences in discipline, Astrology and Astronomy often have a spirituality vs. science face-off.
You might remember when scientists downgraded Pluto from a planet to a dwarf planet. Well, Astrologers still regard Pluto as having powerful influence over our inner thoughts. In fact, Pluto is retrograde right now and you can probably feel yourself shifting into some deeper thoughts than usual.
Or remember more recently, when the world was in an uproar over whether or not Ophiuchus is "the new 13th zodiac sign." It's not, by the way. But astrologers and astronomers disagree on that fact. Astrologers remind us that Ophiuchus is a constellation, and Astrology is based on the four seasons, not on constellation.
See what's in store for you personally with a 30-Day Astrology Forecast from Tarot.com!