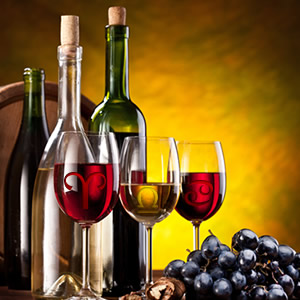 Wine lovers, raise your glasses and toast to the best vino for every horoscope sign! We've done the legwork for you and found the perfect Pinot for comfort-loving Cancers and the best bold Chardonnay for outgoing Leo. Think of our wine guide as your cosmic grapevine to the best bottles for every sign.
Aries (March 21 - April 19)
Toasted Head Cabernet Sauvignon: Just as Aries' love to plant themselves in the heart of any controversial or challenging topic, the grapes used to make this wine thrive in the rough and gravel-like soil of their region -- and it's perfect for fiery Aries. Sourced from the Lake County region of California and from Mendocino, including the Redwood Valley, this wine is a sassy mix of cherry, rhubarb and raspberry, giving it a seemingly fun and outspoken flavor. But don't worry, it's not all sass and no serious with this wine. In typical Aries fashion, the wine's vanilla and mocha aromas (from barrels aging) make sure this wine gets taken seriously.
Taurus (April 20 - May 20)
Gloria Ferrer Blanc de Noirs Champagne: All Taurus' love champagne. It's a fact. However, the stubborn bull of the zodiac can be very discerning when it comes to which champagnes they will actually buy and drink. Taurus likes the highest of quality at the best of price. That's why we choose this Blanc de Noirs as our Taurus taster. It met all five criteria of our highly sensory Taurus. 1) Taste: Not too sweet, not too dry. 2) Smell: Subtle hint of vanilla won't offend the Taurus' keen sense of smell. 3) Touch: Small, lively bubbles tingle the lips and mouth keeping the bull happy. 4) Sight: The price tag. A quality vineyard at a steal of a price. 5) Sound: Clinking champagne glasses trigger that sense of quality and satisfaction.
Gemini (May 21 - June 20)
Murphy Goode Sauvignon Blanc "The Fume": If you know a Gemini, chances are this networking sign has a slew of wine recommendations to offer up. However, we picked this Sauvignon Blanc for our Geminis to enjoy for some very specific reasons. Our lovely Twin of the zodiac can't help but be attracted to the contradictory taste of this Fumé. We think it's because this wine, while predominately fermented in stainless steel to retain it's fruit aromatics prior to bottling, also goes through a second and brief barrel fermentation to give it a hint of oak. It's this second look at the flavor -- this "twin perspective" on fermenting -- that makes this Sauvignon Blanc a sure things for any Gemini. He/She might even recommend it!
Cancer (June 21 - July 22)
Strangeland Vineyard Oregon Pinot Noir 2007: Often people joke, unsuccessfully, about Cancer's being a "crabby". Well, guess what . . . we know there is more to our crustacean friends! In fact, cancers are among the most sentimental and loving horoscope signs. Cancers thirst for an environment they can build and nurture from the ground up. Strangeland Vineyard and Winery is a small family owned winery specializing in handcrafted wines and seems especially appropriate for our Cancer wine lover. Strangeland prides themselves off using the natural beauty "in their own backyard" to create a comforting blend of flavors -- their own little slice of paradise in the heart of the Willamette Valley. Similarly, building a home to protect, preserve and foster the things they value most is what Cancers are all about. So this wine is sure to resonate with their passion for local heroes and love of comfort foods!
Leo (July 23 - Aug 22)
Carmel Road Monterey Chardonnay: Carmel Road Influential and outwardly confident, Leo's will love this bold and beautifully balanced Chardonnay. Its combination of grapefruit, pear and vanilla imparted by traditional barrel fermentation makes it unique and still wildly appealing. Sure, it's hard to find someone who doesn't like Chardonnay, but this particular Carmel Road is sure to please our Lioness because of its broad appeal and ability to spark conversation. Watch closely -- by the end of the night, this Leo will have convinced everyone that her wine is the only wine worth talking about. Hear her roar!
Virgo (Aug 23 - Sept 22)
Layer Cake Shiraz: Our Virgo wine drinker is definitely attracted to the highest standards, like Layer Cake Shiraz produced in South Australia -- arguably one of the top Shiraz-growing regions of the world. In fact, it's the Winemaker's Notes that make this wine a Virgo-must-drink: "An eye for detail and relentless perfectionism coupled with an insatiable desire to produce the finest wine is winemaker Jayson Woodbridge's gift." Not to mention, the clean-obsessed and nitpicky Virgo would insist on nothing less than non-interventionist winemaking practices, as used in the production of this Shiraz. Our earth sign Virgo loves the layered rich aromas of black plum, bing cherry, blackberry and pepper merged with licorice, tobacco, mocha and dark chocolate. Enjoy this wine, but be sure to wash and put your glass away when you're done!