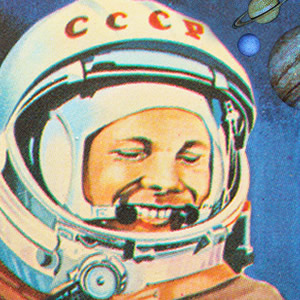 Calling all space cadets, it's Yuri's Night! Today marks the 50th anniversary of the first man to travel to space, and nearly 470 events in 71 countries will commemorate Soviet cosmonaut Yuri Gagarin's first flight as the beginning of an important era in space exploration.
Of course, we can't forget the whole point of space travel is to learn more about the planets, right? But did you realize you don't need a rocketship and Moon Boots to do that? Our Master Astrologers can give you a little space schooling right now.
First, it's important to remember that Astrologers study the planets just as astronomers do, only we come at it from a more spiritual perspective and we've been doing it for much longer.
What we've learned is that as the planets move through the zodiac and interact with each sign -- and each other -- they set the mood here on Earth. Each planet has a unique personality and an area of life it oversees.
Here's a quick look at Astrology's "Big 10" planets. And don't forget, and when you step outside to look up at the sky and celebrate Yuri's Night, say a little thank you for all the Astrologers working hard to explore the meaning of the cosmos, too.
Mercury
Taking just over two weeks to move from one horoscope sign to another, Mercury is the super quick trickster planet. Above all, Mercury is the planet of information -- collecting it, dispersing it and absorbing it. So, it makes perfect sense that the two horoscope signs ruled by Mercury (airy Gemini and earthy Virgo) are known for their intellectual natures. Learn more about Planet Mercury here.
Venus
Venus is one of the most beloved planets, for one simple reason: Love, baby! Venus takes just under a month to move from one horoscope sign to another, and this flirty planet is focused on passion and partnerships of all kinds, from business to marriage. But Venus goes beyond human attraction -- it's also the planet of beauty. Learn more about Planet Venus here.
Mars
Like its namesake Roman god, Mars is a warrior -- the planet that shapes how you defend yourself, how you handle difficult situations, how you make important choices and how you push yourself further in life. In a way, Mars is your personal ally, but it definitely has its shadowy side: it's the planet that encourages you to take action, but with only your interests in mind. Learn more about Planet Mars here.
Jupiter
Whenever you're at your best at work or play, Jupiter has a hand in it! Jupiter is a huge planet, and its happy-go-lucky influence is just as great! Think of Jupiter as your mentor, personal trainer and sidekick, the planet that ignites luck in your birth chart and reveals your true strengths. But there's a dark side to Jupiter, too, which is greed and egoism. Learn more about Planet Jupiter here.