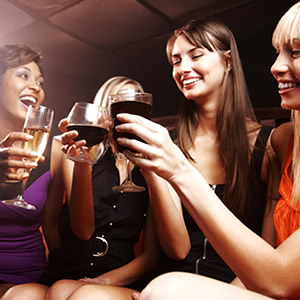 No matter how certain she was when she said "yes" to her honey's proposal, every bride has a moment when she finally comprehends what she is really doing by agreeing to get married.
Once the dress is purchased, the catering ordered and seating chart arranged, turning back becomes less and less of an option. That's why the wisdom of women everywhere created the best cure there is for "cold feet": the bachelorette party!
The goal of the party is not only to get the bride to forget her woes; it also serves as a great way to honor her as a woman and as a friend. Just follow one little rule: schedule the bachelorette party at least one week before the wedding ... she won't want to make those big public appearances until her skin, eyes and head have recovered from the barrage of alcohol consumption that's part of this fine tradition!
Aries (March 21 - April 19)
Aries women usually embody a rather fierce form of femininity, so you Aries brides will need an action-packed experience to make you feel as though you've maxed out your chances to become Xena, Warrior Princess. Slather on war paint and suit up in padded gear for an afternoon of scenario paintball. Or, paddle through the rapids (possibly with a panicked bridal party following tenuously in your wake) in a kayak or canoe. Whitewater rafting could be a tamer solution, and all of the above should take place prior to serving cocktails. You'll adore recounting your highlights of the experience over flaming shots later in the evening.
Taurus (April 20 - May 20)
Luxury, enjoyment and comfort are the key elements to keeping the Taurus bride happy. Although catering to the kind of high-end taste you're known for could run up quite a tab, the smile on your face will be worth it! The ideal night would start with being picked up in a limo and whisked away for a dinner that isn't on the Diet Fairy's food plan. Steak, mashed potatoes and deserts such as volcano cake and "death by chocolate" would be a good start. Or, if you can't deal with the limo and the huge hunks of beef portions of this plan, try a dessert bar or bakery hopping. You know your sweet tooth is the highway to happiness.
Gemini (May 21 - June 20)
Planning a wedding forces you Gemini brides to sit still for much longer and far more often than you want to. Also, the prospect of marriage is frightening; being tied down seems so confining! So your bachelorette party needs to be packed with enough thrills to make the rest of the journey toward becoming a Mrs. seem like a cake walk. Start with roller coaster rides designed to get people in touch with their primal fears -- if there are no parks close to home, then perhaps a road trip is in order! Or, find a place where you can cast aside your restlessness in a safe way, like bumper cars or go-karts; drinks served afterward.
Cancer (June 21 - July 22)
Cancer brides, your friends probably already know you aren't "that kind of girl," so they can forget about the blow-up dolls and cheesy sex toys that most bachelorettes would thrive on. But perhaps you'll be up for letting out your steamier side in a more subtle way, like a "just us girls" shower of sorts, without the relatives and the corny cakes and cookies -- but with lots of adult beverages! Think a bar-themed shower, with a blender and shaker, plus shot glasses as part of the party favor scheme. You Cancer girls tend to come with a long "whine" list, but a vineyard tour or a tasting of sorts -- right at home -- could be just the ticket.
Leo (July 23 - Aug. 22)
The Leo bride loves to live large! You Lionesses aren't going to be content saying goodbye to your single days simply by sipping a few beers at the local watering hole. No, we're talking flash, panache and the kind of party everybody will rave about well into old age. That's right: Vegas, baby! A lost weekend among the best -- and worst -- the worlds of gambling, luxury and entertainment have to offer will see you off right. If you can't spring for this big of a trip, consider a nearby casino with karaoke so you can strut your stuff in style across the stage.
Virgo (Aug. 23 - Sept. 22)
The details of weddings are easy for the average Virgo to deal with. It's the idea of taking on the challenges of marriage that may really get to you! Most of it will involve training your man to take care of his things -- and his life -- the way you wants him to. The rest will be worrying about how much he may interfere with your own habits -- particularly "collecting" your favorite shopping booty. From shoes to belts and adorable bags, you Virgos "need" to have all the right accessories to match your outfits. Consider going on a shopping spree at a local mall to indulge your passions, then dish over drinks about the fashion particulars.
Libra (Sept. 23 - Oct. 22)
You Libras are probably the prettiest brides of all, and nothing will please you more than to have some opportunities to enhance the way you look and feel as your wedding draws nearer. Because you fairy-tale brides have been planning your weddings since birth, you're going to want the works, from a facial and hair straightening to the Brazilian wax to paraffin mani-pedis and, of course, the latest, greatest and highest quality of makeup. Grab your friends and head to the salon, or throw a make-up and make over party at home! The "look" will get more interesting as stiff cocktails take effect!
Scorpio (Oct. 23 - Nov. 21)
There is really only one thing that will put Scorpio brides into a state of amusement: S-E-X. Even though you can be very fixated on breaking new frontiers and inventing fresh trends, when it comes to your final experiences as a single girl, the tried and true will work very well. Bring out all the cliche items such as the giant plastic versions of male members and phallic-shaped pasta, and throw in a little pole dancing lesson or male stripper for good measure. Scorpio gals will be old hat at most of this stuff, but you'll also enjoy being the leader of the (rather raunchy) pack.
Sagittarius (Nov. 22 - Dec. 21)
Inside every seemingly sophisticated and savvy Sagittarius bride there is a little girl who's just dying to play! But your elaborate travel plans and intellectual banter isn't fooling anyone; you ladies are all about having the time of your life! And, to say the least, the looming marriage vows make you wonder about how much longer you can count on your freedom. Get your mind off all this by gathering your BFFs and getting involved in a team sport! Head to a basketball game, or get the girls together to play soccer or field hockey. If weather or energy levels don't permit, create a scavenger hunt for wild and bawdy wedding night items.
Capricorn (Dec. 22 - Jan. 19)
Capricorn gals love to have the view from the top of the world, so the least you'll want to do is have a chance to do that while you cherish your last moments of being a single girl. You can go with the straightforward symbolism of the Mountain Goat and go skiing, hiking or climbing, depending on the season. If you're feeling more extravagant than that, a helicopter or hot balloon ride could be the perfect thrill! If you sick to the right kind of places, you could also take one last look at the kinds of power-heavy guys that turn you on and while you test your powers of attraction one last time.
Aquarius (Jan. 20 - Feb. 18)
The challenge of pleasing you Aquarius brides can be a little bit daunting. You really won't want to appear as though you're the least bit fazed by the wedding jitters. The best thing to do is to capitalize on your sophistication and detachment by taking a party cruise, or heading to a quiet bar where the lighting sets off your bone structure perfectly -- and attractive men with witty conversation skills abound! Or, do something kooky and community-oriented, such as planting a tree or refurbishing a park with your closest girls.
Pisces (Feb. 19 - March 20)
You fanciful Pisces brides will buy into just about anything for your bachelorette party experience. To make you as happy as possible, though, your best bet will be to treat throw a dress-up party! You can all put on the clothes, shoes and accessories you used to play with as young girls, creating the image of a fairy princess or angelic apparition. And you can play cute kiddie games, too, like racing to bite off the bits of candy necklaces or playing pin the manhood on the groom!
Will your love last forever? Find out with a Happily Ever After Tarot reading from Tarot.com.