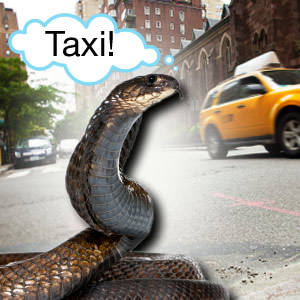 Now we've heard everything. The deadly Egyptian Cobra that escaped from the Bronx Zoo this weekend is still missing, but the sassy snake's alter ego has turned up on Twitter.
Since Monday, more than 50,000 people have signed up to follow @BroxZoosCobra, a parody account set up to Tweet the slippery snake's supposed adventures in Manhattan. The question is, is this hilarious or is it making a mockery of a dangerous situation?
Normally we Daily Defenders balk about the idea of someone devoting so much energy to Tweet nonsense -- after all, isn't it just another example of cosmic clutter? Who has time for this, and is it appropriate to jam the 'net with jokes when the very real and very dangerous snake is still MIA?
Then again, zoo officials say the snake is most likely still secured in the reptile house and not a danger to the public. Plus, the Cobra's Tweets are not mean-spirited, and it's serving up some laugh-out-loud entertainment to followers who specifically signed up for it.
And really, this snake is a charmer. Not only is she hilarious, but quite a few New York City hot spots are benefiting from the Cobra's positive public relations mission. She's visited Magnolia Bakery, The Metropolitan Museum of Art and the diner from Seinfeld, to name a few.
Here are a few funny favorites from the Brox Zoo Cobra's Twitter feed:
"On top of the Empire State Building! All the people look like little mice down there. Delicious little mice. #snakeonthetown"
"Enjoying a cupcake @magnoliabakery. This is going straight to my hips. Oh, wait. I don't have hips. Yesss! #snakeonthetown"
"Taking the Sex and the City Tour!!! I'm totally a SSSamantha. #snakeonthetown"
"Dear @CharlieSheen, know what's better than tiger's blood? Cobra venom. #winning #snakeonthetown Also I'm 20 inches long. Just sayin'."
Are you laughing?!
If you like what you see on dailyhoroscope.com, please consider following us on Facebook and Twitter.