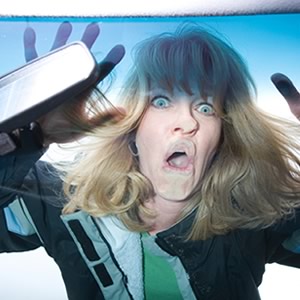 In relationships, the ideal set-up is one that creates positive energy, and releases that energy -- karmic energy -- back into the world. Aside from the normal bumps in the road that we all experience, love should be full of nothing but ... well, love! But in the case of one California couple, the word "dysfunctional" takes on a whole new meaning.
Yesterday, CBS News reported that 36-year-old Christopher Michael Carroll drove 40 miles ... with his wife ... clinging to the hood of his car. Come again?
Apparently, an argument broke out between the two, he got into his minivan, pulled out of the driveway, and she decided she wanted to go for a nice ride. At 100 MILES PER HOUR. She's alive, save for a case of hypothermia, and he's now being charged with attempted murder.
Who's more to blame? Her, for jumping onto the hood like a crazy person, or his, for channeling his out-of-control anger via the speedometer?
Well, it's both of their faults really, although he probably shouldn't have driven the minivan with her on it. Not the best idea.
Love can make you crazy, that's for sure, but it's hard to tell which of these two lovebirds is more insane. Toxic relationships full of fighting, arguments and violence shouldn't exist, yet sometimes people just can't let go ... emotionally, and, in this case, physically.
So... What do YOU think about this story ... and who's to blame?
If you like what you see on dailyhoroscope.com, please consider following us on Facebook and Twitter.