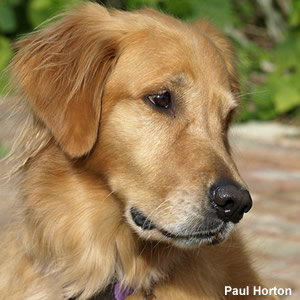 Sirus took a bullet to save his family and their baby. Effie got help for a 94-year-old man who was unconscious and bleeding in his driveway. Yogi (pictured left) ran and barked furiously to find help for his owner, paralyzed in a mountain bike accident.
Meet some of America's most courageous canines.
On Sunday, the waggy-tailed winners will be announced in The Humane Society of the United States' Fourth Annual Dogs of Valor Awards. The awards honor dogs who have exhibited an extraordinary sense of courage or resolve by heroically helping a person in need -- or what we like to call good canine Karma.
One of the dogs in the running for a Dogs of Valor award lives right here in our own DH hometown of Portland, Ore., so we're especially rooting for her! Ceili, a 15-year-old Lab mix, saved her owner by foreseeing his heart attack, sticking to him closely all day until it happened, and then racing for help when it did. He survived, and he may not have wihout Ceili's help. Read Ceili's story here.
We're excited to see which pup is chosen as Valor Dog of the Year, and to share this link to the Dogs of Valor Awards so you can read all the stories of these inspiring pups and the people whose lives they've touched.
Tell us, what's the most wonderful thing your own dog has done?!
If you like what you see on dailyhoroscope.com, please consider following us on Facebook and Twitter.