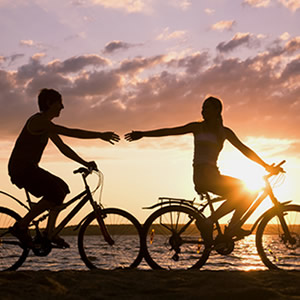 Guess what, dating is expensive! But just because the economy is still in the dregs doesn't mean you have to put your love life on hold.
There are plenty of inexpensive ways to cultivate romance, and by tailoring the outing to your love interest's Sun sign, you're sure to have a great time.
Here are some great dates for every horoscope sign that won't break the bank.
Aries (March 21 - April 19)
Athletic Aries loves a chance to flex their muscles. Meet up for a jog through the park, then replenish your systems at a smoothie stand. If the weather's lousy, invite the Ram over to watch the game, and be sure to lay in a healthy supply of spicy snacks. Aries is an infamous daredevil, too, and might enjoy a night at the demolition derby.
Taurus (April 20 - May 20)
Bulls love seeing how the other half lives. Taking a tour of luxury homes could constitute a great date with this sign. Taurus is also very creative and likes hands-on activities -- try visiting a pottery painting studio together. This sign is famous for their green thumb, so planting bulbs, pruning shrubs or plotting a vegetable patch are good ways to cultivate romance.
Gemini (May 21 - June 20)
Gemini is a big kid at heart. Head for the playground if you want to have a great date with this sign. Challenge each other to a pumping-up contest on the swings, build a masterpiece in the sandbox, play a game of hoops. If your favorite Twin isn't athletic, you can always break out a board game. Monopoly, Clue or Risk will bring out Gemini's competitive spirit.
Cancer (June 21 - July 22)
Sentimental Crabs love things that evoke the past, so window-shopping for antiques, used books or vintage clothing can be fun. These homebodies are especially fond of baked goods, and might welcome an afternoon of bread making. Cancer is a Water sign, so renting a rowboat for the afternoon could also have tremendous appeal.
Leo (July 23 - Aug. 22)
These natural performers love showing off, so an evening of karaoke could go down very well with flashy Leo. This sign loves glamour, too, and may snap up your offer to watch a glittery Hollywood extravaganza on your DVD player. Last but not least, Leo loves carnivals. An evening of rides, cotton candy and games will make the Lion purr with pleasure.
Virgo (Aug. 23 to Sept. 22)
A trip to the farmer's market is a great way to win Virgo's heart. This health-conscious sign loves fresh produce. Alternately, you may decide to take a yoga class together. Even a trip to the library can be stimulating with this brainy sign -- be sure to ask Virgo for some reading recommendations, and offer a few of your own.
Libra (Sept. 23 - Oct. 22)
Librans love teamwork, so rent a bicycle built for two for a perfect date. This sign is physically graceful, and may enjoy an afternoon of ice skating or an evening of dancing. Air signs enjoy watching birds in flight; head for the park with a loaf of bread and feed the ducks together. Librans love music, too, so a free outdoor concert is a great prelude to romance.
Scorpio (Oct. 23 - Nov. 21)
As the detective of the zodiac, Scorpio might enjoy assembling a gigantic jigsaw puzzle with you. Challenging this person to a scavenger hunt could also be fun. Scorpions are very resourceful and enjoy touring junkyards and salvage dealers. This sign also likes to delve the psychological depths; propose to take a Myers-Briggs test and then review the results together.
Sagittarius (Nov. 22 - Dec. 21)
Archers are notorious dog-lovers, so if you've got a pooch, ask Sag along on one of your walks. Alternately, you can window-shop together at the local pet shop. This sign loves the outdoors, too, and might enjoy a barbeque or picnic. Sagittarians are also interested in foreign cultures, so scan the newspaper for any upcoming ethnic festivals in your area.
Capricorn (Dec. 22 - Jan. 19)
Going on a hike can cultivate romance with the Goat, since this sign loves scaling the heights. Capricorns are also fond of history; visiting a museum can cause sparks to fly between you. This sign likes building things, so constructing a model airplane or car would be a nice companionable activity. Lovers of luxury, Capricorn might enjoy trying free samples at a gourmet grocery store.
Aquarius (Jan. 20 - Feb. 18)
Air signs like Aquarius love watching the skies and would enjoy an evening stargazing together. Kite flying is another favorite activity of Aquarians. Miniature golf is usually a big hit with this sign, as Aquarians love the kitsch value of these courses. Video games are also a big hit with the Water-bearer -- try signing up for a local Wii tournament together.
Pisces (Feb. 19 - March 20)
Compassionate Pisces loves helping those in need. Volunteering at a homeless shelter or soup kitchen can be a great date for this sign. The Fish is quite artistic and might also enjoy taking a tour of art galleries. This sign also enjoys the water, so a trip to the aquarium is highly favored. Going to a fortune teller will excite Pisces's imagination, too.
See what's in store for your love life with a Big Picture Love Forecast from Tarot.com!