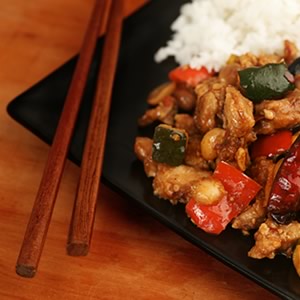 Get ready to party! And by "party" we mean "eat." Many New Year's traditions around the world involve champagne and firecrackers, but when it comes to Chinese New Year it's all about the feast!
Food plays an important role in Chinese culture, so it's no surprise that a huge part of the two-week Chinese New Year celebrations center around big banquets dishing up lucky dishes and symbolic foods. Chinese New Year festivities are held January 31 to February 14, 2014, so it's time to start cooking!
Dishes served most during Chinese New Year symbolize hope and renewal for the New Year. For example, noodles are long and strong and represent longevity, and spring rolls symbolize wealth because they look like delicate (and delicious!) bars of gold.
The Year of the Horse in 2014 doesn't get any better for Karma-minded food lovers. Not only will you be dishing up a delicious feast, but at the same time you'll be serving good intentions for 2013 -- a year of quiet transformation.
As we prepare to celebrate Chinese New Year here at DH headquarters, we Daily Defenders are drooling over all the Chinese New Year recipes we found: Grilled Asian Chicken... Pork Dumplings...Egg Foo Young... Foo sure!
Check out the recipes for these and other symbolic Chinese New Year dishes at Allrecipes.com, where you can also read more about the most meaningful foods. Who knew you could have an exceptionally lucky year just from biting into a Chinese dumpling?!
Before you start cooking, don't forget to look up your Chinese Animal Sign and read your Year of the Wood Horse Horoscopes so you'll be ready to celebrate and feast in true tradition.
P.S., speaking of tradition, it's a Chinese custom to say "May there be surpluses every year" before New Year's dinner because when spoken in Chinese it sounds like "May there be fish every year." You might want to practice.
Get your personal Essential Chinese Astrology Profile from Tarot.com.