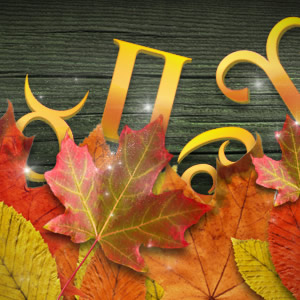 One of the highlights of the holiday season is the reminder to stop and acknowledge what we are thankful for in our lives. Most of us would agree that we're thankful for loved ones and their safety, good health, security and a few special pleasures.
We each also all have unique blessings, which can be discovered by considering our horoscope sign.
Aries (March 21 - April 19)
When push comes to shove, the thing Aries is most thankful for is freedom. Nothing matters more to this self-directed sign than being able to follow the latest fancy. Routine, boredom and the ho-hum of an uninterrupted life are not on the Aries' to-do list and certainly nowhere among life's blessings. Aries craves excitement and adventure, and the freedom to follow where life leads is their greatest joy.
Taurus (April 20 - May 20)
It's odd to think of someone being blessed by the status-quo, but Taurus endeavors to repeat the same perfect day, over and over. Boredom does not afflict this sign and Taureans love to know that they can count on life to provide security and few surprises. When life matches their expectations, Bulls are overjoyed and look forward happily to more of the same. Of course that's not to say that a surprise such as winning the lottery would be unwelcome -- fiscal pluses are always Taurus blessings.
Gemini (May 21 - June 20)
Chatty Gemini would say that beloved friends are their greatest blessing. This is because a life of silence without laughter and chit-chat is just unthinkable to a Gemini. Instead, being surrounded by engaging companions who always have something stimulating to say is what makes the world go around for this loquacious horoscope sign.
Cancer (June 21 - July 22)
It's easy to understand the Cancer viewpoint on blessings -- that simply being surrounded by family members is the greatest gift of all. For a Cancer, this is the very essence of the holiday season. No day is happier than one in which everyone is gathered around a table, eating good food and talking about everything and nothing. Being part of this larger circle of family is what makes life worth living for the Crab.
Leo (July 23 - Aug 22)
If pressed to reveal their greatest blessing, Leo might be flippant and say they're most thankful for a recent trinket or other shiny bauble. In reality, they're just resisting being sentimental. In fact, Leo most adores being appreciated, and the good thoughts of other people is what most blesses the Lion. This sign needs approval and affection, and getting a good review within their circle of intimates makes life warm and happy.
Virgo (Aug 23 - Sept 22)
Virgo pares life down to the barest of necessities and ignores frivolities, but this sign of perpetual analysis finds it difficult to choose among its many blessings. Virgo is thankful for so many things ... including recently reorganized closets. Health is very high up on their list, but more than anything else, Virgo's greatest blessing is a selfless one. They're thankful for the well-being of their loved ones (perhaps because they know that should a crisis arrive, they would be first to provide repairs).
Libra (Sept 23 - Oct 22)
Libra's greatest blessing is easy to spot. This is the sign which lives for love, and without a romantic partner, Libra feels lost at sea. Having a love interest is so important to balance-seeking Libra that even a first date qualifies as a blessing. Being able to go through life arm in arm is as important to Libra as it was to the animals boarding Noah's Ark, and being part of a pair is an unparalleled blessing.
Scorpio (Oct 23 - Nov 21)
Scorpio, while seeming impervious to everything and everyone, is actually a bit paranoid, and thus this sign can easily see what might go wrong in life. Therefore a sense of peace of mind is their greatest blessing. If everyone is present and accounted for and nobody has expressed a worry (even a peculiar looking quint can be cause for alarm), Scorpio feels that it's a good day and life is as it should be.
Sagittarius (Nov 22 - Dec 21)
The world is filled with wonder and it would seem that Sag is privy to it all. Nature is majestic, animals are man's best friend and there are fast food joints on every city block. In short, life is a blast, and Sag is blessed by every moment of it. When pressed, Sag will often say they're thankful for their dog or cat, particularly if the pet has recently weathered health crisis.
Capricorn (Dec 22 - Jan 19)
Like the Mountain Goat which is the Capricorn mascot, life is always an uphill journey for every member of this success-oriented sign. Security is, of course, number one on their list, but their most recent work promotion is usually the thing that Caps are most thrilled by. Gaining recognition and the sense that their career is moving forward gives this relentless sign a boost of steam.
Aquarius (Jan 20 - Feb 18)
The universal sign of Aquarius feels that good friends are the greatest asset a person can have. Clever and witty, they might joke around and say they're most thankful for a computer or other electronic toy. Then they'd laugh and say, "Oh you know it's you guys that I can't live without," and they're right. Friends are the backbone of every moment this sign enjoys.
Pisces (Feb 19 - March 20)
The ever-changing Fish sees life through rose-colored glasses, and often from a vastly different perspective than the rest of us. One year they might volunteer for a day at a homeless shelter and be thankful they could give something back. The next year they could be thankful for the new Harry Potter installment. The real joy in Pisces' life is that life changes, and as long as they have people to share it with, Pisces is blessed in every way.