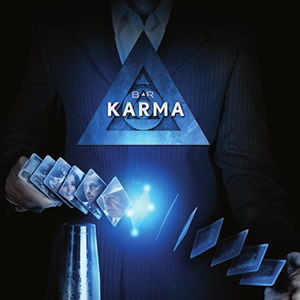 Who says watching TV can't change your life? Instead of hitting an actual bar on Friday night, like-minded Daily Defenders will be tuning in to the premiere episode of the new TV series "Bar Karma" to watch the patrons of this mysterious watering hole attempt to solve their karmic dilemmas. But the best part is YOU get to help!
Current TV's new series "Bar Karma," which debuts 10 p.m./9 p.m. (CST) on Friday, Feb. 11, is not only unique for its karmic content, but also because it's the world first community-developed television series.
What does that mean, exactly? Viewers have control of the content of each episode before it airs, so you can participate in the creative process and vote on which karmic direction you'd like to see the characters take -- then watch it played out on screen.
To participate (which is free, by the way), viewers can use co-creator Will Wright's Storymaker application (log on at current.com/barkarma), or social networking sites including Facebook and Twitter. You can also submit story ideas through iPhone, iPad and Android apps. (In a world so full of cosmic clutter, isn't it nice to see all these social tools being put to positive, creative use?!)
As for the show itself, "Bar Karma" stars William Sanderson (of "True Blood," "Lost" and "Deadwood") as a 20,000 year-old bartender at a tavern at the edge of the universe, which is operated by an otherworldly organization called "Karma, Inc." In each episode, a new customer walks in during happy hour and is faced with a life-changing karmic decision.Then we get to see which fate participants decided for the character.
As you know, improving world Karma is our No. 1 mission here at DH, so our own fate includes tuning in Friday night to see if the show is going to make people happy. We'll report back, so stay tuned for updates.
If you watch "Bar Karma" leave a comment below and let us know what you think!
If you like what you see on dailyhoroscope.com, please consider following us on Facebook and Twitter.