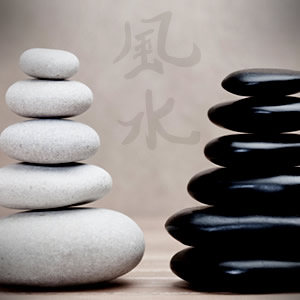 Points of reference
East
The first Feng Shui practitioners placed great importance on the compass direction of a property. Before electricity, the quality of sunlight that a place received had a tremendous influence on people's livelihoods. Compass directions continue to play an important role in eastern Feng Shui, and are often the guiding principle behind its cures.
West
Technological advancements have changed the way people lead their lives. People who live in industrialized countries have far more flexibility when it comes to choosing a place to live, because their livelihoods don't depend as much on the Sun or the seasons. Therefore, modern Feng Shui practitioners use the front door as the point of reference for cures.
Nature vs. nurture
East
Eastern Feng Shui originated in a time of strict social order. The roles of fathers, mothers and children were clear and indisputable. Therefore, eastern Feng Shui practitioners believe there is a prescribed position for each member of the household, based on their gender and birth position. For instance, they believe that the master bedroom should always be located at the back of the house, to confer honor and protection to the most important members of the household.
West
Western Feng Shui practitioners come from a more fluid society. Fathers aren't automatically the sole bread-winners, and mothers don't necessarily play the nurturing role in families. Children's needs are assessed in terms of their personalities, rather than by their birth order. Therefore, western Feng Shui practitioners take into account the emotional as well as the physical landscape of a home before prescribing cures.
Symbols
East
The first Feng Shui cures were developed in accordance with eastern sensibilities. Symbols like the tortoise, bamboo flutes, fans and firecrackers are used to alter the energy in a given place. While these symbols remain powerful to people in eastern cultures, they don't resonate the same for westerners.
West
Symbols in western culture tend to be highly personal. A flag that conveys pride to one person could be experienced as offensive to another. Instead of offering blanket cures from the onset, western Feng Shui practitioners prescribe symbolic remedies after interviewing their clients. Even generic cures are different in the west. For example, if you live in the United States, the image of a $100 bill will resonate with you more strongly than a long string of Chinese coins.
Function vs. form
East
The first toilet facilities were functional -- their sole purpose was for the disposal of waste. As a general rule, they were dark, dirty, smelly places that did not emit positive energy. That's why traditional Feng Shui practitioners view the bathroom as a negative influence, and often prescribe elaborate cures to minimize the bad chi associated with this space.
West
With the advent of modern plumbing, bathrooms became more than just a place of private convenience -- they became centers of self-care. A luxurious bathroom can even double as a personal spa, complete with hot tub, steam shower and towel warmer. It is true that western Feng Shui practitioners still acknowledge the dissipating influence of bathrooms, because valuable energy can escape the house through toilets and drains. However, these problems can be easily remedied by putting the toilet lid down and closing the drains when they are not in use. By taking these simple precautions, a nice bathroom can actually attract luck, rather than drive it away or allow it to flee.