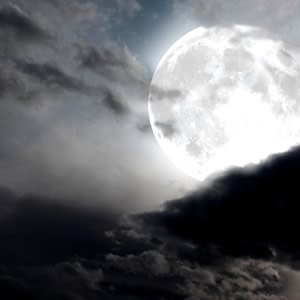 Just yesterday the news broke that a "Super Moon" was predicted to cause major natural disasters. And just this morning massive earthquakes and a tsunami ravaged Japan causing immense damage -- the full effect of which is still being determined.
What is a Super Moon?
An extreme Super Moon happens when a new or Full Moon makes its closet approach to Earth (also called a lunar perigree), and it only happens every 18 years. An upcoming extreme Super Moon on March 19 is already making an impact. An extreme Super Moon happens when the New or Full Moon is at its closet degree (100% to Earth) while a Super Moon is at 90% of its degree closest to Earth.
What the astrologers are saying
Astrologer Richard Nolle first coined the term "Super Moon," and joined other divination experts in predicting that the extreme Super Moon on March 19, 2011 will bring strong earthquakes, volcanic eruptions, floods, storms and unusual -- potentially disastrous -- climate patterns. And, some astrologers are saying that the real Astrology behind the quake is due to Uranus moving into Aries, a rare and powerful event. Read your Extreme Super Moon horoscopes for further insight.
What the scientists are saying
We know that the Moon affects the tides, but most scientists are dismissing claims that the Super Moon is causing the Japan earthquake and tsunami warnings across the globe -- and also that it will create even more havoc as it moves closer to the earth and becomes an extreme Super Moon on March 19. The Daily Mail quoted space author David Harland as saying, "It's possible that the Moon may be a kilometer or two closer to Earth than normal at a perigee, but it's an utterly insignificant event."
It's not over
Right now, the Moon is in the Waxing Crescent phase. The Super Moon won't reach its full potential until the Full Moon on March 19 -- when it becomes an extreme Super Moon. An article in Business Insider pointed out that "the last Super Moon occurred a few days after the 8.9 earthquake in Indonesia" in 2005.
Expert astrologer Jeff Jawer, who writes for dailyhoroscope.com, adds: "This Super Moon happens the day before the Spring Equinox as the Sun enters Aries on March 20 and joins electrifying Uranus there on the 21st, which is more than enough astrological noise to create all kinds of chaos. Discerning the different influence of this explosive astrological event and the so-called Super Moon won't be easy."
Stay tuned, we'll keep reporting as this story develops.