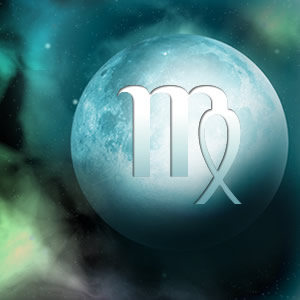 The March 19 Full Moon in Virgo, has been making headlines all over the world as an Extreme Super Moon. Astrologers are linking it to the earthquake and tsunami in Japan and predicting more natural disasters to come as the Moon moves closer to earth.
It's important to note that this Full Moon in Virgo is also an extreme "Super Moon", which means the Full Moon is making its closest approach to earth in 20 years. Be sure to keep your eyes on the sky at 3:00 pm PST, because the Full Moon will look the largest it's been for 18 years. It will truly be a sight to behold. Also, Super Moons can have an effect on the earth's gravitational force -- resulting in an even more explosive chain of events. The Full/Super Moon also joins Uranus, newly in Aries, to catalyze sudden change and awareness.
Falling the day before the Vernal Equinox, this special Super Moon heralds a bold and brilliant astrological New Year. The Full Moon in late degrees of the healing signs Virgo and Pisces helps us release the past, access intuitive guidance and get our ducks in a row before the Sun charges into active Aries.
Aries (March 21 - April 19)
Your new birthday year is almost upon you, Aries, and you're feeling it already at this Full Moon! It's going to be a year of radical personal change, in which you'll be moving forward in ways you never thought possible. But first you must deal with a partner who may be worried about the relationship. Speak your truth and all will be well.
Taurus (April 20 - May 20)
You're a practical person, Taurus, not usually given to flights of fancy. Yet this Full Moon lights a spark of awareness in your subconscious mind, which seeks an outlet in your daily life. Listen to your dreams or reveries for a brilliant idea that will improve your workplace or health. If you feel unsettled, just go with it -- a breakthrough is near.
Gemini (May 21 - June 20)
Your social life shifts into high gear at this Full Moon, Gemini. A spontaneous outing, party or meeting for social activism lights a fire under you -- and could even spark a romance. Look for a nuts-and-bolts person who can help ground you. Or, take on a new project in which you're in charge of the practical details. Then, you can really take off!
Cancer (June 21 - July 22)
You're not usually one to grab the spotlight, Cancer, but at this Full Moon it will find you! Put your shyness aside and rise to the occasion, as your audience demands the unique, brilliant contribution that only you can make. If you're feeling overwhelmed by all the goings-on, weed the garden or Spring-clean the house. That will ease your mind.
Leo (July 23 - Aug. 22)
Spirit is speaking to you loud and clear at this Full Moon, Leo. You're being shown your next step, likely through an unexpected call or a last-minute trip. Take your time making a big decision, though; all the details must be in place before you can proceed. If there's something new you need to learn or training you must undertake, now is the time.
Virgo (Aug. 23 - Sept. 22)
A major cycle is ending for you at this Full Moon, Virgo. You're being called to use your healing powers to aid someone's transition or help resolve a power struggle, perhaps of a financial nature. You are the voice of reason now, juggling checkbooks and keeping track of details. Once the storm passes, you're on to a whole new phase of life.