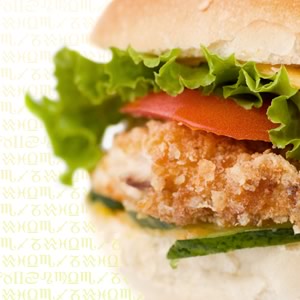 You're not alone if you're counting every dining dollar. Fast food consumption is on the rise in this tight economy. And what's wrong with nabbing a quick, affordable bite on the run? Nuthin, that's what.
Fast food sometimes gets a bad rap, but with today's healthier menu options, convenience and low prices, it can be a fine -- and fun -- alternative to eating out in more expensive establishments. Just as long as you don't do it every meal, right?
So now that you know indulging in the occasional McFastFood fix won't hurt your Karma, what are you going to order up at the drive-through? With so much variety available at so many fast food chain restaurants, there's something to appeal to every horoscope sign. See what types of quick eats appeal to you. (Would you like to SuperSize that?)
Aries (March 21 - April 19)
Ruled by hot Mars, Aries loves anything spicy -- as in, smothered with a sauce likely to burn holes in your tongue. Your best bets for fiery fast foods are Dairy Queen's 1/2lb. FlameThrower GrillBurger™ (beef topped with fiery FlameThrower sauce, pepper jack cheese, jalapeno bacon and more) or Carl's Jr.'s Spicy Chicken Sandwich.
Taurus (April 20 - May 20)
The Bull loves its fast food simple, but still meaty enough to pass as "real." No ground beef for you! How about Burger King's Steakhouse Burger, smothered in A1 Thick & Hearty Steak Sauce? You'll surely feel like a real man or a rugged woman when you chomp on this. And you can't go wrong with Arby's Regular Roast Beef Sandwich -- pile it on!
Gemini (May 21 - June 20)
The key for Gemini, the horoscope sign of the Twins, is variety. The Subway Club fits the bill, including turkey breast, roast beef and ham, with a wide choice of veggies and condiments all on one sandwich. How's that for options? You might also try a Pizza Hut Pan Pizza with a vast array of toppings, from sausage to olives to banana peppers -- but will a pizza be fast enough for you?
Cancer (June 21 - July 22)
How do you get that home-cookin' feel that Cancer craves -- at a fast food joint? Boston Market, of course! Serving family meals like beef brisket, meatloaf and rotisserie chicken with cornbread and sides like mashed potatoes and steamed veggies, Boston Market's comfort food hits the spot.
Leo (July 23 - Aug 22)
What does the sign of the Lion have in common with fast food? A little flair! Leo's ideal fast food meal has a bit of glitz to it, something that screams, "look at me!" like Taco Bell's Volcano Nachos. Topped with "molten hot lava sauce" and jalapenos, they're as sizzling as the fiery Sun -- and the tortilla chips on a round plate look just like flames!
Virgo (Aug 23 - Sept 22)
Virgos are most concerned with health and well-being -- not only of yourself, but of animals, too. Frankly, you're not likely to be seen within a mile of any fast food joint, but if you happen to be dragged into one, there are often vegetarian options: The BK Veggie Burger for one, or try one of McDonald's Premium Salads ... hold the chicken.
Libra (Sept 23 - Oct 22)
Libra is ruled by Venus, planet of relationships and sensual pleasure. Bottom line, you like to eat sweets, or to eat with your sweetie (preferably both!). Instead of chomping down on a burger, why not order something to share? Try a Long John Silver's Combo Basket or some fries and onion rings, then be sure to follow up with a McFlurry® or just about any sweet treat from Dairy Queen.
Scorpio (Oct 23 - Nov 21)
Scorpio likes secrets and hidden things -- stuff that's below the surface. So there may be little that satisfies more than digging in to a Pizza Hut Stuffed Crust Pizza. Yes, there's cheese IN the crust! And being that you're a Water sign, the seafood selection at Long John Silver's is right up your alley. They have shrimp, clams and lobster bites, and fortunately for your Cancer friends, they don't serve Crab!
Sagittarius (Nov 22 - Dec 21)
Big is your middle name, Sagittarius. After all, your ruling planet is Jupiter, the largest planet in the solar system. When thinking of "excess," nothing even comes close to the BK® Quad Stacker. It has four -- yes, FOUR -- layers of beef and cheese. If anyone's willing to take on this enormous fast food feat, it's you.
Capricorn (Dec 22 - Jan 19)
You Goats tend toward constraint, thanks to your ruling planet Saturn, governor of limitations and restrictions -- so a lean meal would be right up your alley. How about grilled chicken? Try McDonald's Premium Grilled Chicken Classic Sandwich or Wendy's Ultimate Chicken Grill. You'll definitely want to avoid anything deep-fried, and go easy on the sauce.
Aquarius (Jan 20 - Feb 18)
Aquarius thinks out of the box, so you're often on the lookout for meals that are just plain weird -- you know, dishes that defy logic, like White Castle's Chicken Rings. McDonald's innovative McGriddle fits the bill as well, piling bacon, egg and cheese on pancake-like griddle cakes that are infused with maple flavoring.
Pisces (Feb 19 - March 20)
Not to get too literal here, but the fact is, you're a Fish. And fortunately for watery Pisces, many fast food establishments carry your signature dish: McDonald's Filet-O-Fish, the BK Big Fish® and a whole restaurant that caters to seafood: Long John Silver's. Now if only fast food joints had liquor licenses, you'd be one happy camper.
See what's coming up for you with Rick & Jeff's 30-day Astrology Forecast from Tarot.com.