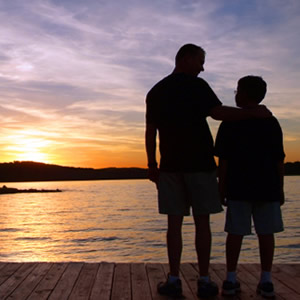 "As the father begets the son, so the son begets the father." This quote tells us that there is an important mirroring relationship established between sons and their fathers that can work either to both mens' benefit ... or their detriment. Much has been written about the cherished power and challenges of father-son relationships in literature, cinema and psychology, but perhaps not as much has been written from an astrological perspective.
Astrology teaches us that the stars reveal the deep underlying patterns for our behaviors. At times, it's easy to lose perspective and understanding for those we love. This is especially important in the critical relationships between fathers and sons. This guide outlines the key issues for each sign so fathers can be more aware of of the impact they make on their boys.
Aries Dad (March 21 - April 19)
You are most likely viewed by others as a man's man and you want nothing less than to see your son the same way. You believe in cultivating his independence and having him become a real leader. However, you might push too hard and it won't help for you to become angry on top of that. Be open to recognizing the various ways your son may lead -- rather than how you desire or expect him to do so.
Taurus Dad (April 20 - May 20)
You pride yourself on being a provider for your children, and you often expect your children to show their gratitude by providing obedience and being pleasant. However, your determination to have things go easily may actually incite your son to rock the boat … just to be sure you're really paying attention to him. Recognize the times when it's good to yield and when to stay firm with your convictions, rather than sticking by your guns all the time.
Gemini Dad (May 21 - June 20)
You may tend to measure your son's success by how much he knows or, in turn, seek to impress him with facts. For you, managing information and being active is the height of manhood and you may have trouble dealing with a more introverted and sensitive child. Emotional or intuitive knowing is just as important as having a treasure trove of facts and information at your fingertips or being silver-tongued in debates.
Cancer Dad (June 21 - July 22)
Your focus and devotion to your children is slightly more heightened than with most other men. However, your focus on your children, particularly your son, may come at the cost of maintaining fully functioning relationships with other adults. Don't lose track of your own life and loves to be a super-dad. Cultivate trust in yourself and your parenting skills so you don't feel the need to overcompensate.
Leo Dad (July 23 - Aug. 22)
You will always exist as a larger than life character in the mind of your son. At times, though, you may seem more fable than father to him. It's important that you divulge your insecurities as well as your courage so that your son can cultivate the wisdom to acknowledge both. If you always just show him your flattering side, not only will he not know you, but he'll tend to think of you more as a character in a movie than a meaningful person in his life.
Virgo Dad (Aug. 23 - Sept. 22)
You may feel less inclined to express your emotional worries and concerns about your son's welfare, and more comfortable simply having talks with your son. Your lectures may become the stuff of legend to your son, and might appear to go on without end. Talking also involves listening, so be sure to pay attention to him, too. At times, activities or allowing him to see you at work can teach him about the real world.
Libra Dad (Sept. 23 - Oct. 22)
You can teach your son a great deal about the fine art of diplomacy and how a little beauty and creativity go a long way. While you might resist the urge to firmly establish boundaries with your son when he's crossing yours or those of others, it's imperative for you to do so. If you keep people-pleasing without setting boundaries, your anger at being trespassed becomes twice what seems warranted.
Scorpio Dad (Oct. 23 - Nov. 21)
Your passion for your children is not only compelling, but a force of nature. There should be no doubt in your son's mind that you love him and would fight to the death for him, but he may, at times, be confused by how intense you can be when you're angry or upset. Take a breath and attempt to look at things from his perspective more.
Sagittarius Dad (Nov. 22 - Dec. 21)
Perhaps none of your son's friends will ever be able to "hang" as tough with him as you. You're the one who shows him how a real pal acts, whether it's in sports, watching TV or talking pop philosophy and psychology. However, he may feel drawn to compete with your prowess rather than contend for your love.
Capricorn Dad (Dec. 22 - Jan. 19)
You represent the epitome of competence to your son, his ultimate standard for what a human being should be and strive for. However, your insistence on competence shouldn't come at the risk of holding back on your unconditional love. If he knows he has that regardless, there's nothing on Earth he won't do … in honor of you.
Aquarius Dad (Jan. 20 - Feb. 18)
Your son will love you for your quirkiness and originality. However, he may not always be sure about the connection he has with you, as you have so many connections -- to your friends, your charities, your causes and more. Be sure he knows he's a priority.
Pisces Dad (Feb. 19 - March 20)
Your devotion and attention to your son could be the stuff of legend. He definitely will learn that charity begins at home, and feel honored by your benevolence to just about everyone you meet. But be sure to establish boundaries for yourself and with him, or he'll learn that charity could be an unofficial license to be a doormat.
Get dad a copy of his Essential Birth Chart report from Tarot.com.