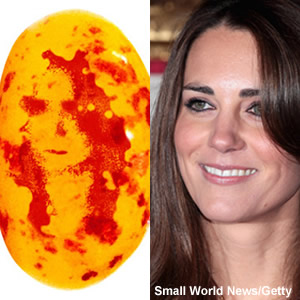 We all look for meaning in our lives. Why are we here? What should we do? What's going to happen? There's no concrete answer, and living with life's uncertainty is the greatest challenge we face. But one thing is for certain, and that is the U.K. jelly bean "miraculously" etched with Kate Middleton's face is probably not divine.
A British couple found the likeness of Prince William's bride-to-be in the speckles of a peach colored, mango flavored jelly bean purchased from The Jelly Bean Factory of Dublin, and now they plan to sell it on eBay for about 500 British pounds, which is about $816 U.S. dollars.
The makers of the jelly bean told the London Telegraph newspaper that the design certainly was not intentional, so it must be divine intervention, right? Uh.
Some might think so, as Britain is currently going ga-ga for all things Will-and-Kate as we get closer to the Royal Wedding on April 29. But really, to look for life's sweet meaning in a jelly bean -- is this ridiculous? Or is it actually sweet?
It may seem silly at a glance. But a closer look reveals how far some people will go to find meaning anywhere they can, in hopes of helping this uncertain life make a little more sense. It's nice to think there's someone or something out there looking out for us, slapping Kate Middleton's mug on a piece o' candy to let us know we're not alone. And the same folks will find comfort here as those who cheered when the Virgin Mary showed up on a grilled cheese sandwich.
And that's just fine. But there are other more reliable ways to find meaning in life than magic beans. For example, giving and receiving love, volunteering to help others, practicing random acts of kindness, following the insight and advice available from elders, parents, friends and family -- heck, just read your daily horoscope and see how it changes your life.
These tactics will work better than magical beans, we promise.
If you like what you see on dailyhoroscope.com, please consider following us on Facebook and Twitter.