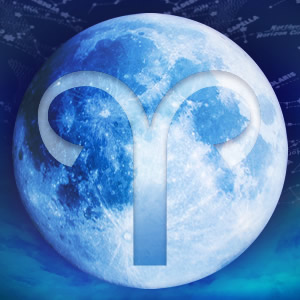 The fiery Full Moon in Aries on September 29, 2012 is a call for independent action, as is typical with an Aries Full Moon. Its opposition to the accommodating Sun in Libra is meant to help us find a balance between self-interest and attending to others' needs.
This lunation is charged up by a conjunction to revolutionary Uranus that's hot with impulsiveness and innovation. It signals a fresh start when breaking old rules, and making up new ones is on the agenda.
See how the Full Moon in Aries will affect your sign:
Aries (March 21 - April 19)
Your impulsive, impatient and uncooperative side may take over with this raucous Full Moon in Aries. But this is also a time to free yourself from outmoded habits and restraining relationships. You're likely to feel restless and rebellious, which is fine when you apply this force to make breakthroughs and discoveries in your own life rather than simply pushing back against the rules of others.
Taurus (April 20 - May 20)
You might feel like you've been startled -- as if suddenly awakened from a dream -- with this explosive Aries Full Moon in your 12th House of Illusions. It's an opportunity to arouse new interests and desires that are associated with spirituality and your creative life. Stepping away from sleepy situations and outmoded attitudes may be shocking, but you'll be happier when you initiate change than resist it.
Gemini (May 21 - June 20)
This electrifying Aries Full Moon lands in your 11th House of Groups, where it can shake up friendships, working relationships and your role in organizations. You may find yourself in some crazy situations that require a cool head and some logical thinking. If you're able to keep your wits about you, though, you can take on a leadership role for a cause or project that fills you with enthusiasm.
Cancer (June 21 - July 22)
You are not a fan of surprises, which is exactly what this spontaneous Aries Full Moon is all about. It occurs in your 10th House of Career, challenging you to make rapid adjustments to maintain your current position or, better yet, to jump onto a new opportunity. Being bold in your professional choices may feel risky, but it's likely to produce a better outcome than trying to play it safe.
Leo (July 23 - Aug. 22)
Your mind could be blown with wild ideas with this kinetic Aries New Moon in your 9th House of Philosophy. Breaking free of old beliefs or going to extremes to support your old ones is likely to heat up conversations. Unexpected travel opportunities or connections with people in faraway places are also possible. Just stay flexible, because ideas and plans can change course in an instant.
Virgo (Aug. 23 - Sept. 22)
Partnerships may be pushed to the limits with this volatile Aries New Moon in your 8th House of Deep Sharing. Shaking up close personal and business alliances can be expected, so be prepared for some renegotiations of your agreements. Someone may pop into your life in a very exciting way that can open your heart in a surprising manner or present an unexpected professional opportunity.
Libra (Sept. 23 - Oct. 22)
This brilliant, yet strange Aries New Moon explodes in your 7th House of Partners, which can certainly add some excitement to your personal life. If you're presently in a relationship, it's better to shake it up intentionally than to resist the shifts that are likely to come. This can breathe fresh life into an ongoing alliance, but you could also be excited by a connection that comes in a very surprising way.
Scorpio (Oct. 23 - Nov. 21)
Excitement or chaos on the job and sudden changes in your daily routine are potential results of this provocative Aries New Moon in your 6th House. It's a great time to break habits or to leave old work patterns behind. Operating within current systems, though, may be challenging because you feel restless. Exploring a possible career change is a constructive way to ride this powerful wave of transformation.
Sagittarius (Nov. 22 - Dec. 21)
Romance may be rocking with this excitable Aries New Moon in your amorous 5th House. Your need for stimulating companionship increases beyond its usual high levels, spurring you to take some big risks to get attention. The key to making the best use of this revolutionary event is to be creative in expressing yourself by experimenting with different ways to play and demonstrate your talent.
Capricorn (Dec. 22 - Jan. 19)
A shake-up on the home front is possible with this volatile Aries New Moon falling in your domestic 4th House. This can lead to family squabbles or, at best, breakthroughs to finally deal with longstanding problems. You may need to deal with more discord on your way to a more peaceful future, but it's healthier to facilitate change than to stick to outdated ideas and beliefs.
Aquarius (Jan. 20 - Feb. 18)
Your already clever brain may get extra doses of insight with this electric Aries New Moon in your 3rd House of Information. Conversations can veer off in unexpected directions, making communications less stable and reliable, but much more stimulating. Sticking to a subject may be more difficult now, as your mind is hungry for cutting-edge concepts that may be a little ahead of their time.
Pisces (Feb. 19 - March 20)
Self-worth and financial issues may be shocked and shaken by this innovative Aries New Moon in your 2nd House of Resources. Economic and emotional stability may be harder to find, but it's wiser to seek fresh ways to increase your income and assets than to bank on things improving on their own. Investing in tools and training that open new sources of money seems risky, but it could be very smart.
Prepare for the month ahead with a 30-Day Astrology Forecast from Tarot.com!