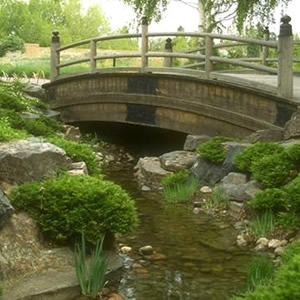 A garden should be a direct reflection of your personality. Whether you exude dramatic Fire energy or possess an exacting Metal vibe, you can adjust your outdoor haven accordingly through the ancient art of Feng Shui. A beautiful outdoor landscape will keep you plugged into nature's life-giving force. Soon, it will be easy to generate the prosperity and attract the good fortune you need to thrive, all year round.
Let me entertain you
If you gain energy from large crowds of people, you should incorporate Fire energy into your garden. Bright red flowers, bird feeders, fairy lights ... anything that lends an air of festivity to your garden is a welcome addition. A Fire garden is designed for fun; it shouldn't be too tidy. When life becomes too boring, add a tree house, shuffleboard court or fire pit to your outdoor haven. Casual wooden furniture works best in a Fire garden. The more sunlight this space receives, the better.
Let nature take its course
If you are a low maintenance person who loves casual get-togethers, an Earth garden is for you. Potted plants, a slate patio, pink and yellow flowering plants ... these are great additions for your outside space. Be sure to include places to lounge around and relax. A deck chair tucked away in a shady corner would be perfect. Deck furniture should be low and boxy, inviting you to sit and stay awhile. A rock garden is wonderfully suited to the Earth garden. So would a compost heap -- Earth gardens are resourceful and embrace nature's regular rhythms.
Find a creative outlet
If you're a hands-on gardener who likes landscape design, a Metal garden is for you. White, fragrant flowers work best in this space, with a sprinkling of pastel blooms. Flowerbeds should be curved or circular. Planting a ring of flowers around a tall tree can be especially fetching. Shrubs should be carefully clipped; this garden is a testament to structure. Wrought iron chairs with rounded backs should be grouped around a big circular table. This garden is ideal for plotting, planning and producing fun projects. Metal wind chimes will also work well in this outdoor space.
Dream a little dream
If you want a garden that feels peaceful and contemplative, you need to plant a Water garden. Random clusters of flowerbeds filled with white and blue blooms work well here. Cascading plants and climbing ivy will also create a loose, laid-back energy. Ponds, birdbaths, and waterfalls are welcome additions; the look and sound of water will coax you to release your inhibitions. A curved bench tucked beneath a shady tree will invite you to rest, relax, and dream; stay away from formal seating arrangements in a Water garden.
Charge your batteries
If you gain strength and energy from outdoor activities, the Wood garden is for you. Tall, narrow shrubs, leafy trees and an herb garden are ideal for this space. You may want to plant a vegetable garden, too; growing your own food will give you a strong feeling of purpose. A Wood garden is tidy with lots of clean, straight lines. Stepping into this spot will give you a greater sense of control. Rectangular flowerbeds, tall trellises and a wooden fence will give this space the structure and definition you crave.