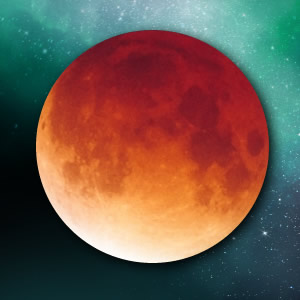 Sagittarius' arrow aims for the unvarnished truth at the December 21 Full Moon! Also a total lunar eclipse, this Full Moon at the 29th degree of Gemini/Sagittarius happens just before the Winter Solstice, making for a powerful turning point day.
Communication issues are front and center; with messenger Mercury in retrograde mode, we must watch our words carefully, as it is easy to come on too strong or stretch the truth now. Important messages or insights may come to light; pay close attention. What might this eclipse mean for you?
Aries (March 21 - April 19)
Love and romance are in the air for you at this Full Moon, Aries. As you speak your truth and ask for what you want, you should receive it in spades! Enjoy the party circuit or intimate moments with your beloved. Even if work is slow or a boss is giving you trouble, there is a powerful process taking place that's going to transform your life.
Taurus (April 20 - May 20)
Family and/or money issues are preoccupying your mind at this Full Moon, Taurus. An energetic partner has the key to resolving this matter and freeing you up. Be careful while traveling around this eclipse; you're apt to encounter delays or difficulties. Also, it's not wise to go into debt this holiday season; simple gifts and pleasures are best.
Gemini (May 21 - June 20)
Working independently, you can get a lot done and even make a personal breakthrough at this Full Moon, Gemini. Improving your health is soul-satisfying; be very cautious of overindulging at holiday parties now. Even if your relationship status or career direction is frustrating you, have faith -- your consistent devotion will pay off.
Cancer (June 21 - July 22)
You're feeling extra emotional at this eclipse, Cancer -- yet by honoring these feelings and perhaps sharing them with a friend, you'll tap into unerring guidance about the new path that's unfolding. Leaning on an earthy partner, perhaps a Taurus, is a great comfort. Your career is unsettled, but that's just temporary -- don't let it get to you.
Leo (July 23 - Aug. 22)
News about a financial matter comes to light at this Full Moon, Leo, and it's apt to transform your path in life. Take no action now on concerns about family or friends; it would be premature. Set some financial goals for the future and envision the life you want to create. Discussing your needs with a trusted confidant helps you fulfill them.
Virgo (Aug. 23 - Sept. 22)
You and family members may be making important decisions at this Full Moon, Virgo. Though travel plans and/or finances are up in the air, rely on your community or closest friends to see you through. Be sure to get enough rest now, as your health may be delicate. By January, you'll be much better prepared to move forward with your agenda.