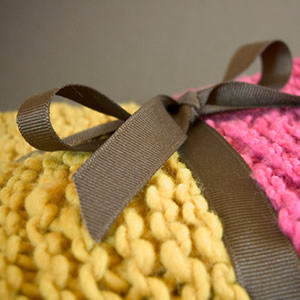 Around the holidays, buying "things" for people is the standard, and sometimes, "things" -- a new iPhone, a diamond bracelet or a pair of shoes -- can be great ... really great! But since we're all about good karma, we're giving you ideas for gifts that put out positive energy; "things" that take gifts one step further to make them even more meaningful for you, the person to whom you're giving and thus, the world around us.
So, in the spirit of giving, here are some good karma gifts for...
The environmentalist
Taking the eco-friendly route is only getting easier these days, as it's becoming a trend in itself. Buying a green gift for someone interested in the environment will definitely be appreciated, and you can tailor items pretty much any which way you'd like: from hemp clothing for the fashion lover, to stainless steel water bottles for the outdoorsy type, (plus kitchenware, clocks, appliances, you name it...) go green this holiday season for a happy loved one, and equally happy planet.
The fashionista
Have a friend who's always up to date with the latest fashions? Scout and support a local designer from your fashion lover's town and custom order a handmade scarf, bag or whatever you know he or she would get the most use out of, topped off with his or her favorite colors. Plus, many designers are using eco-friendly materials today, and knowing the item is one of a kind makes it that much more special!
The animal lover
These people make quite a compassionate breed, and so a donation to an animal shelter or wildlife foundation with a certificate in their name would make a really nice gift for the animal lover. And if he or she is a pet owner, snap a cute picture of them together and put it in a nice frame, so they'll always be reminded of that special bond -- courtesy of you!
The family man/woman
Tug at the heartstrings of someone very close to you by giving them something truly sentimental. If you've got a lot of pictures of him or her taken throughout the years with family, mutual friends and of special occasions, put them in a nice photo album. Or, jot down some of your most cherished memories with that person -- each one on a slip of paper -- and drop them in a glass jar. Memory jars are fun to explore, and oh-so-nostalgic! And it's the kind of gift that lasts forever.
The foodie
Rather than a new cookbook or dinner out, why not cook a homemade dinner of your own?! Even if you're no chef, the intention is super sweet. A few weeks leading up to your dinner, secretly find out his or her ideal menu, from appetizers to desserts, then put on that apron and do your best. Even better, make it a surprise when they walk in the door. And if you're totally against cooking, you better believe that cookies or brownies in a jar -- layered with all the necessary ingredients for a sugary treat -- is a gift that's easy to put to good use.
The significant other
Boyfriends, girlfriends, husbands and wives alike would absolutely love it if you handed them a video, told him or her to pop it into the DVD player and allowed them to be shocked by a movie of family and friends sharing memories and funny anecdotes about them. Not only would that remind them of how much they're loved by others, but also how much they're loved by you! And if you don't have a video camera, you can always take the old-school route ... a personalized mix tape never goes out of style.