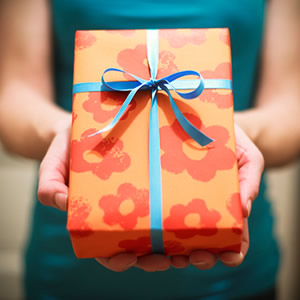 You get a gift. You don't like it . . . you really don't like it. But you know someone who might! We've all done it. And while there's nothing necessarily wrong with re-gifting, you can't help but feel a little guilty when the deed is done. So, to help remove the guilt and worry that feelings will be hurt and consciences plagued, we've got some tips to help this holiday season:
Do be honest if you can. To avoid awkwardness if the re-gifting is discovered, the person to whom you're re-gifting may actually like knowing the gift wasn't originally intended for him or her -- they may find it funny, endearing and/or even more thoughtful if you present the gift in truth and upfront, and with a sense of humor. At the same time, the person who gave you the gift may also feel better to know it's being put to use than not at all. With a little honesty, you can get further than you think!
Don't re-gift something that is worn or damaged or in anything but perfect condition. You wouldn't like that, and neither would they!
Do be discreet. If you're obsessed with baking cakes and you re-gift a cake-baking cookbook to someone who's not a fan of baking, it'll be a little too obvious to pass off as genuine.
Don't re-gift something handmade. Handmade gifts are the most special kind. If love and care was put into making a gift for you, that's something you'll probably want to keep in the long run.
Do re-wrap the gift in nice wrapping, and not the wrapping originally used. Gotta have the full package!
Don't re-gift to the person who gave it to you in the first place! Okay, this one may be a bit obvious, but it happens. And it is extremely embarrassing. If you have to, make a list of everyone who has given you a holiday gift and what was given to you, and use it as a reference before you distribute yours. Can't hurt to be on the safe side.
Do it for someone else. If you look at re-gifting as a way to get rid of something unwanted, the person you're giving it to probably will feel the exact same way. Re-gift because you know someone else will find in it something special. If that happens as a result of re-gifting, it's completely worth it in the end.
Celebrate Thanksgiving with peaceful insight. Get a Peace & Harmony Celtic Cross Tarot Reading from Tarot.com.