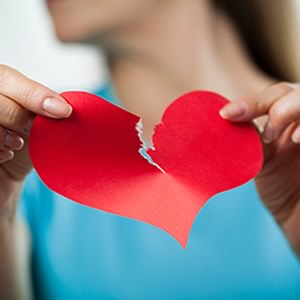 So January is "breakup month," but can we all agree on one thing? It's not OK to do it via text message.
Whether your relationship lasted three months or three years, breaking up is extremely painful. So to keep your good Karma intact, it's important to find the most dignified and respectful way to part, no matter if you're the digital dumper or the dumpee.
We know, breaking up face-to-face is sooooo passé these days. It's so much easier to just fire off a quick phone call, text message, instant message or e-mail and call it done. But while digital dumping is becoming more commonplace, that doesn't make it OK.
Do you really want to be thought of as too busy, too lazy, too mean or too cowardly to give your partner the respect of a face-to-face conversation? Think about how that will make someone you care about feel, not to mention what it will do to your future relationship Karma.
Of course, there are times when you can get away with an impersonal breakup -- if you've only been out a few times or the person was a total jerk. But in matters of the heart, everyone will feel better if you don't act heartless.
So how do you know when to break it off in person or when it's ok to just text "later, hater?" Follow some good-Karma breakup do's and don'ts, that's how.
And on the flip side, if you're the victim of an unwanted breakup, you need to follow some good-Karma rejection rules, too.
Hell may hath no fury, but no one wants to see your fury on Facebook.
Digital Breakup Do's and Don'ts for the Dumper
Don't have a Blackberry breakup. Sorry, folks, but using your smartphone to break up with someone is dumb. Are you going to end a long-term relationship on the phone in rush hour traffic while you're on your way to a meeting? Or fire off a text? Aren't you better than that? If you've been on more than three dates or if you've had sex, show some respect and break up face-to-face. No. Excuses. Allowed.
Do follow up with a kind e-mail. If you're in the power position of being the one to end a relationship, try to show some empathy for the brokenhearted. Don't break up via e-mail (almost as uncool as breaking up via phone) but do send a follow-up e-mail afterward with a few kind words. Thank your ex for the happy times and lessons learned, and wish them well. Not only will this make them feel better and help them heal, but it's your best shot at a friendship down the line.
Don't shout "SINGLE!" so fast. You may be eager to get back in the dating pool, or maybe you already ARE back in the dating pool, which is why you broke up with your parter in the first place. Either way, show some sensitivity. Wait at least a week to change your Facebook status to single and to remove all those pictures of you and your ex snorkeling, skiing, horseback riding, kayaking and having the time of your life. Especially if it was just last week you were having the time of your life.
Do be honest, your ex is not dumb. "It's not you, it's me." While that can sometimes be true, it often means "It's me, and I've met someone I like better than you." If this is the reason you're breaking up with a partner of 3-months or more, tell the truth. They're going to see pics of you and your new love on Facebook next week anyhow, and they'll be hurt far worse to have the indignity of your lie on top of being rejected. Honesty = Good Karma.
What if you screwed up? Uh oh, you didn't mean to break up on the phone or fire off that "we're finished!" text. You did it in the heat of the moment, and now you feel bad. Ok, so fix it. Here are two words you can e-mail or instant message or text that will at least help a little: "I'm sorry."
Digital Breakup Do's and Don'ts for the Dumpee
Don't rage on your page. Breakup Rule No. 1 for the rejected is please, oh please, do not lash out in public. Be angry and be hurt, but be quiet. If you log on to Facebook to post nasty status updates about the fact your ex clearly has Narcissistic Personality Disorder, you're only going to embarrass yourself. Buy yourself a copy of "It's Called a Breakup Because It's Broken" and put that energy into moving forward with dignity and a new partner who does NOT have narcissistic tendencies. 'Nuff said?
Do disconnect discreetly. While we encourage the dumper to wait a week before updating social media to reflect their happy new single status, the dumpee gets to play by different rules. If it helps you to heal and move on, go ahead and change your Facebook status to single stat. Oh, and why not post that Photoshopped profile pic of yourself sitting in Keanu's lap while you're at it. This kind of harmless romantic revenge counts as good breakup Karma if it helps you heal.
Do be as positive as you can. We know. He cheated on you, lied to you, strung you along and wasted the last few baby-making years of your life. Or she lied about where she was all the while she was making out with your best friend. It sucks hard and it's harder still not to hate. But letting go of anger as much and as quickly as you can will help you move forward. How? Think of one positive way your partner touched your life, then send 'em a short e-mail and say thank you for it. The cheater is probably expecting hate mail, but a little bit of love is far better for your Karma and may even make the dumper think twice.
Don't be the ass in harass. You're dumped. Deal with it. Process it. Cry about it. Scream about it. Just don't scream at them. Don't do anything at them. Don't call, don't text, don't instant message, don't drunk dial, don't drunk e-mail and don't stalk your ex or their friends on Facebook or in real life. Out of site will get them out of mind faster, so delete their phone number and either delete them as a Facebook friend or hide their posts in your news feed. Do this for at least 60 days and you'll feel better much faster. We promise.
See what's in store for your love life with a Big Picture Love Forecast from Tarot.com!