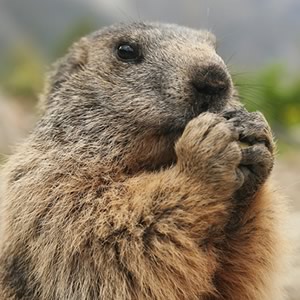 So, what's the deal with Punxsutawney Phil? Is he just another beloved pet psychic, like Paul the Psychic Octopus, or is there another method to this celebrity groundhog's madness? Then again, who cares? Phil makes us happy.
Groundhog Day is February 2, and at sunrise this insightfully cute critter will once again emerge from his burrow at Gobbler's Knob to predict how long winter will last. Legend has it, if Phil sees his shadow we can expect six more weeks of winter weather. If he does not see his shadow, it indicates an early spring.
Part superstition and part tradition, the Groundhog Day legends that inspire Phil's psychic weather forecasts actually date back for centuries, most closely associated with Candlemas Day. Candlemas was a milestone in the middle of winter, when the weather of the day was said to indicate how long before spring would break.
Now, there's a whole roster of psychic groundhogs working the beat. Not just Phil, but Spanish Joe of Ontario, Buckeye Chuck of Ohio and more. "Apparently, much like guys named Bozo and clowning, if you're a marmot you're going to end up being a meteorologist," joked Daily Wedgie humor writer Greg Mandel.
Phil, who gets the most press, saw his shadow in 2014. But with clouds and snow in the forecast for Punxsutawney, Penn. on Feb. 2, 2015, it's anyone's guess if Phil will see his shadow this year!
Either way, we'll be curious to find out. And really, do we care if Phil and kin have genuine psychic insight? Not really.
We are just thankful to these goofy groundhogs for providing a festive mid-winter pick-me-up that feels like a holiday. Because even if you can't make it all the way to Punxsutawney to see Phil live in action, classrooms around the country will celebrate Groundhog Day with parties, or you can bake up some cute critter cookies with the Groundhog Cookie recipe from Phil's official website.
It's all in good fun, but we here at DH headquarters in Portland, Ore. do have one solid psychic prediction of our own this year: If Phil does see his shadow, he'll be one much maligned marmot. But that's ok, we'll still eat his cookies.
Get answers to this and more! Start your Yes or No Tarot reading from Tarot.com!