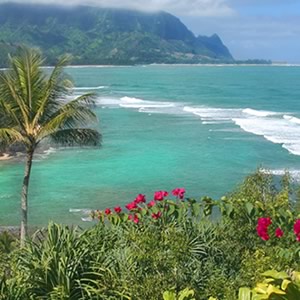 This week, Gallup-Healthway posted its results for its 2010 Well-Being Index rating system, which rated the well-being, or "the state of being happy, healthy, or prosperous" of all 50 states from highest to lowest. And the big winner? Ding ding ding: Hawaii!
One can only assume that this is the result of all that Sun-shiny goodness, and the laidback, tropical lifestyle of "easy come, easy go" -- and thus, the lower rates of stress and anxiety one must feel while living on some of the world's most beautiful islands.
This is exactly the kind of thing we're interested in here at dailyhoroscope.com. Good well-being means a catch-and-release of positive energy, and positive energy churns out healthy doses of good karma out into the world. According to the study, "Hawaii placed first in well-being in part by being the best performing state on three of the six sub-indexes that make up the Well-Being Index: Life Evaluation, Emotional Health, and Physical Health. West Virginia took last place in well-being because of the opposite: The state was the worst performing on the same three sub-indexes."
It's especially interesting to note that in September of 2010, Hawaii ranked one of the poorest states in a U.S. Census Bureau report that described its "plunging" median income rates. Isn't it funny how Hawaii can be considered the state with the "best" well-being while also being considered one of the poorest states in the country, in the same year? Kind of makes you wonder if money truly equals happiness, or if this whole "well-being" thing should be looked into a little bit more in the United States.
So... are YOU happy in your state? Did your state even make the cut in this Gallup study?
Find out which cities may suit your horoscope sign best, whether you're looking to make a little getaway or a move entirely.
If you like what you see on dailyhoroscope.com, please consider following us on Facebook and Twitter.