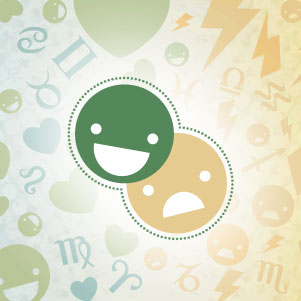 Things start out tense, but then only get better in this rather calm week in the cosmos. A Full Moon on Tuesday creates a frustrating T-square with Jupiter, the Sun, Uranus, and Pluto, pitting authority against freedom and innovation. The rebels will win this round, however, as attested by the Sun's conjunction to renegade Uranus on Friday.
After a month and a half, Venus turns direct on Saturday. It is best to put off any major, hard-to-reverse beauty procedures until the weekend.
Here is a general overview of this week's energy, valid for all. Hearts and Hates for your sign follow below!
♥ Beauty, not the beast
Once the planet of prettiness, Venus, turns direct in Pisces on Saturday, the mirror will stop being your enemy and you will go back to being the radiant you.
☹ The individual versus the collective
Tuesday's Full Moon pits renegade individuality against authoritarian, dogmatic rule. Just say no to the pearl-clutchers who insist you lock step with their moralistic ideology.
Your sign's Hearts & Hates Weekly Horoscope:
Aries Horoscope (March 21 - April 19)
♥ Breaking free
Let loose and dare to be your boldest, bravest self on Friday; it will bring you a feeling of renewed inner peace.
☹ Piled on
Me-first lovers, competitive colleagues, and domineering bosses are all ganging up on you on Tuesday; a dramatic and over-the-top breakdown is possible.
Taurus Horoscope (April 20 - May 20)
♥ Dare to be dig deep
Delve into your inner psyche this week; by seeking inner enlightenment you will be able to shine light on stunning aspects of your identity that have long been buried. A renewed closeness with friends is possible at the weekend.
☹ Never good enough
No matter how hard you work to keep up with your excessive workload, judgy bystanders will continue to tsk, tsk in disapproval, filling you with a sense of dread and anxiety.
Gemini Horoscope (May 21 - June 20)
♥ Enjoy the ride
If you let yourself be up for anything this Friday, you could have an epic night out with friends that is filled with surprises and all-around crazy good cheer. Send out conciliatory emails to clear up conflict at work on Saturday and Sunday.
☹ Money doesn't buy control
While in a perfect world, picking up the tab would buy you absolute loyalty and obeisance from friends and lovers, the reality is that no one wants to yield control for a few dollars. Keep your money in the bank, instead of futilely wasting it on social engineering.
Cancer Horoscope (June 21 - July 22)
♥ Grab the brass ring
Get on your pony and reach as far as you can to clutch success in the palm of your hand. You may fear teetering and falling off your saddle, but acclaim is yours for the taking.
☹ Svengali sweetie
Your oh-so-significant other demands your full focus, which could cause you to fall behind at work and win the disapproval of family members.
Leo Horoscope (July 23 - Aug. 22)
♥ Seek out new horizons
Spend the weekend exploring new territories and ideas. This is an excellent time to take a workshop or course, as well as seek enlightenment through yoga or other metaphysical pursuits.
☹ Negotiating to nowhere
This is not a good week to launch entrepreneurial endeavors, deal with legal issues, or iron out contracts, especially in publishing, as no one is willing to concede. If you are looking for work, try not to schedule an interview on Tuesday.
Virgo Horoscope (Aug. 23 - Sept. 22)
♥ Naughty is nice
You can often be a modest lover, but your kink is on this weekend. You will be up for trying out new things with your partner, thereby bringing joy and fun to your relationship.
☹ No more moneybags
You may need to put your foot down when spoiled children and romantic partners come your way seeking a financial handout.
Libra Horoscope (Sept. 23 - Oct. 22)
♥ Surprise your sweetie
There will be no time for settling into a routine rut in your love life this weekend. Think up exciting things to do with your partner -- both in and out of bed; it will restore a sense of harmony and balance after a rather tense week.
☹ Putting yourself second
You may need to take the backseat to the ego demands of lovers and family members this weekend.
Scorpio Horoscope (Oct. 23 - Nov. 21)
♥ Throw duty to the wind
You are such a self-sacrificing sign, Scorpio, that you sometimes forget to just loosen up and enjoy life. This weekend, shirk your obligations so you can finally experience the feeling of being truly carefree.
☹ Ticking time bomb
A lot of curve balls have been thrown your way recently in terms of duties, leaving you simmering on the inside. Things may finally blow open on Tuesday, when you can no longer hold in your anger.
Sagittarius Horoscope (Nov. 22 - Dec. 21)
♥ Love, exciting and new
If you're up for adventure and set your mind on a new romance on Friday, you could meet an exhilarating certain someone that will set your heart racing. This is an especially auspicious day for random, out-of-the-blue encounters, so keep your eyes open.
☹ Everyone wants a piece of you
Everyone will seem to be asking you for a handout early this week. You will need to prioritize, and favor children and romantic partners over friends, much to their ire.
Capricorn Horoscope (Dec. 22 - Jan. 19)
♥ How's it hanging, Bro?
Friday is an excellent time to catch up with siblings. If you can't be with them in person, pick up the phone or do an internet chat session.
☹ Alles nicht klar, Herr Kommissar
While you enjoy putting on the mantle of commandant, family members and co-workers are not enjoying being bossed around; get ready for a mild mutiny on Tuesday.
Aquarius Horoscope (Jan. 20 - Feb. 18)
♥ Say you're sorry
If you got into any high-strung altercations earlier in the week, Friday is an excellent day to take the initiative and bury the hatchet; a sense of wellbeing will ensue.
☹ Verbal vomitus
If people try to pigeonhole you into their dogmatic worldview, you could lose it on Tuesday. You will defend your positions loudly, and perhaps a bit crazily, and refuse to cow to their belief system.
Pisces Horoscope (Feb. 19 - March 20)
♥ Pamper yourself
Don't be afraid to splurge on a little luxury on Friday. After feeling less than glamorous for the past six weeks, you deserve a little pampering. Venus turns direct in your sign on Saturday, making you feel prettier than you have in a long while.
☹ Wrong impression
Your desire to impress people in your social group could cause you to spend money you don't have, and that will not give you the clout you desire.