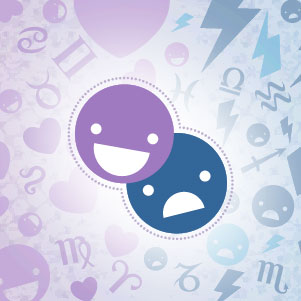 This week gets off to a lazy, sluggish start with a Lunar Grand Cross happening in the Mutable signs on Monday. By Tuesday, however, it's all smooth sailing. Mercury will be making a loose Grand Trine with Jupiter and Pluto from Thursday to Sunday, heightening problem-solving capacities in order to innovate and revolutionize. Mars turns retrograde on Sunday though, and the collective energy takes a nosedive -- things may move frustratingly slow until the end of June when Mars turns direct again.
Here is a general overview of this week's energy, valid for all. Then keep reading for the Hearts and Hates for YOUR sign this week!
♥ Working together
This is a week when coming together to get things done is much more efficient and energizing than toiling alone.
☹ Manic Monday
There may be a pile-up of tasks to get back to on Monday, but no stamina or will to actually get things done.
Your sign's Hearts & Hates Weekly Horoscope:
Aries Horoscope (March 21 - April 19)
♥ Talk it up
If you want money and success, put your mind to it and then speak out. You have the ability to negotiate your way to the top this week.
☹ Curb your enthusiasm
For the past several months, the world may have seemed like a dry, brittle place, but lately you have been able to tap back in to your natural zest for life. Starting Sunday, however, your enthusiasm may quickly dissipate, as it may be too hard to sway the status quo.
Taurus Horoscope (April 20 - May 20)
♥ The power of love
Put your full focus on cultivating love from Thursday on, and you may very well meet your soul mate, or cement the bonds of an existing romance.
☹ Bear market
After a few lean months, you seem to have been making progress on a financial matter. From Sunday until late June, however, it may be difficult to get a loan, credit, or scholarship -- but don't give up, because fortune returns in July.
Gemini Horoscope (May 21 - June 20)
♥ Dream big
Your quest for power is as unstoppable as fellow Gemini Donald Trump's bid for the presidential nomination. Plot your rise to the top starting Thursday.
☹ Something's gotta give
You start off the week exhausted: Family, love and work are all pulling you in separate directions, demanding your time. By Sunday, it's time to stop allowing your romantic partner's demands to get under your skin.
Cancer Horoscope (June 21 - July 22)
♥ Friends and lovers
If you have been crushing on a friend, it's time to tell them how you feel. The stars are on your side from Thursday to Sunday.
☹ Full of sound and fury signifying nothing
People have been worn out by your non-stop chatter for a while now; on Monday, even you are finding yourself confusing and tiresome.
Leo Horoscope (July 23 - Aug. 22)
♥ Who needs the lottery?
Hard work is the surest route to financial success. Use the latter half of the week to strategize how to boost your earnings through old-fashioned elbow grease
☹ Get back to work!
You have been able to shift the focus from work to art and romance since early March, but once Mars goes retrograde in your love sector on Sunday, you may need to turn your attention to work and money until the end of June.
Virgo Horoscope (Aug. 23 - Sept. 22)
♥ Spring fever
The return of warm weather has romance on your mind. Take advantage of the sunny skies by taking a spontaneous weekend away together. If single, you could meet someone if you take a short trip.
☹ Emotional contagion
Arguments with stuffed-shirt family members, confusion about love, and your own hypersensitivity could lead to acting out emotionally at the office on Monday. Try to keep things professional.
Libra Horoscope (Sept. 23 - Oct. 22)
♥ Heart to heart
Having a clarifying talk with your sweetie on Tuesday can lead to peace around the home. This weekend, instead of running around town, stay in, cuddle and regenerate.
☹ Set vent valve to closed
Once Mars goes retrograde in your communications on Sunday, you may have a hard time expressing your anger openly and evenly until late June, leading to passive-aggressive stand-offs.
Scorpio Horoscope (Oct. 23 - Nov. 21)
♥ Come together right now
Get out and socialize from Thursday to Sunday -- and be sure not to leave your romantic partner at home. Your sweetie and your friends have been on opposite sides lately, but by spending time together, they can learn each other's positive qualities.
☹ Fr-eking out
Your ambitious plans for adding to your income may hit a roadblock once Mars goes retro in your earnings sector on Sunday. Stay calm and keep plugging away, money will start flowing again by late June.
Sagittarius Horoscope (Nov. 22 - Dec. 21)
♥ No one makes it to the top alone
Your career is on overdrive; this is a great week to network in order to win colleagues to your side, so you can all work towards greater earnings.
☹ Drained and depleted
After suffering from lower-than-usual energy levels, your vitality started making a comeback in the past few weeks. Once dynamic Mars goes retrograde on Sunday, however, you may get easily worn out, so get plenty of rest.
Capricorn Horoscope (Dec. 22 - Jan. 19)
♥ Let love rule
Allow your romantic partner to take the lead this weekend in choosing spontaneous outings where you do not have to lift a finger, but just enjoy.
☹ World weary
Your lack of direction in life will deplete your physical vigor on Monday. This is a better day to just chill and not push yourself too hard.
Aquarius Horoscope (Jan. 20 - Feb. 18)
♥ Staying in
Chilling out at home or with family at the weekend is a win/win situation. You will be able to mentally rejuvenate yourself, and you can save money.
☹ The true cost of friendship
On Monday, you may realize how much money you have spending hanging out with people who don't even inspire you. By Sunday, you may decide to take yourself out of the social swirl for a while in order to boost your savings.
Pisces Horoscope (Feb. 19 - March 20)
♥ Time out for fun
Take your mind off romantic and work problems by getting out and socializing with friends at the weekend – you and your partner really do have a great connection when you stop pondering all the big issues.
☹ Is home really where the heart is?
You may feel confusion on Monday because your working goals and your lover's dreams are going in different directions. Do you want to move to live in a place that is auspicious to your partner's dreams or your own career ambitions?