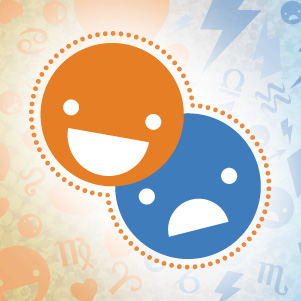 There are a lot of planets moving into new signs this week: The Sun moves into Taurus on Wednesday, and conjuncts Mercury the next day, shortly before Mercury retrogrades back into Aries.
Friday sees Mars move into gregarious and glittering Gemini, making the next few weeks auspicious for socializing and networking. Also on Friday, a very sensitive Venus in Pisces squares heartless, cold Saturn; try to keep your distance from bullies on this day.
Here is a general overview of this week's energy, valid for all. Hearts and Hates for your sign follow below!
♥ Shape shifting
A lot of planets are changing sign this week, shuttling in a major change of energy. Get ready to turn a corner and embrace the new.
☹ No empathy
Friday is a day when cold-hearted people will have little compassion for the world's more delicate souls. This is not a good time to seek help or handouts from stingy tightwads.
Your sign's Hearts & Hates Weekly Horoscope:
Aries Horoscope (March 21 - April 19)
♥ Review and pounce
Use the first half of the week to plan and organize, and then spring into action Friday, by spreading the word about all your loft and innovative goals.
☹ Hello, cruel world
Ah, this logical, clockwork universe just wasn't meant for a sensitive, poetic soul such as yours -- on Friday, at least. You will bounce back next week.
Taurus Horoscope (April 20 - May 20)
♥ Secret dealings
Don't be afraid to do some behind-the-scenes schmoozing in order to get funding to get a pet project off the ground. Starting Friday, you will have several weeks to boost your earnings.
☹ BFF, Ayn Rand
Your friendships seem to be defined by a quid pro quo, everyone-out-for-themselves selfishness, which is largely fueled by your economic stinginess. You have been burned by flakiness recently, and that is making you more guarded.
Gemini Horoscope (May 21 - June 20)
♥ Social animal
Take a time-out from the social swirl to regroup and set a game plan. Starting Thursday, you will be able to reach out to acquaintances that have dropped off your radar, due to your charisma and flair.
☹ Darling downer
Your sweetie can't stomach your popularity at work on Friday, so get ready for them to kill your joy and throw you off your game.
Cancer Horoscope (June 21 - July 22)
♥ Opportunity knocks twice
If you make a good impression at the workplace on Monday, an opportunity you thought had slipped away may be up for grabs starting Thursday. Don't be afraid to make your pitch a second time.
☹ Trapped in the weeds of altruism
Your Albert Schweitzer visionary dreams of saving the world have to take a backseat to the actual drudge work involved in caring for others.
Leo Horoscope (July 23 - Aug. 22)
♥ Let work take a backseat to enjoyment
You will be on fire at the workplace early in the week, but once Mercury retrogrades out of your career sector on Thursday, you should turn your attention to the softer side of life; get out, socialize, and meet new people.
☹ Austere love life
You long for sweetness and cuddles, but you are either going through a dry spell or trapped with a sturdy, yet uninspired, partner.
Virgo Horoscope (Aug. 23 - Sept. 22)
♥ Financial re-view
Getting out and exploring new vistas will give you fresh ideas and inspiration for stabilizing your monetary future. Start readjusting investments after Thursday, but wait until May to sign on the dotted line.
☹ Order over ardor
Your need to have an almost antiseptically clean and organized household could ruffle the feathers of your romantic partner, who just wants to relax and chill out.
Libra Horoscope (Sept. 23 - Oct. 22)
♥ Romance and the world
No need to seal yourself off in a couple bubble. You can set off on intellectual and cosmic adventures, while at the same time enjoying fun times with your sweetie; balance will be easy.
☹ #BossGirl
You are one of friendliest and chattiest signs out there, but on Friday, your stern, authoritative communication style could make colleagues feel cut off and hurt, due to your cold disapproval.
Scorpio Horoscope (Oct. 23 - Nov. 21)
♥ Cleaning up old messes
If things went haywire at the office recently, you will be able to problem-solve your way to re-achieving equilibrium and setting things straight.
☹ Back off your bank
That large "keep out" sign hanging on your wallet could cause romantic partners and children to sulk at your stinginess; stay firm.
Sagittarius Horoscope (Nov. 22 - Dec. 21)
♥ Back to love
You will start off the week focused on finding out-of-the-box solutions to workplace duties, but by the weekend, it will be all about romance. Make peace with an ex or use the upcoming weeks to find a new mate, as well as find passion with an existing partner.
☹ Pouts around the house
You aren't in the most carefree mood on Friday, which could cause family members to grow annoyed at your heavy melancholy.
Capricorn Horoscope (Dec. 22 - Jan. 19)
♥ Get it done
Thursday is an excellent day to seek out new romance in unexpected places. At the weekend, however, your focus turns to sprucing up your homestead and clearing out a pile-up of chores.
☹ Can't open up
You will be sealed up tighter than a nuclear reactor on Friday; you will choose to keep people at a distance so they cannot get a glimpse of the tumult going on in your inner core.
Aquarius Horoscope (Jan. 20 - Feb. 18)
♥ Second chance at romance
Passion is in the cards in the upcoming weeks. This is the best opportunity in over two years to find a mate that truly rocks your world. If there is a special someone who got away, you have until May 3 to reconnect.
☹ Pecuniary peer pressure
You deserve to pamper yourself with some frivolous spending. Keep your purchases to yourself, or you could receive hate and judgment from your social group.
Pisces Horoscope (Feb. 19 - March 20)
♥ Extra innings
If you have an entrepreneurial project you long to get off the ground but was shot down, review the situation and make the pitch again after Thursday.
☹ Repressed creativity
You are a poetic, dreamy creature, but your professional life is forcing you to do work that is logical and uninspired. Hold tight, as massive success is in the cards by the end of the year if you put in the heavy lifting.