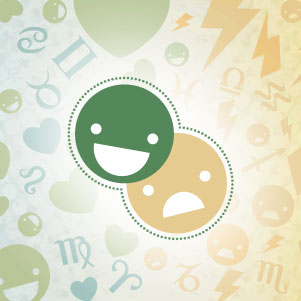 Venus, the planet of harmony and diplomacy, is all over the dial this week. On Monday, when Venus trines establishment Saturn, the desire is to work hard to please the powers that be, but by Tuesday Venus squares authoritarian-and-entitled Pluto, and resentment at being exploited may take hold. Once Venus conjuncts rebellious Uranus on Friday, it is everyone for themselves.
Here is a general overview of this week's energy, valid for all. Then keep reading for the Hearts and Hates for YOUR sign this week!
♥ Fight the power!
Don't be shy. Don't be complacent. From Tuesday on, it's time to stop kissing the ring of your feudal overlord and detach yourself toward freedom and inspiration.
☹ Fight (to keep) the power!
If you are the power, you may need to deal with a lot of mutinous rebellion from employees, children, and others on Tuesday and Friday.
Your sign's Hearts & Hates Weekly Horoscope:
Aries Horoscope (March 21 - April 19)
♥ Snake charmer
On Friday, you may be able to smooth talk your way into a new job. Keep your eyes open for unexpected opportunities.
☹ Norma Rae
It is time to stand up to workplace exploitation, especially if it's stressing you out and taking a toll on your health.
Taurus Horoscope (April 20 - May 20)
♥ Backroom negotiations
It's best to keep your wheeling-and-dealing under wraps. The less everyone knows about your business, the more you can work things to your advantage on Monday.
☹ David and Goliath
On Tuesday, you may have enough of being pushed around and placed in a straitjacket by bullies and control freaks. Luckily, by Friday, you will find a slingshot that can take out even the most imposing giant.
Gemini Horoscope (May 21 - June 20)
♥ Social butterfly
Many fledgling acquaintances can emerge from their cocoon and blossom into full-fledged friendships. Make sure to mingle on Friday.
☹ Hammer time
You could go broke faster than a 90s-era MC Hammer. Your hedonistic desire for the high life and good times could quickly drain your bank balance, so think twice before picking up the tab.
Cancer Horoscope (June 21 - July 22)
♥ Knock knock
You will be waiting at the door with an easy grin when opportunity knocks this week. Your charm and ability to spot favorable circumstances can help ground you at the workplace.
☹ Trip you up
Your romantic partner may resent your professional success on Tuesday and try to manipulate you away from a good chance. Keep focused and follow your instincts.
Leo Horoscope (July 23 - Aug. 22)
♥ Look for love in unexpected places
If you break free from your desk and cast aside your shyness, a chance encounter could lead to a lasting romance. Monday and Friday are especially auspicious.
☹ Cry freedom!
Your thirst for adventure and eccentric good times will have you bristling at workplace bullies and control freaks on Tuesday, leading to emotional words on Wednesday. Let it out.
Virgo Horoscope (Aug. 23 - Sept. 22)
♥ House keeper
Your capacity to care for and nurture your family will lead to deep bonds and a sense of purpose. Make time for your relatives on Monday.
☹ Money melee
You and your romantic partner just can't agree on financial matters this week, and for once, you are not being the overly cautious and frugal one. If you want to use your "me money" to treat yourself to a little luxury on Friday, don't ask permission first.
Libra Horoscope (Sept. 23 - Oct. 22)
♥ Chew the fat
The way to your lover's heart is through their mouth on Monday -- but not their stomach. Serve up a dish of non-stop compliments and let them know the true depth of your devotion.
☹ Family values
If your relations don't value your lover and give them the respect they deserve, it's time to side with your partner once and for all. An elopement of sorts may be in order on Friday.
Scorpio Horoscope (Oct. 23 - Nov. 21)
♥ Inspired income
Thinking outside the box can put cash in the register this week. Have a brainstorm on Monday or Friday for innovative solutions that can bring financial results.
☹ Mutiny on the bounty
While your ideas are inspired, the same cannot be said for your colleagues, who may be fed up with your need to be constantly in control. Try to tone it down a notch on Tuesday.
Sagittarius Horoscope (Nov. 22 - Dec. 21)
♥ Beauty and the Beast
Delightful gestures of kindness from children and lovers will do much to soothe your savage spirits on Monday.
☹ Which came first?
Low spirits can lead to low energy -- or is it the other way around? You are caught in a swirling cycle of weakened spirits and frail physical wellness. On Friday, it's time to take measures to lighten your mood and get back in shape.
Capricorn Horoscope (Dec. 22 - Jan. 19)
♥ Feel the love
Family members can bring you a strong sense of rootedness this week. Your desire to create a cozy nest filled with loving hearts can become a reality, especially on Monday.
☹ Not on the same page -- or address
Your romantic partner may not want the same things in regards to domestic matters as you. By the Full Moon on Friday, you may want to see if there is a potential suitor in your social network who has similar desires in terms of family.
Aquarius Horoscope (Jan. 20 - Feb. 18)
♥ Stop crushing in silence
If you have your eye on a certain someone in your friendship group, why are you holding it all in? Spontaneous declarations of love on Monday or Friday could sweep them off their feet -- and into your arms.
☹ Petty squabbles
Take a time out on Tuesday before you take out your frustrations verbally on those around you and needlessly hurt their feelings.
Pisces Horoscope (Feb. 19 - March 20)
♥ Jive talking
Monday is a good day to turn up the charm to achieve your aims at the workplace. You will have the innate ability to coax and cajole anyone to your side -- which could lead to a financial boost by Friday.
☹ Under the influence
You may be under the sway of the wrong kind of people in your social world. If you allow yourself to be easily impressed by status and other superficialities, you could end up wasting money on fundamentally empty and fleeting things.