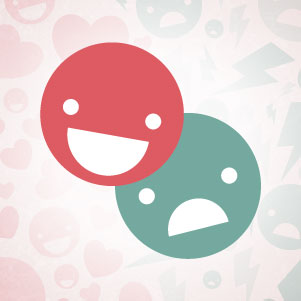 The week starts off with a motivating trine between ingenious Mercury and see-it-through Saturn, making it an excellent period to work on projects.
A productive New Moon in Taurus occurs on Wednesday, followed by a thinking-outside-the-box meeting between Mercury and Uranus. Innovation and craftsmanship will go hand in hand, ensuring quality and originality.
Venus shifts into extroverted and playful Aries on Friday, promising a flirtatious weekend.
There are no inharmonious aspects between the major planets this week, but Saturn does square the asteroid Chiron on Sunday, when clashes with control freaks could lead to feelings of alienation and frustration.
Here is a general overview of this week's energy, valid for all. Hearts and Hates for your sign follow below!
♥ Acting on inspiration
Make innovative ideas a reality this week. Seeds planted at this time can produce long-lasting -- and well-paying -- results.
☹ Hard to handle authority
The cold, judgmental, unemotional logic of authority figures could open long-standing psychological wounds on Sunday.
Your sign's Hearts & Hates Weekly Horoscope:
Aries Horoscope (March 21 - April 19)
♥ The sun isn't the only thing that shines
Be it that coin in your pocket or that smile on your face, you will be shimmering and bright this week. Your charm will inspire those around you, while opportunities also abound for new money-making endeavors.
☹ The world is not your oyster
You know firsthand that the universe offers limitless potential; that is why the rigid confines of your current existential landscape is making you feel trapped and frustrated.
Taurus Horoscope (April 20 - May 20)
♥ Feeling great, inside and out
You will be filled with feelings of inspiration, motivation, and inner electricity, which will have you glowing with confidence and cheer.
☹ Not feeling your friends
You value loyalty and fair-play in your social group, but have recently been surrounded by flakes and fair-weather friends. You feel frustrated because you can't figure out what you are doing wrong. Sometimes, meeting the right people is just luck.
Gemini Horoscope (May 21 - June 20)
♥ Confident and connected
There will be plenty of opportunities to connect spontaneously with friends, as well as meet new connections. Make sure to include your partner in the festivities; it will help refresh your coupling.
☹ No support from your partner
Behind every great person is a great soul mate. Unfortunately, your own romantic cohort is anything but encouraging, leaving you feeling deeply hurt.
Cancer Horoscope (June 21 - July 22)
♥ It's happy hour again
Your professional life will be filled with excitement and innovation, which can also help you bond with your colleagues. Make sure to go out for an after-work drink on Wednesday.
☹ What's the point
You work and work at taking care of others, yet it only seems a drop in the ocean. While you can't cure all the suffering in the world, what you do accomplish is valued and appreciated.
Leo Horoscope (July 23 - Aug. 22)
♥ Widening horizons
Take a spontaneous trip or a jaunt to a new neighborhood this week. Alternatively, open your mind to new classes and learning. Getting out of your comfort zone could bring a reliable romantic prospect into your life. This is also a great week to launch new work projects.
☹ Longing for passion
Your heart is filled with compassion and consideration. You see all the selfish, manipulative users in the world in solid relationships, yet love seems to elude you. By the end of the year, your romantic life will start heating up again, so hold on.
Virgo Horoscope (Aug. 23 - Sept. 22)
♥ Dinero détente
After butting heads over money with your romantic partner, you will be able to find an economic compromise this week, which will also bring you a greater feeling of intimacy and overall wellbeing.
☹ Pouty partner
Your lover can't live up to your family's expectations. Their judgment can start to take a psychological toll, so be extra supportive of your sweetie.
Libra Horoscope (Sept. 23 - Oct. 22)
♥ Come together
This is an excellent time to reach a consensus and plan for the future with your sweetie. Cuddles and shared intimacy can bring you close on Wednesday.
☹ Killjoy colleagues
You may be having a hard time connecting with people at the workplace. Keeping your guard as self-protection could only act to deepen the wounds.
Scorpio Horoscope (Oct. 23 - Nov. 21)
♥ Dream team
Tackle workplace chores as a team; you will be able to collectively come up with innovative solutions that bring in a solid stream of cash flow.
☹ Money worries
A prolonged period of restricted income could be causing strains in your relationships with children and romantic partners. Let them know you love them in other ways, and keep your financial anxiety to yourself.
Sagittarius Horoscope (Nov. 22 - Dec. 21)
♥ Struck twice by lightening
Someone from the past could unexpectedly re-enter your life, rekindling a high-voltage flame.
☹ Semi-detached home
You may feel a bit disconnected from your family. You may be unsure who you can trust and who is manipulating or gaslighting you for their own end. Stay vigilant.
Capricorn Horoscope (Dec. 22 - Jan. 19)
♥ Forging bonds
Spend time with relatives this week; your roots will keep you sturdy. Mid-week is an excellent time to search for new romance or ask someone out on a date.
☹ Heavy going
Everyone has problems, although you may not be able to realize that right now. If you insist on bringing up your interior angst in every conversation, you may find yourself with no one left to talk to.
Aquarius Horoscope (Jan. 20 - Feb. 18)
♥ Clear things up
Try to make amends with estranged friends on Monday; Friday is an excellent moment to sort things out with siblings.
☹ Sucked into a materialistic lifestyle
You are surrounded by bourgeois, conservative friends who value position and "normalcy" over a more poetic, utopian existence. Is this really what you want from life? What happened to your ideals?
Pisces Horoscope (Feb. 19 - March 20)
♥ Quick cash
Use this week to send out your resume and pitch new projects; a new source of income could be at hand.
☹ What next?
You have been working very hard for the past year and a half. So hard, in fact, that you may have developed tunnel vision and lost sight of the big picture. You may grow concerned this week over what the next chapter of your life will hold.