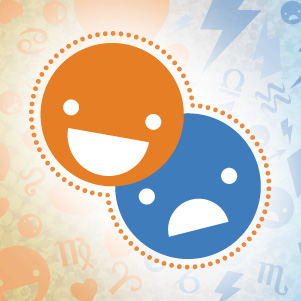 The week starts off with a lazy T-square in the Mutable signs on Monday, leading to easily distracted energy that is up for anything but work. Mercury turns retrograde in Taurus on Thursday, and mix-ups can occur, especially of an organizational nature, through May 22.
Laidback Venus enters its ruling sign, Taurus, on Friday, leading to a weekend of good cheer and easygoing festivity, especially on Sunday, when the Sun sends harmonious vibes to Neptune.
Here is a general overview of this week's energy, valid for all. Then keep reading for the Hearts and Hates for YOUR sign this week!
♥ TGIF
The skies are clear of any major disharmonious aspects this weekend, so enjoy relaxing times with friends and family.
☹ Dazed and confused
Mercury turns retrograde on Thursday, joining Mars, which is already retrograde. Crossed wires abound and projects can screech to a snail's pace -- often due to careless mistakes -- so double-check all work.
Your sign's Hearts & Hates Weekly Horoscope:
Aries Horoscope (March 21 - April 19)
♥ Genie in a bottle
Grant yourself one wish and make it come true. Pamper yourself with a little materialistic indulgence on Sunday.
☹ Deferred vacation
Miscalculations regarding disposable income could mean you have to put holiday plans on hold until mid-summer.
Taurus Horoscope (April 20 - May 20)
♥ Prince of parties
With your sunny, easygoing charm, you will easily rule the crowd at any weekend social gathering.
☹ Bank (im)balance
Your financial goals are not being met quickly enough, leading to an identity crisis and feelings of anxiety.
Gemini Horoscope (May 21 - June 20)
♥ Sunday best
You can put your best face forward career-wise on Sunday, so use your spare time to reach out and make connections.
☹ Still haven't found what you're looking for
While your romantic life may seem oh-so-perfect to all those around you, it is lacking the passion and cosmic connection that you truly desire; maybe it's time to face the truth and plot to change partners.
Cancer Horoscope (June 21 - July 22)
♥ Get away from it all
Take a Sunday sojourn with friends in order to recharge your batteries, as well as your platonic relationships. A hike in the mountains or a picnic in the park could lead to plenty of good cheer.
☹ Labor party
Overwork is leading to burnout on the job and alienation from friends. To make sure you are not left with nothing, make an effort to achieve a work-life balance and reach out to old acquaintances.
Leo Horoscope (July 23 - Aug. 22)
♥ Overtime pay
If you put in the hours on Sunday, you could be rewarded with a boost in financial incentives.
☹ Swimming in quicksand
You may not have enough energy to dedicate to love because you have so much work, yet your work may suffer because you are longing for romance. Nothing is moving forward.
Virgo Horoscope (Aug. 23 - Sept. 22)
♥ Cosmic twins
You and your romantic partner can grow closer by partaking in intellectual and spiritual interests on Sunday. If you are single, look for love by attending a cultural event or class.
☹ House bound
You long to escape to sunny horizons, but you can't seem to make it out of your front door, due to a pile-up of domestic and familial duties.
Libra Horoscope (Sept. 23 - Oct. 22)
♥ Invest in your dreams
If you have an entrepreneurial yearning, start small on Sunday by investing your time and money into laying the groundwork for your vision.
☹ Sharing words and money
You may be avoiding a much-needed talk with a certain someone about joint financial matters. Shying away from the matter will only add to the confusion, resentment, and feelings of suspicion.
Scorpio Horoscope (Oct. 23 - Nov. 21)
♥ Swooning Sunday
Forget the wine and roses, because you have romance to spare on Sunday. Spending time with your sweetie can be incredibly joyous. If you are dating, you could decide to take it to the next level.
☹ Love don't cost a thing
Even though love is free, your lover could bristle at your tightwad ways. In the upcoming months, money matters could be a thorn in an otherwise dazzling relationship.
Sagittarius Horoscope (Nov. 22 - Dec. 21)
♥ Home depot
Parking your car in the garage and puttering around the house doing little chores will prove to be relaxing and enjoyable on Sunday.
☹ Breaking point
You may be so stressed out that you can't keep up with your work. Over the coming weeks, instead of taking on new assignments, finish old projects that have been gathering dust, or you could grow overwhelmed.
Capricorn Horoscope (Dec. 22 - Jan. 19)
♥ Cuddles and coos
Sunday is a 5-star day to declare your love to the object of your desire -- sweet moments of intimacy are sure to transpire.
☹ Cat and mouse
You may be secretly plotting your long-term plans with the idea that your significant other will just fall in line and happily follow your lead, little do you know that they have similar intentions with you. By July, everything will come out in the open.
Aquarius Horoscope (Jan. 20 - Feb. 18)
♥ Feather your nest
Spend Sunday buying small luxuries that will make your home cozier and more comfortable.
☹ Let the right one in
You may be growing increasingly suspicious that certain friends aren't what they seem and that they may be deviously working against you behind your back. Follow your intuition and hang some garlic over your door to keep the vampires out.
Pisces Horoscope (Feb. 19 - March 20)
♥ Sunday brunch
Whip up a round of mimosas and invite your BFFs over for a fun and festive Sunday chatting and having a silly good time.
☹ Can't blag your way out of hard work
A lot of laborious busy work awaits you at the office, and you may find it hard to get enthusiastic about all the drudgery. Attempts to talk your way out of the heavy lifting, however, will only backfire, as bosses will just pile on more thankless tasks for not doing your fair share.