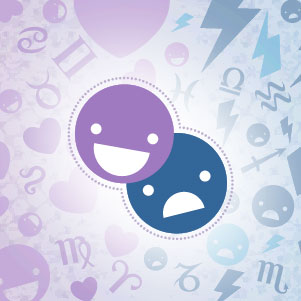 Thursday is one of the most productive days so far this year! Go-getter Mars in hard-working Taurus sends a harmonious trine to Pluto in success-seeking Capricorn, while there is a vibrant lunar Grand Trine in the Fire signs, adding a zesty dose of zeal and optimism.
The weekend, however, is more tense. The Sun opposes Jupiter on Friday, creating a competitive environment where everyone wants to be the most influential and unique. A square between fragile Venus in self-flagellating Pisces and critical Saturn on Saturday oozes bullying energy. When Mercury goes retrograde on Sunday, people may choose to check out of the drama and hang out on their own instead of deal with confusion and miscommunication.
Here is a general overview of this week's energy, valid for all. Hearts and Hates for your sign follow below!
♥ Revved up and raring to go
Pragmatism and enthusiasm join forces on Thursday, pushing us to work with zeal on our deepest ambitions.
☹ Train-wreck weekend
People will be feeling ego-mad and super-sensitive this weekend, leading to confusion and the need for a time-out on Sunday.
Your sign's Hearts & Hates Weekly Horoscope:
Aries Horoscope (March 21 - April 19)
♥ Creative and productive
Intuition and inspiration will be on overdrive mid-week. If you work hard on your creative or entrepreneurial projects, a boost in income could result.
☹ Hemmed in by love
Your partner's need for freedom and ideological dominance is squelching your fundamental sense of self, leading to the silent treatment and a loss of confidence at the weekend.
Taurus Horoscope (April 20 - May 20)
♥ Back to your roots
Make an effort to spend time with family or reminiscing about your childhood on Thursday; it will help you bring out your true self and feel at one with the world.
☹ Overwhelmed and lacking support
You have a huge amount of piled-up tasks and chores that could be draining you physically and emotionally. You may feel your flakey friends are not there for you. Use Sunday to rest and stay away from drama.
Gemini Horoscope (May 21 - June 20)
♥ Plug into the social network
Getting out to meet new like-minded people mid-week will also help you find support and funding for a project you are passionate about.
☹ Not-so-romantic comedy
Your main squeeze will be wound up tight with jealousy over your friends and career; maybe it's time to rethink the current script of your love life.
Cancer Horoscope (June 21 - July 22)
♥ Social bonds
If you have a friend that you would like to make into your main sweetie, Thursday is one of the best days of the year to make your move. Alternatively, those in a relationship can diffuse drama by hanging out with a group of festive pals.
☹ The high cost of success
The demands of the workplace could be keeping you from quality family time. You may need to cut back on socializing on Sunday to find balance.
Leo Horoscope (July 23 - Aug. 22)
♥ King of the world
Your charm is on overload mid-week, allowing you to put plans into practice at the workplace, as well as make a move in love.
☹ Retreat into work
You could feel at odds with the world this weekend: ideological bullies will shut you down, while your lover is anything but carefree and passionate. This may push you back into escapist workaholism by Sunday.
Virgo Horoscope (Aug. 23 - Sept. 22)
♥ Home and away
Thursday is an excellent day to take care of business around the home, as well as break free from it all and head off on a spontaneous adventure. No reason you can't do both.
☹ Just want to run away
On Sunday you may need some serious "me" time to escape lovers and relatives, who just can't see eye to eye, especially when it comes to spending money.
Libra Horoscope (Sept. 23 - Oct. 22)
♥ Heart to heart
Thursday is an excellent day to have a long sit-down with your sweetie to clear up any confusion plaguing your relationship; if single, make a move on that friend you are crushing on. This is also a perfect week to invest in improving your home.
☹ Free to be me and me
Everybody wants their way this weekend, and there will be no room for compromise, especially with your sweetie, who you could feel alienated from on Sunday.
Scorpio Horoscope (Oct. 23 - Nov. 21)
♥ Innovation and perspiration
Thursday is a great time for teamwork and brainstorming at the office, as well as letting your lover know how much you appreciate, admire, and desire them.
☹ Running ragged
Being everyone else's caretaker could be causing you to feel worn out and exhausted at the weekend, not to mention economically drained.
Sagittarius Horoscope (Nov. 22 - Dec. 21)
♥ Joy to the world
Spend time with children and romantic partners on Thursday exploring new paths of learning and enlightenment; you will feel uplifted and motivated. This is also an excellent week to negotiate deals at work.
☹ Walking on eggshells
Family, children, friends, lovers: everyone is hyper-sensitive this weekend; no matter if you stay detached or get involved, you can't seem to win.
Capricorn Horoscope (Dec. 22 - Jan. 19)
♥ Capricorn Casanova
Your sexiness and charm will allow you to the pull the most passionate potential mates into your sphere this week. If in a relationship, you can reignite the spark that set your world on fire.
☹ Oversensitive and overworked
A sudden pile-up of tasks at the workplace could cut into planned family time on Friday. Think before you speak to avoid taking your grumpiness out on those around you.
Aquarius Horoscope (Jan. 20 - Feb. 18)
♥ Family's got your back
Even though you are dealing with an onslaught of deep-seated psychological problems, your family will be there for you with support. Do not be afraid to ask for help this week. Likewise, old friends can also be counted on mid-week.
☹ Bully pulpit
Ideological zealots and puritanical, moral busybodies may be working overtime this weekend trying to bully you into conforming to their worldview. Retreat into your home on Sunday for solitude and safety.
Pisces Horoscope (Feb. 19 - March 20)
♥ Wheel and deal
Get out and mingle on Thursday; you will be feeling extroverted and charismatic and can meet people that will have a powerful influence on your life in years to come. This is also a great day for collaborations, as well as negotiating contracts and salaries.
☹ Working hard for no reward
You are making slow and steady progress at the workplace, but this weekend you could feel frustrated that success is not coming fast enough. Take a time-out on Sunday and think before you complain to bosses and colleagues.