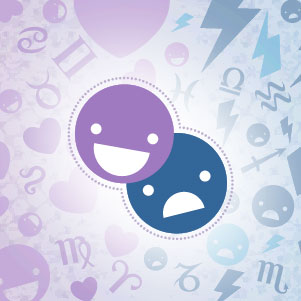 The start of the week is incredibly upbeat and can bring equal amounts of exhilaration and life satisfaction. An expressive Venus and confident Sun in vibrant Leo send harmonious vibes to grounded Saturn in fellow Fire-sign Sagittarius on Monday. The next day, a go-for-it New Moon in Leo will also be trining Sagittarius; new projects started at this time can bring big-time results in the future. Also on Tuesday, dynamic Mars moves into adventurous Sagittarius, adding even more ebullient energy.
Things start to turn bleak on Friday, when sensitive Venus moves into nervous Virgo. The weekend is super tense, with Venus and self-critical Mercury squaring a bullying Mars on Saturday, and Mercury opposing unconfident Neptune on Sunday.
Here is a general overview of this week's energy, valid for all. Then keep reading for the Hearts and Hates for YOUR sign this week!
♥ Birth of Venus
Tap into your inner-Botticelli on Monday and Tuesday. Creativity can easily be manifested through art -- and artful living.
☹ World-weary weekend
A T-Square in the Mutable signs brings an element of aggression, paranoia, and suspicion to the weekend.
Your sign's Hearts & Hates Weekly Horoscope:
Aries Horoscope (March 21 - April 19)
♥ What is this thing called love?
Romance and creativity can fill you with an invigorated sense of self, while also giving you a clear, grounded philosophy on life on Monday and Tuesday.
☹ Only you know the real you
While the world may see a charismatic leader, on the inside, you feel nothing but a faker who could be unmasked at any time, which could lead to a crisis of nerves and melancholy at the weekend.
Taurus Horoscope (April 20 - May 20)
♥ Home team advantage
Spending resources sprucing up your residence or investing time and money on family members will ensure you win the MVP award once you cross home plate on Monday and Tuesday.
☹ Needy and untrusting
A lack of emotional and physical closeness with your partner could lead to suspecting infidelity with every passing social acquaintance at the weekend. This attitude will only push your partner further away.
Gemini Horoscope (May 21 - June 20)
♥ Remind your partner how sexy you are
Getting out and having fun with friends will remind your sweetie just what a charismatic catch you are and can help melt their uptight exterior.
☹ Cottage industry
While you want to do something meaningful and inspired with your professional life, your overly pragmatic partner is expecting something more practical, which could lead to fights and moodiness over the weekend.
Cancer Horoscope (June 21 - July 22)
♥ Quick silver
Sudden opportunities at the workplace on Monday or Tuesday could lead to a boost in income. Don't be afraid to pounce on fleeting chances to negotiate your way to added earnings.
☹ Why are you doing this?
You are worn out from overwork and may have lost touch with what motivated you in the first place, causing confusion over life direction at the weekend.
Leo Horoscope (July 23 - Aug. 22)
♥ Crazy, carefree and committed
Love is more than just duty. Get out and explore the world and sip of its spontaneous adventures on Monday and Tuesday. Having fun and being inspired will act like superglue, holding your suitor to your side for the long-term.
☹ Bad taste in your mouth
You may grow salty at having to foot the bill for romantic outings at the weekend, which could increase your thirst for a partner who is more generous and giving.
Virgo Horoscope (Aug. 23 - Sept. 22)
♥ Electricity utility
You will be able to light up your house, as well as your own sense of inner wellbeing, by footing the bill for domestic expenses on Monday and Tuesday.
☹ Gingerbread house
You may feel like you will be pushed into the fiery oven if you get too involved in domestic disputes at the weekend. You may not be sure who to trust -- your sweetie or your family.
Libra Horoscope (Sept. 23 - Oct. 22)
♥ Social security
You may be locked in your feelings and not much up for talking, but hanging out with friends and lovers on Monday and Tuesday will lift your spirits and remind you that you are not alone.
☹ Drained of energy and words
By the weekend, you may want to unplug and chill on your own, as it will take extreme effort to be your naturally social self.
Scorpio Horoscope (Oct. 23 - Nov. 21)
♥ Inspiration and perspiration
An equal mix of hard work and out-of-the-box thinking can help you boost your earnings potential and set the seeds for long-term financial stability on Monday and Tuesday.
☹ Fritter away
If you disperse your earnings on high-end social and romantic frivolities at the weekend, you may be left with a bank account dryer than a corn pone.
Sagittarius Horoscope (Nov. 22 - Dec. 21)
♥ Life of surprises
While you may have felt life is nothing but boring routine lately, the universe sends you a glorious curveball on Monday and Tuesday. Spontaneous excursions with lovers or children can brighten your outlook.
☹ Weekend work-out
Your mind may be on tackling your overwhelming workload on Saturday and Sunday, leading to feelings of resentment at not being able to spend time with family.
Capricorn Horoscope (Dec. 22 - Jan. 19)
♥ Happy homemaker
Spontaneous financial indulgences to spruce up your domestic dwelling on Monday and Tuesday will make you feel grounded and secure, as well as give you a greater sense of purpose in life.
☹ Time to vent
You have been holding in all your emotions to the point you don't feel anything anymore. With Mars entering your psychology zone on Tuesday, all those repressed sentiments start to boil inside you, and by the weekend, you may need to blow your lid.
Aquarius Horoscope (Jan. 20 - Feb. 18)
♥ In two, it's all good
Your social circle may be filled with conservative bores, but luckily your sweetie is on your same wavelength, and can make even the most tedious outing exciting and fun on Monday and Tuesday.
☹ Who cares what other people think?
You need to turn your attention to resolving long-term economic insecurities and stop worrying about how others judge you about your income and material possessions (or lack thereof).
Pisces Horoscope (Feb. 19 - March 20)
♥ Smooth as silk
Your charm and positivity can impress the powers that be on Monday and Tuesday, leading to unexpected earnings increases at the office.
☹ Livin' like it's the 80s
This is 2016, so how did you get yourself in a situation where you need to choose between love and career? If your lover is demanding you sacrifice your professional goals so they can more easily fulfill their dreams, maybe you need to rethink the relationship.