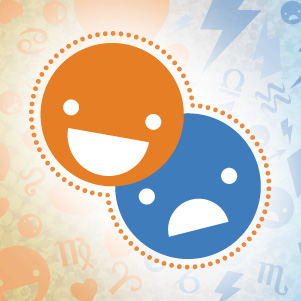 In this Special Jupiter Edition, see how the once-a-year move of Jupiter, the planet of luck and opportunity, will impact your life -- both good and bad! This week's Hearts and Hates horoscope for everyone is right here -- then keep reading for your own sign's horoscope...
♥ & ☹ Heart and Hate: Jupiter in Virgo
Jupiter makes its yearly sign change this week, moving into Virgo on Tuesday, where it will stay until September 9, 2016.
This is good and bad news -- a Heart and a Hate -- because Jupiter will be shining its vibes on a new section of your chart, while moving on from another ... where it won't return for another 12 years!
To see what Jupiter's move into Virgo means for your horoscope sign, read on!
Aries (March 21 - April 19)
♥ Task master
With Jupiter entering your sector of chores and labor, it's time to put the blinders on and get to work. You can achieve anything you set your mind to, including volunteerism and getting in shape.
☹ Feet touch the ground
Jupiter is moving on from your zone of passionate good times, bringing you back down to Earth after a glorious stay on romantic Cloud 9.
Taurus (April 20 - May 20)
♥ Return to romance
After several hardcore years focused on duty and security, your love life takes a 360 to passion and chivalry. This may include moving on to someone new, but don't worry -- opportunities abound.
☹ Settled
You are a homebody by nature, and domestic issues have consumed your world for the past year. Family issues may not be as exciting as the last year, but you can once again settle into a cozy routine.
Gemini (May 21 - June 20)
♥ Burning down the house
This is the perfect year to buy your dream home or move in with your dream lover. Everything dealing will family and domestic issues will become of utmost importance, requiring your full attention.
☹ Fare thee well, Rico Suave
A master orator by nature, your communication skills have been ramped up to eleven, mesmerizing everyone in your presence. You super-hero verbal skills now return to the human realm.
Cancer (June 21 - July 22)
♥ The gift of gab
If you want something, try to talk it up; your verbal skills will do all the heavy lifting. Why toil laboriously when you can get out on the dance floor of life and do the hustle?
☹ End of the rainbow
Changing atmospheric conditions will now make that pot of gold that has been miraculously overflowing no matter how much spent during the past year finally disappear.
Leo (July 23 - Aug. 22)
♥ Money-a-Go-Go
Get out your thigh-high boots or platform shoes so you can dress the part, because you will be doing the Watusi all the way to the bank; beneficent Jupiter is bringing you amazing opportunities to up your earnings.
☹ Get off the stage already
Jupiter has enabled you to resume your rightful place in the spotlight. Even though you must exit into the wings, you will continue to glow from the inside.
Virgo (Aug. 23 - Sept. 22)
♥ Rebirthing
With Jupiter entering your sign, you will be the chosen child of the zodiac for the next year. You can regain a sense of personal strength and positive feelings.
☹ Navel piercing
Over the past year, you may have been forced to ruminate on your life's direction and purpose, getting rid of stored baggage along the way. Jupiter has now served its purpose of increasing psychological awareness and will move on.
Libra (Sept. 23 - Oct. 22)
♥ Self discovery
You have been extremely extroverted this past year, but now it is time to relax and pamper yourself with some adequate "me" time, which will leave you feeling refreshed and emotionally rejuvenated.
☹ It's Quarter to Three
There's no one in the place except ... you. Even the bartender has had to go home due to labor laws. The non-stop social party of the past year is silently winding down.
Scorpio (Oct. 23 - Nov. 21)
♥ Super Friends
You will be able to form your own Justice League to fight against the crime of boredom by surrounding yourself with high-octane amigos, both old and new, due to Jupiter's entry into your socializing zone.
☹ Rest on your laurels
You have been working non-stop and, if you played your cards right, zoomed up the ladder of success. Jupiter now leaves your zone of career advancement for the next 12 years.
Sagittarius (Nov. 22 - Dec. 21)
♥ Work Whiz
Don't be insulted if people start calling you Chiquita, because you can easily work your way up to Top Banana over the course of the next year with Jupiter sending its reputation-boosting rays to your career zone.
☹ The Fountain of Knowledge stops gushing
You have been thirsty for knowledge of the world and yourself over the past year, allowing your mind to blossom like a lotus. This crash course in enlightenment and meaning now ends.
Capricorn (Dec. 22 - Jan. 19)
♥ Hello, World!
You like routine and order, but this year a new spontaneity and search for spiritual expansion consumes you. If you ever wanted to run away and study yoga on an ashram in India, the time is now.
☹ Market correction
Investments, loans and grants have been flooding your coffers over the last year. It was only time until this overheated market had to cool down. Your monetary life still remains stable, but just a little less bountiful.
Aquarius (Jan. 20 - Feb. 18)
♥ Lottery winner
If you are looking for investment money to kickstart your dreams or a scholarship to fund your education, be actively on the lookout for 3rd-party resources to give you an economic boost.
☹ Honeymoon is over
Relationship and love issues were consuming you over the past year. There may have been several options and opportunities for long-term love. Hope you made the right choice, because this influence won't come back for another 12 years.
Pisces (Feb. 19 - March 20)
♥ Lost in love
You will become literally obsessed with amour over the next year, especially in terms of long-term relationships. If you are looking to settle down, there will be several potentially worthy suitors.
☹ Return to routine
Over the past year, preoccupations with work or volunteerism could have consumed much of your time and added variety to your daily schedule. A regulated timetable now returns.