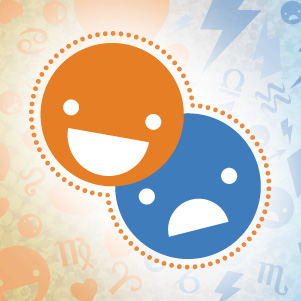 This is a pretty low-key week, astrologically speaking. On Tuesday, the Sun in Leo trines up-for-anything Uranus; it's summer, so do something bold and daring to enjoy the final weeks of the season. For those who are stuck behind a desk, working hard can enhance your reputation and status with bosses, so offer to pick up the slack for colleagues on vacation. At the Full Moon on Thursday, it may be time to turn your back on the group though, and put yourself first.
Here is a general overview of this week's energy, valid for all. Hearts and Hates for your sign follow below!
♥ Play hard, work harder
Career building and party planning receive equal astro attention mid-week, allowing for fun and accomplishment.
☹ Au revoir, mes amis
You may need to bid adieu to those safe-and-secure aspects of groupthink that are holding you back from your true destiny on Thursday.
Your sign's Hearts & Hates Weekly Horoscope:
Aries Horoscope (March 21 - April 19)
♥ Evening becomes electric
Nights filled with kisses and romance make you feel energized and alive. If you are single, Tuesday is perfect for a date.
☹ Not up for an orgy
You may need to tell your friends to mind their own business about your romantic life at the Full Moon on Thursday.
Taurus Horoscope (April 20 - May 20)


♥ Bonnie and Clyde
Take an adventurous road trip on Wednesday, even if you have to schedule it in after work. Excitement awaits on the path less taken.
☹ Over-lord
You may want to break away from the workplace to re-establish dominion at your home estate on Thursday, which could cause bruised egos at the office.
Gemini Horoscope (May 21 - June 20)
♥ Hello world!
Mosey on up to anyone and start talking -- you can make valuable new connections and widen your social circle on Tuesday.
☹ Stop thinking and start doing
The Full Moon on Thursday is pushing you to stop dreaming about your goals and start hustling to make them a reality.
Cancer Horoscope (June 21 - July 22)
♥ Love and profits
Whether you want to ask for a raise or declare your undying love to your sweetie, Tuesday and Wednesday can bring welcome surprises.
☹ Getting hungry waiting for that free lunch
Get ready to sing for your supper on Thursday, because no one is going to swoop in and pick up the tab.
Leo Horoscope (July 23 - Aug. 22)
♥ Lotus flower
The many-layered universe can blossom before your eyes on Tuesday, so be sure to seek out inspiration. You may even come up with innovative ideas that you can apply to your work mid-week.
☹ Learn to love yourself first
Temperamental partners -- or the lack thereof -- could momentarily steal your shine on Thursday. If you are happy with yourself, you will attract a likewise other-half.
Virgo Horoscope (Aug. 23 - Sept. 22)
♥ Let love rule
Powerful romantic connections could sweep you off your feet on Wednesday. Your charm is on overdrive so make sure to schedule a date night.
☹ Body / Mind disconnect
At the Full Moon on Thursday, you are feeling revved up and ready to go on the inside, but your body just wants some downtime in the garage to repair itself.
Libra Horoscope (Sept. 23 - Oct. 22)
♥ Flirty friendships
If you are single, a certain festive someone may be surprisingly open to a deeper rapport on Tuesday. If you are in a couple, spending time with friends will invigorate your relationship.
☹ Say no to neediness
A lover may sulk if you have a friend's night on Thursday. Don't let them isolate you from your social support network. They will get over it.
Scorpio Horoscope (Oct. 23 - Nov. 21)
♥ Soul mates
Your friends will bring you as much warmth and compassion as your lover on Wednesday, so make sure to spend time cultivating the bonds of amity.
☹ Home alone
Workplace recognition also means added hours at the office, which could lead to family members becoming wistful and melancholic on Thursday.
Sagittarius Horoscope (Nov. 22 - Dec. 21)
♥ Smooth operator
No need to ask -- you are master of deal-making on Wednesday, so be sure to schedule import negotiations on that day.
☹ Loss for words
Your mind is on overdrive at the Full Moon on Thursday, and you want to do nothing else except drink from the well of knowledge, as opposed to the cup of conversation. Settle down with a good book or do some solitary meditation.
Capricorn Horoscope (Dec. 22 - Jan. 19)
♥ Romance highway
It's the summer, and high time you took a trip out of town, even if only for an evening. A little adventure could bring love your way, or reignite passion with an existing flame.
☹ Financial planning
You may need to stop focusing on earnings and turn your attention to long-term investments and economic security at the Full Moon on Thursday. You may also need to help a family member out with a loan, which could take a bite out of your fun money.
Aquarius Horoscope (Jan. 20 - Feb. 18)
♥ Love letters
You may receive unexpected news from a besotted suitor on Tuesday, so check your inbox. Alternatively, if you need to make a romantic proclamation, the stars are on your side.
☹ It's not all about you
At the Full Moon on Thursday, you may need to put your own ego needs to the side in order for your relationship to thrive.
Pisces Horoscope (Feb. 19 - March 20)
♥ Amour and amies
A soulmate is lingering in your social circle, and Wednesday is the perfect time to discover just who it is. If you are already in a relationship, turn off the co-dependence for a night to hang out with friends as a couple; it will make your twosome much less suffocating.
☹ Stop the sulking
You are beaming with confidence and vitality on Thursday, yet, on the inside, you may have fleeting feelings of insecurity or melancholy.