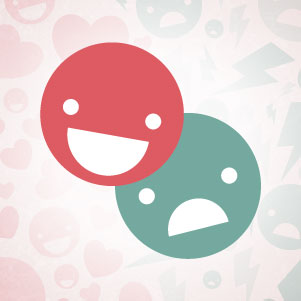 See the best and worst days of the week right here! Then keep reading to see YOUR sign's Heart and Hate for this week...
♥ Heart: Wednesday: Reach out to lost loves
Spontaneously reaching out to ex-lovers and friends could surprisingly reignite a love connection as Venus Retrograde in Leo trines Uranus in Aries.
☹ Hate: Friday: Subterfuge
Expressions of individuality will crash up against the judgment of conservative types when the Sun in Leo squares Saturn in Scorpio. Don't let the haters get you down.
Your Sign's Hearts and Hates Horoscope:
Aries (March 21 - April 19)
♥ Blast from the past
Contacting an ex on Wednesday could help you get back in touch with the quirkier side of your personality that only truly manifested when you were with them.
☹ Time for chores
On Sunday the Sun moves into get-it-done Virgo in your sector of tasks and duties. If you have been lax on laborious drudgery while enjoying the summer season, you will be able to get caught up now.
Taurus (April 20 - May 20)
♥ Home day spa
Cocooning at home on Wednesday in the company of family you haven't seen in a while will be more invigorating and regenerative -- not to mention cheaper -- than a trip to a 5-star health farm.
☹ Division of labor
Fights over who does what around the house could erupt on Friday when a headstrong Sun in your domesticity zone squares duty-obsessed Saturn in your partnership sector.
Gemini (May 21 - June 20)
♥ Hello again, hello
Like a reflective, 3 am Neil Diamond, you can call and let old pals know you still care when a sentimental Venus Retrograde in your communications zone trines a jump-started Uranus in your friendship sector.
☹ Off the hook
Turn off your phone and log off Facebook on Friday; being constantly available is draining your batteries and physical stamina.
Cancer (June 21 - July 22)
♥ Renegotiate terms
You can haggle over the fine print on an existing contract to up your pay on Wednesday, when charming Venus Retrograde in your income zone trines why-not Uranus in your career sector.
☹ Girls (and Guys) just wanna have fun...
...but boring, stingy partners are all about the right choices and sensible savings on Friday, when you just want to let loose and enjoy your wages.
Leo (July 23 - Aug. 22)
♥ The road more trodden
On Wednesday, revisiting places and ideas that inspired you in the past will help shake you out of your domestic doldrums by reopening your mind to the wide variety of existence.
☹ Get out!
You home is more like the Amityville horror on Friday, sucking you in with its falsely beguiling comfort, but cutting you off from engaging fully, and healthily, in the outside world.
Virgo (Aug. 23 - Sept. 22)
♥ Out of your shell
You have been feeling more introverted than usual, but when the Sun enters your sign on Sunday, you begin to beam with extroversion.
☹ Heavy words
Words can hurt on Friday, when borderline-Asperger's Saturn in your communications sector squares a burning Sun in your psychology zone. Overly blunt conversation can lacerate your inner-psyche, so set firm boundaries.
Libra (Sept. 23 - Oct. 22)
♥ Hard drive retrieval
Getting out of your couple bubble and socializing with old friends on Wednesday can allow you and your partner to compute why you found each other exciting and sexy to begin with.
☹ Broke-n record
Hard-up Saturn in your income zone has had you singing the economic blues since 2012; you queue up the same old tune yet again on Friday -- but get set for a disc change when Saturn moves on next month.
Scorpio (Oct. 23 - Nov. 21)
♥ Linked in
Seeking out job leads from ex-bosses or colleagues on Wednesday could lead to a sudden workplace placement. Alternatively, if you are looking for a candidate for your team, a past workmate could be the perfect choice.
☹ Here comes the grump
No matter how many good things are going on at the workplace on Friday, you only fixate on the negative. Try to brighten up for the sake of the overall office mood.
Sagittarius (Nov. 22 - Dec. 21)
♥ The wind beneath your wings
A romantic partner may be the key to spiritual re-enlightenment on Wednesday. Their love and encouragement will help you soar to awakening.
☹ Who are you?
Your quest for purpose over the past two years comes to a head on Friday, when brooding Saturn in your psychology zone squares the life-defining Sun and you try to figure out the meaning of your existence.
Capricorn (Dec. 22 - Jan. 19)
♥ Sunshine Superman
The Sun moves into your sector of enlightenment and travel on Sunday. The upcoming weeks will be the perfect time to unlock your inner Übermensch through reading and exploration.
☹ All cocktails come with ice
No matter how many times you pick up the tab, friends still seem distant and aloof, especially on Friday when a convivial Sun in your sector of financial sharing squares unimpressed Saturn in your socializing zone. Keep your money for yourself.
Aquarius (Jan. 20 - Feb. 18)
♥ Get back in touch
Reconnect with the one that got away on Wednesday when Venus Retrograde in your zone of true love is activated by out-of-the-blue Uranus in your communications sector.
☹ Wait to commit
While this is a great time to rekindle a flame, wait until Venus turns direct and Saturn leaves your career zone in mid-September to make it official. For now, your workaholism could be misconstrued as lack of interest, especially on Friday.
Pisces (Feb. 19 - March 20)
♥ Surprise bonus
You may receive an unforeseen income boost from a grateful boss on Wednesday, or an old colleague who fondly remembers you may offer you a job out of the blue -- so don't be afraid to reach out.
☹ Follow the rules
There won't be much room for thinking outside the box on Friday, which could frustrate your creative ideas at work when an expressive Sun is thwarted by by-the-book Saturn.