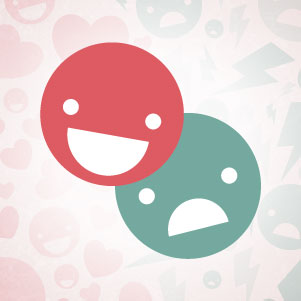 Mercury, Venus, and Jupiter join forces in get-it-done Virgo throughout the entire week. Virgo is the sign of the caregiver, making it the perfect time to find compassionate solutions for complex problems. Mars also hooks up with Saturn on Wednesday, pushing us to get out of our ruts and take some risks. Action and change can bring with them feelings of fear, anxiety and suspicion, which will become evident at the Lunar T-Square between the Moon, Mars, Neptune, and Saturn on Thursday, and Mars' exact square of Neptune on Friday. Try not to get swept up into unnecessary drama.
Here is a general overview of this week's energy, valid for all. Hearts and Hates for your sign follow below!
♥ Coming togetherThe coming together of Mercury, Jupiter, and Venus this week will facilitate consensus-building and cooperation.
☹ Pulling apartForging new paths can cause fear and anxiety from the status quo; you have to fight for your rights.
Your sign's Hearts & Hates Weekly Horoscope:
Aries Horoscope (March 21 - April 19)
♥ Barn raisingWork is so much easier when you build things as a team. Ego-free cooperation abounds at the workplace, allowing you to put much-needed structures in place.
☹ Complaining won't get you out of that rutYou have finally had enough of feeling hemmed in by a conservative, ordinary world. You need to do more than whine about your sense of alienation; you must work up the courage to take action and move toward the extraordinary.
Taurus Horoscope (April 20 - May 20)
♥ On the wings of loveYou can soar free from the confines of repressed society to heights of romance and passion this week. Saturday is one of your best date nights in a decade, so make plans, whether you are single or in a couple.
☹ Your money is your businessA lot of your identity comes from your sense of economic stability, and your long-term savings may not be as solid as you like. Do not allow yourself to feel judged by gossipy friends.
Gemini Horoscope (May 21 - June 20)
♥ Come on get happy!You and your relatives will be singing in better harmony than the Partridge Family this week, so make sure to board the bus for a visit to your nearest and dearest.
☹ Love for you or your job?A romantic partner may be on your back due to your lack of career focus, causing feelings of anxiety and inferiority.
Cancer Horoscope (June 21 - July 22)
♥ Spread the wordCommunicate! Whether you want to send out a resume, call up a friend, or reach out on social media, your conversation skills and charm are at a peak this week. You will know instinctively what to say to draw others near.
☹ Crabby colleagueYou may feel out of place and alienated in the world, causing you to lash out at coworkers in angry outbursts or a misplaced sense of competition. You may win the task at hand, while turning off everyone the office.
Leo Horoscope (July 23 - Aug. 22)
♥ Here, kitty, kitty!Your leonine charm and savvy will help you fill your coffers. This is the week to pitch projects or negotiate winning contracts.
☹ Fear of being usedYour idea of romance includes showering your lover with gifts and treats, but you may be unsure just how close and true your sweetie's intentions really are, and whether they merit your generosity.
Virgo Horoscope (Aug. 23 - Sept. 22)
♥ Confidence gameYou have regained a sense of self-assurance and belief in the world over the past year, which culminates this week, with a sunny, assertive disposition and easy-going charm.
☹ Domestic disputeYour need for order, tidiness, and certainty around the home may clash with your partner's more laissez-faire attitude. You may also wonder where you are going long-term as a couple.
Libra Horoscope (Sept. 23 - Oct. 22)
♥ Dream therapyTake time to meditate in order to reconnect with your true dreams and inner sense of self this week.
☹ Inconsistent colleaguesFlakey coworkers who leave you with added responsibilities could raise your ire on Thursday and Friday. While you normally love to keep the peace, you can't keep things bottled in any longer.
Scorpio Horoscope (Oct. 23 - Nov. 21)
♥ The get-along gangA year of positivity in your social life reaches its partying peak this week. Make sure to spend Saturday night bonding with friends.
☹ Financial bailoutYou may need to come up with some cash to help out a child or lover in need on Thursday or Friday.
Sagittarius Horoscope (Nov. 22 - Dec. 21)
♥ Whistle while you workYour career has been on an upward trajectory for the past year. You have been working hard behind the scenes, but once major accolades come your way, it will seem all so effortless.
☹ Taking back controlYou have been quite low-energy for the past year, and matters concerning family may have been especially draining or confusing. It is time you take action to get a better grip on the situation, as well as put yourself back in charge.
Capricorn Horoscope (Dec. 22 - Jan. 19)
♥ Free your mindThe world can be an infinite fount of inspiration this week, so if you thirst for knowledge, inspiration, or enlightenment, seek it out. If you chose this week for summer holidays, travel can broaden your outlook on life.
☹ Dazed and confusedOnce angry Mars hits brooding Saturn in your psychology zone on Wednesday, you may feel like getting things off your chest. While the words may come easy, they may not make a lot of sense to those around you.
Aquarius Horoscope (Jan. 20 - Feb. 18)
♥ Two become oneThis week, you can completely connect with your lover -- mentally, romantically, and physically. So don't be afraid to schedule some one-on-one time.
☹ No mingle moneyYour desire to break out of a social rut hits up against your money reserves on Thursday. Your need to take care of lovers or children could also be keeping you from spending your cash on nights out with friends.
Pisces Horoscope (Feb. 19 - March 20)
♥ Love will keep you togetherYou may have had to deal with a lot of ego clashes in your love life over the past year, but if you have made it through until now, it seems you have weathered the storm. Your mutual feelings of love and intellectual compatibility are shining strong this week, lighting the way to the future.
☹ A slow climb to the topYou can't achieve career success quickly enough, leaving you wondering if it is all worth it.