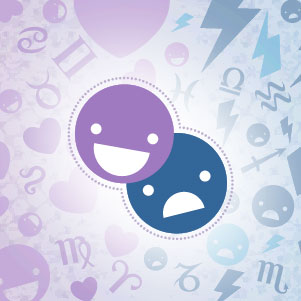 Here are the best and worst days this week! Saturday's Full Moon is a bit of a doozy, and a Hate for everyone. To find out what it brings to you, keep reading to read YOUR sign's Heart and Hate for this week...
♥ Monday: Make a change
Go team go! A Lunar Grand Trine in Fire signs makes this a great day to join in and support the people and causes you care about.
☹ Saturday: Deluded by charisma
Psychopaths are out in full force today as the Full Moon in Pisces aspects both Neptune and Jupiter. Don't get swept into the orbit of emotional vampires masquerading as fascinating charmers.
Your Sign's Hearts and Hates Horoscope:
Aries (March 21 - April 19)
♥ Building benefits
Hard work can result in an increased benefits package on Wednesday when an industrious Sun conjuncts big-payoff Jupiter in your income zone, and shrewd Mercury sextiles stability-seeking Saturn in your sector of financial perks.
☹ Performance anxiety
You may be overwhelmed by an increased workload and wonder if you are up to the task or just faking it, leaving you feeling anxious, even on Saturday. Try to unplug.
Taurus (April 20 - May 20)
♥ Romance and commitment
Wednesday is one of the best days of the year to get out and meet someone who could turn into a long-term amour. If you are in a relationship, schedule a date night to rekindle the flame.
☹ What the... Who the...
You may have recently found your soul mate, but your romantic choices could confuse your friends on Saturday, especially if they are siding with an ex.
Gemini (May 21 - June 20)
♥ Back to love
Issues relating to home and family have been sucking up a lot of your attention, but when mindful Mercury enters your romance zone on Thursday, thoughts can also turn to flirtier topics.
☹ How will you water those roots
You may be inundated with stress and change on the homefront, but with your vague career situation you are not sure how you will pay for it all, resulting in feelings of anxiety on Saturday.
Cancer (June 21 - July 22)
♥ Master communicator
When an extroverted Sun conjuncts effusive Jupiter in your communications zone on Wednesday, you will have no problem getting your point across, making this a 5-star day to market yourself and bond with loved ones.
☹ Too much of a good thing
You are in an amazingly talkative mood, but by the Full Moon on Saturday, you may go off on a rambling tangent that confuses everyone -- your words, at least, are the perfect mirror of your confused existential worldview.
Leo (July 23 - Aug. 22)
♥ Poppin' Fresh
You will be rolling in the dough when a 350° Sun conjuncts filled-tummy Jupiter on Wednesday, helping you cook up home-based initiatives when nearby Mercury sextiles safe-haven Saturn in your zone of domestic bliss.
☹ Half-baked
Read that brownie recipe carefully or you may end up flat on the couch in a state of paranoid confusion when the Full Moon in your financing zone conjuncts spaced out Neptune on Saturday; unwise investments could squander your money.
Virgo (Aug. 23 - Sept. 22)
♥ Wage warrior
Once strategic Mercury enters your earnings sector on Thursday, you will have two whole months to devise ingenious ways of bringing in new streams of revenue.
☹ Rosa Parks of love
Stop sitting at the back of your significant other's love bus as the Full Moon conjuncts dubious Neptune in your commitment zone on Saturday. The Moon is opposite the Sun and confident Jupiter, giving you the courage to say not today, and never again.
Libra (Sept. 23 - Oct. 22)
♥ Eureka!
Money has been tight the past few years, but a brainstorming session on Wednesday could illuminate the proverbial lightbulb over your head, giving you new ideas to achieve financial stability.
☹ Energy imbalance
When an energized Sun conjuncts inspired Jupiter and opposes a moody Moon and debilitated Neptune on Saturday, you will be motivated on the inside but weak on the outside. Don't give up, use this day to daydream; you can implement your plans another day.
Scorpio (Oct. 23 - Nov. 21)
♥ Firm friends
You have lots of opportunities to widen your social circle this week, and when conscientious Mercury in your friendship zone conjuncts for-realz Saturn, you will know these ties are important and fortifying.
☹ Wring out the sponge
Needy, codependent lovers offered you an enchanted storybook escape for a while, but now you want to expand your circle and party. At the Full Moon on Saturday, set a new narrative for your love life.
Sagittarius (Nov. 22 - Dec. 21)
♥ Tweety Bird
When chatty Mercury enters your friendship sector on Thursday, you will be able to exponentially expand your social media connections over the next two months.
☹ Come out, come out, wherever you are
You have been escaping into some kind of housebound dreamworld, but career opportunities are forcing you to get out more and be part of life -- grab for the gold ring on Wednesday.
Capricorn (Dec. 22 - Jan. 19)
♥ Career planning
When tactical Mercury enters your zone of professional success on Thursday, you will have two months to plot out your long-term career goals.
☹ They just don't get you
You are opening your mind and horizons, but no one understands your new spiritual direction partly because you are not communicating it effectively. Enlightenment is a personal journey, so stop worrying what others think.
Aquarius (Jan. 20 - Feb. 18)
♥ Back to school
Even if you are no longer a student, this is the perfect time for learning and enlightenment when lofty-and-lettered Mercury enters your knowledge zone on Thursday for two months.
☹ Knocked off your feet
The opportunity for deep intimacy and closeness is making you feel inadequate on Saturday. Let go of fear and take the plunge!
Pisces (Feb. 19 - March 20)
♥ Meeting of the minds
An intellectual connection and conversations about deep, metaphysical topics will bring you and your partner closer on Wednesday when cerebral Mercury in your commitment zone sextiles adhesive Saturn in your sector of conscious enlightenment.
☹ Confused by love
On Saturday, it may seem like your partner has all the power and freedom, which makes you feel anxious and at a disadvantage. Being clingy and scared will only worsen things, so learn to trust.