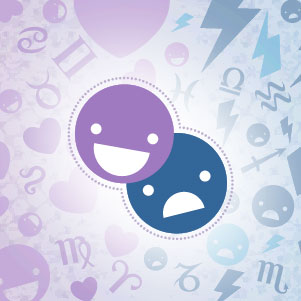 The week starts off on a high note with super harmonious energy between Mercury and Venus highlighting cooperation and understanding -- and it's all downhill from there.
Mercury turns retrograde on Tuesday, just before Thursday's brutal Solar Eclipse T-Square with Neptune, Saturn, and Mars. Suspicion reigns supreme, with judgment and anger being thrown around in equal measure. Hurt feelings won't be quickly forgotten when Mercury Retrograde and the Moon conjunct Jupiter on Friday. Just remember that sudden developments related to the eclipse can actually get you out of a rut and realign you to a better place.
Here is a general overview of this week's energy, valid for all. Hearts and Hates for your sign follow below!
♥ Happy MondaysMonday's harmonious, laid-back energy is a great moment to reach out and clear the air with estranged friends, lovers, or relatives. With Venus moving into its ruler, Libra, it is also a good day to pamper yourself and vamp up your beauty regime.
☹ Ground Control to Major TomPlanet Earth is blue, and there's nothing you can do. You may feel the universe has gone full tilt on Thursday and Friday. Instead of feeding into the drama, resign yourself to wait out the storm.
Your sign's Hearts & Hates Weekly Horoscope:
Aries Horoscope (March 21 - April 19)
♥ Love over laborEven if there is no love at the office, there are many opportunities for romance once Venus moves into your sector of amour on Monday.
☹ Stop making senseInstead of shining in the spotlight, you may be teetering at the edge of the stage. Professional teamwork will be fraught with egos and misunderstandings at the Solar Eclipse on Thursday, so grab some popcorn and hang out in the audience.
Taurus Horoscope (April 20 - May 20)
♥ Worker co-opOnce collaborative Venus enters your work zone on Monday, you and your colleagues will get along like granola and raisins, coming together in a spirit of "kumbaya" to get things done.
☹ Is this love?Your friends have been doubting your lover for a long while, and now it's your turn. Is this person really a good fit for you?
Gemini Horoscope (May 21 - June 20)
♥ End-of-summer romanceLots of love and decadence are in store over the upcoming weeks, with besotted Venus transiting your zone of courtship and cooing starting Monday.
☹ Semi-detached dwellingJust because you're family doesn't mean you enjoy being in the same room together. An atmosphere of suspicion and estrangement prevails, especially between romantic partners and in-laws.
Cancer Horoscope (June 21 - July 22)
♥ Family mattersEven if the world doesn't get you, your family does. With Venus in your home sector for the upcoming weeks, you can recharge your batteries by chilling out around the house or with relatives.
☹ That joke isn't funny anymoreNothing you say seems to be connecting, especially with colleagues. Your habit of saying everything off the top of your head, all the time, is starting to wear people out.
Leo Horoscope (July 23 - Aug. 22)
♥ Talk is cheap, thankfully something isYour money life is a bit of a mess this week, but luckily, opportunities abound to fill your time with fulfilling chitchat
☹ Economic uncertaintyYou may have received an income boost over the last year, but all that money brings with it a new set of problems. Will the good times last? How should you save or invest? Are lovers and children demanding you spoil them rotten? Finding the answers may be overwhelmingly confusing.
Virgo Horoscope (Aug. 23 - Sept. 22)
♥ Buy a bit of happinessYou are normally a frugal sign who doesn't really care about material status, but once decadent Venus enters your money zone on Monday, a little retail therapy will boost your self-esteem.
☹ Return to self-doubtLovers and family members are controlling the narrative, causing your control-freak self to plunge into self-doubt at the Solar Eclipse in your sign on Thursday.
Libra Horoscope (Sept. 23 - Oct. 22)
♥ Grace under pressureEven though you are dealing with a lot of issues on the inside, you will exude charm and sophistication during the upcoming weeks, while your ruler, Venus, transits your identity zone.
☹ You're a little tea potYou are at the boiling point, and could momentarily lash out in repressed verbal rage at the Solar Eclipse on Thursday.
Scorpio Horoscope (Oct. 23 - Nov. 21)
♥ The Scorpion's lair awaitsYou are surrounded by nothing but drama kings and queens in your friendship circle, so you may want to extricate yourself from the scene with a little privacy and quiet time over the next few weeks.
☹ That's (not) what friends are forYou may start to wonder if your friends are nothing more than superficial fly-by-nighters at the Solar Eclipse on Thursday. Or, perhaps it's your lover who is trying to isolate you from your over-active social life.
Sagittarius Horoscope (Nov. 22 - Dec. 21)
♥ A life outside the officeWith fun-loving Venus moving into your social zone on Monday, the next few weeks offer many lively opportunities to relax with friends.
☹ Office mismanagementThe workplace will be on complete meltdown at the Solar Eclipse on Thursday. Your family will compound your stress, by begrudging the amount of time you spend away from home.
Capricorn Horoscope (Dec. 22 - Jan. 19)
♥ Shining in the spotlightGet ready to take a bow for a job well done, when fawning Venus enters your zone of career recognition on Monday.
☹ What's it all about, Cappie?With a confused Mercury Retrograde and Solar Eclipse in your zone of conscious enlightenment, you may wonder just what is your greater goal in life. You could feel confused and alienated, as if there is no one you can really talk to who understands.
Aquarius Horoscope (Jan. 20 - Feb. 18)
♥ New horizonsIt's time to relax into adventure. Over the next few weeks, welcoming new roads will expand your vision through study or travel. Make sure to shake off stagnation and try new things.
☹ Spare the wealthYour money situation is a bit confused and disorganized. This is not a good time to loan money to friends or enter into any kind of joint economic venture.
Pisces Horoscope (Feb. 19 – March 20)
♥ Curative cuddlesYou and your lover may be at odds over many things, but physical compatibility isn't one of them. Warm embraces will help you forget heated-up arguments.
☹ And they all lived ... hold up a secFace it: neither Cinderella nor Prince Charming had career ambitions that pulled them in opposite directions. Your lover may be jealous of your professional life, leaving you confused and ready to pack your pumpkin.