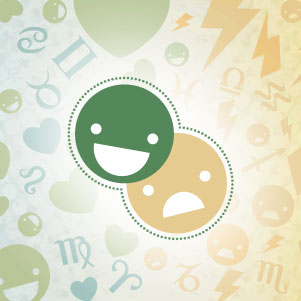 Check out the best and worst days for the week of Monday August 3-9, 2015! This week's Hearts and Hates horoscope for everyone is right here -- then keep reading for your own sign's horoscope...
♥ Heart: All Week: Positivity overload
Upbeat planets Jupiter, Venus, and Mercury are all hanging out together in Leo, making everyone more enthusiastic and supportive.
☹ Hate: Monday: Don't tread on me
The rare aspect of Jupiter in Leo square Saturn in Scorpio will bring conflicting life aspects to a head concerning freedom and stability.
Since both of these aspects are rare, this week's Hearts and Hates will delve into what these two energies mean for your sign, so read on!
Aries (March 21 - April 19)
♥ Head over heels
A perfect love connection is when two people perfectly click intellectually, physically, and spiritually. This week, you can achieve the perfect trifecta, perhaps with someone from the past.
☹ Sophie's choice
For a long time, you have been wavering between a love life based on security or one based on passion -- one where there is control and guaranteed longevity, or one that knocks you off your feet. You need to choose your path now.
Taurus (April 20 - May 20)
♥ Home is where the heart is
Familial warmth and good times will be a boon to your spirit. If you are feeling down, spending time with beloved relations will help lift your mood.
☹ The ties that bind
Why did the ancient Chinese find foot binding so attractive? Because it ensured their wives couldn't run away. You may finally have enough of a controlling lover; it's time to plot your escape.
Gemini (May 21 - June 20)
♥ Talk it up
Your personal charm and verbal acuity will allow you to wheel-and-deal your way to success this week. If there is something you want in life, let people know, and you may soon find it a reality.
☹ It's hard being so popular
You are so on that you may soon wear yourself out from all that moving and shaking. Definitely use this time to market yourself, but schedule in some downtime or quick meditative moments each day.
Cancer (June 21 - July 22)
♥ Bennies from heaven
Forget about pennies, you could be pelted with big-spending Benjamins. You may also receive a new source of income from someone who remembers a former kindness, so reach out to ex-colleagues.
☹ Fortune shaming
Your monetary success is increasing your desire to splurge, but your lover may be poo-pooing your lavish ways. It's your money, so enjoy it while you have it.
Leo (July 23 - Aug. 22)
♥ King of the jungle
With Mercury, Venus, and Jupiter coming together in your sign, you can let out a big, bellowing roar. You have rediscovered yourself, your voice, and self-expression after many understated years.
☹ Bleak House
The Lion was meant to roam free, but confining Saturn has transformed you into a domesticated house cat. You long to return to the open plains but are afraid of giving up comfy security.
Virgo (Aug. 23 - Sept. 22)
♥ Deep clean
Clear out the cobwebs clouding up the dark recesses of your inner psyche. You have been in a massively introspective mood the past year, now it is time to stop over-thinking and throw away old baggage.
☹ Too shy shy
You need to learn how to better communicate your inner feelings, instead of always keeping a stiff upper lip to prove you have it all under control -- otherwise no one will ever empathize with your pain.
Libra (Sept. 23 - Oct. 22)
♥ Networking executive
Whether it be online or in person, you can greatly expand your circle of friends this week, so get out there and move and shake.
☹ Panic at the disco
Your desire for a good time and your ability to eke out a living are diametrically opposed, throwing you into a tizzy about how you can fund your social outings.
Scorpio (Oct. 23 - Nov. 21)
♥ Top banana
You are like Napoleon, the army officer of modest means who crowned himself Emperor of France. Move your way up through strategic means and enjoy your time at the top.
☹ In need of me time
All the time spent pursuing career goals over the past year has worn you out and turned you overly somber and serious. Workplace stress will soon subside, allowing you to be social once more.
Sagittarius (Nov. 22 - Dec. 21)
♥ Mind blown
Raise your conscious awareness through education or travel this week. If you can't enroll in a school, then pick up a good book. Nourishing your mind will help your entire existence make sense.
☹ Prison break
You have been uncharacteristically introverted and cut off for the past two years, but this week you will realize it is time again to fully participate in life's rich pageant.
Capricorn (Dec. 22 - Jan. 19)
♥ In the money
Investments made over the past year pay off big time, allowing you to think up and put into action further ways to secure your financial future.
☹ Mutiny on the bounty
You may find it difficult to continue to interact with people in your current social circle, because they no longer fit in with your present economic circumstances and don't invite you out as much.
Aquarius (Jan. 20 - Feb. 18)
♥ Once upon a time...
The universe is conspiring to bring you true love, so keep your eyes open this week and don't be afraid to reach out to that certain someone from your past.
☹ Working drone
You have been working extremely hard for several years, but now you want to dedicate more time to the softer side of life, including love. At the same time, you are afraid of losing all the advancements you have made in your career.
Pisces (Feb. 19 - March 20)
♥ Get fit
If you want to get in shape or start a new dietary or exercise regime, the universe is on your side this week. There is no more auspicious time to initiate healthy habits that stick long-term.
☹ Travel woes
You want to escape all the stress and pressures of work, but travel plans are not gelling as you would like, and you may feel stuck and unable to break free from a claustrophobic environment.