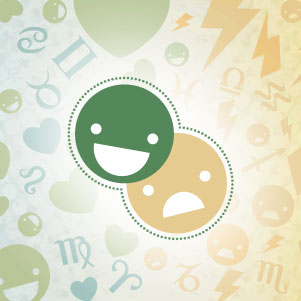 Here are the best and worst days this week! To find out what this week will bring you personally, keep reading for YOUR sign's Heart and Hate Horoscope...
♥ Sunday: Who's the fairest?
The mirror will go back from being a passive-aggressive snark to your best friend when Venus, the planet of beauty, ends its 6-week retrograde period.
☹ Monday: Theme from Mahogany
Do you know where you're going to? Nobody will as the egocentric Sun opposes befuddled and flummoxed Neptune.
Your Sign's Hearts and Hates Horoscope:
Aries (March 21 - April 19)
♥ Work hard, play hard
Your hard work is getting you noticed by the people who matter, infusing you with enough pride and charisma to seduce anyone who crosses your orbit.
☹ Identity crisis
Ambition and luck are giving you a full plate at work, but when the Sun opposes Neptune on Monday, you may have hard time untangling who you are from what you do.
Taurus (April 20 - May 20)
♥ Bury the hatchet in the family garden
Arguments are looming over the homestead, but when Mars conjuncts diplomatic Venus in your domesticity zone on Tuesday a lasting peace can be fought for.
☹ It's who you love, not who you know that matters
Your reinvigorated love life is bringing out the sharks in sheep's clothing among your friendship set, who could be trying to undermine your happiness due to their own insecurities.
Gemini (May 21 - June 20)
♥ Tone it down and talk it up
Verbal pushiness will get you nowhere. Luckily, Mars conjuncting charming Venus will smooth out the rough edges of your spoken exchanges on Tuesday, drawing all to your side.
☹ Leave your issues at home
Domestic concerns could require your full attention on Monday when the Sun opposes a confused Neptune in your career zone, which could lead to slip-ups or mistakes at work due to lack of focus.
Cancer (June 21 - July 22)
♥ Money starts flowing
With Venus Retrograde in your income sector the past month, you may have had a myriad of money-related issues around material possessions or payment delays, which will now recede once Venus turns direct on Sunday.
☹ Humming your own tune
It may be hard for others to tune in to your frequency on Monday, but sometimes self-expression is most meaningful when no one understands it but its creator.
Leo (July 23 - Aug. 22)
♥ There you are
Venus Retrograde in your sign since late July has made you feel older, shyer, and worn out. When the beauty planet turns direct on Sunday, your looks and energy will quickly rebound.
☹ Step away from the swampland
If someone approaches you with a get-rich-quick investment scheme on Monday, it's because they see you more as a sitting duck than a duck dynasty. Don't trust too-good-to-be-true deals and read the fine print.
Virgo (Aug. 23 - Sept. 22)
♥ Fire extinguisher
With Mars in your psychology zone, you are carrying around a lot of anger inside. Luckily, calming Venus Retrograde will quash its ire on Tuesday, leading to lasting inner peace when Venus turns direct on Sunday.
☹ To thine own self be true
When an egocentric Sun is sent confusing rays from mystifying Neptune on Monday, it may be impossible to understand your lover, so concentrate on getting in touch with your own needs.
Libra (Sept. 23 - Oct. 22)
♥ Life meet party
When robust Mars joins up with hedonistic Venus in your social sector on Tuesday, you will be ready to celebrate and make new friends, so make sure to schedule an after-work happy hour.
☹ It's all in your head
Vague symptoms of physical weariness may be psychosomatic in origin when a debilitated Neptune in your zone of bodily wellness opposes the Sun in your psychology zone Monday.
Scorpio (Oct. 23 - Nov. 21)
♥ Play nice at work
You will go from Machiavelli to Mahatma Gandhi when an inspirational Sun in your career zone sends uplifting vibes to power-mad Pluto. Leadership can be ethical as well as effective.
☹ How do you pronounce F-U-N?
You may have become recreationally illiterate. You have been so caught up in your couple life that you forgot how to relax and enjoy yourself. Try to make time for socializing.
Sagittarius (Nov. 22 - Dec. 21)
♥ Welcome to Margaritaville
You will be as philosophically unperturbed about your life problems as Jimmy Buffet looking for his lost shaker of salt when Mars conjuncts laid-back Venus in your sector of travel and spiritual enlightenment on Tuesday.
☹ Ego-affirmation
Seek your affirmation at work because you will only get side-eyes from your family when a proud Sun in your career zone opposes nonplussed Neptune in your domestic sector on Monday.
Capricorn (Dec. 22 - Jan. 19)
♥ Money will be OK
Pitbull Mars has you obsessing about your long-term finances, but when it conjuncts placating Venus on Tuesday, you can relax in your faith that all will turn out well.
☹ Red and yellow and pink and green
If you sing a rainbow, don't be surprised if no one has any clue what you are on about. Your quest for spiritual enlightenment is your own; you don't need to evangelize your insights.
Aquarius (Jan. 20 - Feb. 18)
♥ Time for the feast
When expert marksman Mars hits besotted Venus on Tuesday, the hunt for true love will be over. With Venus turning direct on Sunday, enjoy cuddly times together with your glistening prize.
☹ All that glitters might be gold...
...but that doesn't mean it's yours. Resist the temptation of debt when a shiny Sun in your credit sector opposes mesmerized Neptune on Monday.
Pisces (Feb. 19 - March 20)
♥ Back to work
Summer is ending and it's time to get back to work -- and back on a diet. You will be motivated to get in shape and get things done on Tuesday. When beautifying Venus turns direct on Sunday, it will be much easier to lose weight.
☹ Letting go
Your romantic partner is blossoming with individual power outside your carefully constructed couple bubble. Instead of being insecure, support them in their pursuits.