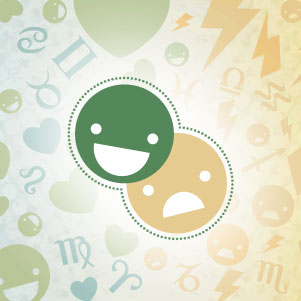 Wednesday is a great day for figuring out complex solutions to problems at the office, when ingenious Mercury trines Pluto in the hard-working Earth signs Virgo and Capricorn.
This weekend will be a bit of a repeat of last weekend's energy with the Moon, Mars, Saturn, Mercury, Venus, and Neptune squaring off in the Mutable signs. While last weekend's T-Square manifested itself with mental suspicion and paranoia, this one will be more about hurt feelings and emotional sulkiness. If you are strong enough to not care what other people think, a Lunar Grand Trine in the Fire signs will help you gleefully rebel against convention.
Here is a general overview of this week's energy, valid for all. Hearts and Hates for your sign follow below!
♥ Living well is the best revenge
Embrace your eccentricity and fight off judgy bores by living large with confidence and nonchalance on Saturday.
☹ Conservative party
Rigid stuffed-shirts may expect everyone to play by their high-standard, hardball rules this weekend, leading to feelings of inadequacy and resignation among the more sensitive and imaginative.
Your sign's Hearts & Hates Weekly Horoscope:
Aries Horoscope (March 21 - April 19)
♥ Drink from the cup of romance
While a pile-up of tasks may be beckoning you to put in extra hours at work this weekend, running off to spontaneously explore the world with your sweetie can intoxicate your spirits.
☹ Great idea! Now, do it!
Innovative ideas at work could impress your bosses so well that they assign you the arduous task of bringing them to fruition, seriously adding to your stress load.
Taurus Horoscope (April 20 - May 20)
♥ Family affair
If romantic partners are dragging you -- and your bank account -- down this weekend, take a time-out and hang out at home or with family. It will reinvigorate you and won't cost a thing.
☹ Close in spirit but not in finance
There is no doubt that you and your sweetie bond on a deeply spiritual and intellectual level, but that doesn't mean you are ready for joint banking, which could lead to hurt feelings and manipulations at the weekend.
Gemini Horoscope (May 21 - June 20)
♥ Booster party
Your significant other could be a bit of a stodgy codger, but luckily you and your effervescent circle of lively friends can get them to loosen up for an enjoyable Saturday of socializing.
☹ Homebound handyman
If you come up with an amazing idea to renovate your domestic abode on Wednesday, don't be surprised if your significant other forces you to carry out these plans at the weekend, even if your enthusiasm for the project has already waned.
Cancer Horoscope (June 21 - July 22)
♥ Moonlighting
If you have an entrepreneurial idea that you would like to get off the ground, Saturday is a great time to prepare a business plan and work to make it happen due to the auspicious Grand Lunar Trine hitting your work and earnings sectors.
☹ Sunday is not funday
All you want to do is escape and enjoy the poetic side of life, but a pile-up of work and everyday chores is hemming you in -- which could cause you to lash out verbally to those closest to you.
Leo Horoscope (July 23 - Aug. 22)
♥ Love and rockets
Romance and adventure will boost your self-esteem. Get out and explore new pathways and passions this weekend.
☹ Fretting over finances
Long-term monetary concerns could put a damper on your fun this weekend. You are afraid to spend, because your future fiscal picture is so hazy and undetermined.
Virgo Horoscope (Aug. 23 - Sept. 22)
♥ One way or another
If your heart and mind are set on a certain suitor, your uncanny intellect will figure out the perfect plan to woo them to your side on Monday.
☹ A heart is not a home
While you may be smitten with a certain someone, they are not smoothly fitting into your domestic scene this weekend. Either they refuse to settle down, or perhaps your family does not approve.
Libra Horoscope (Sept. 23 - Oct. 22)
♥ Puttin' on the Ritz
No matter how much angst you're carrying around inside, you can forget your stresses by going out for a carefree, glamourous night on the town with friends and lovers on Saturday.
☹ Moody blues
You may be unusually introspective this weekend, which could lead to a sense of weakened physical vitality and feelings of isolation. Reach out to friends and you will realize you are not alone.
Scorpio Horoscope (Oct. 23 - Nov. 21)
♥ How to Win Friends and Influence People
Your charismatic powers of persuasion will be like a magnet on Monday, drawing in large followers to your social circle, both online and in real life
☹ Left holding the tab
Everyone's up for a party at the weekend, unfortunately you may be the one paying for it. Try not to let friends choose the locale for your Saturday shindig, or their longing for luxury could eat into your savings.
Sagittarius Horoscope (Nov. 22 - Dec. 21)
♥ Money makes it happen
Your problem-solving savvy at the office could lead to a boost in earnings on Monday. Make the most of your economic power at the weekend by splurging on exploring new horizons with your sweetie or kids.
☹ Glass half empty
You are surrounded by love at the office and at home, so why are you so down? Your usually optimistic nature may be momentarily blinded to your blessings; try to seek out the things you can be thankful for.
Capricorn Horoscope (Dec. 22 - Jan. 19)
♥ Feather your nest
Spend your time and resources this weekend sprucing up your home and doting on your family. It will give you a sense of purpose and joy.
☹ Pouty pragmatism
Your consciousness is being awakened to the greater poetic potentials of life, yet your need to focus on the realistic bottom line is keeping you trapped in a world of logic and "proper choices." This inability to cut loose and be free could lead to melancholy at the weekend.
Aquarius Horoscope (Jan. 20 - Feb. 18)
♥ Talk is cheap
You won't need to spend a lot of money this weekend in order to have a sparkling, exciting time. Bringing together friends and lovers will elicit witty, ebullient conversations filled with laughter and inspiration.
☹ Users and shakers
Your generosity is legendary, but unfortunately too many people in your social circle have grown used to your largesse and are taking you for granted. This weekend, let someone else pick up the tab for a change.
Pisces Horoscope (Feb. 19 - March 20)
♥ Work the weekend
If you focus on your career and put in overtime at the weekend, you could set yourself up for a boost in pay, as well as accolades from bosses and support from colleagues.
☹ Free to be you and me and he and she and we...
There are too many heavy-duty choices facing you at the moment regarding love and career, with an equally large number of possible outcomes, leaving you confused and bewildered.